Day 2: Sunday, Feb. 1, 2004
Hong Kong

approx. 18 °C, overcast
HIGHLIGHTS:
The view of Central Hong Kong from Victoria Peak

The view from Kowloon across to Hong Kong Island at night
We arrived in Hong Kong 30 minutes late at 8:30 a.m. on Sunday morning. Temperature scan because of the SARS outbreak one year ago and customs were quick. We changed some money (50 Euro at a rate of 1:10, which was more than enough for the 1.5 days) and caught the 9:15 a.m. Hotellink shuttle bus to the city which operates on a 30 minutes schedule (alternatively we could have taken the Airport Express Train, but the bus was included in our stopover package). We left Lantau Island, where the new airport is, via Tsing Ma Bridge, the world's longest road and rail suspension bridge, and it was just amazing to see skyscrapers everywhere! We were dropped off at the Salisbury YMCA (which is also a 3-star hotel) in Kowloon at 10 a.m. and were able to check in right away. The room was not brilliant but okay and we managed to catch some 3 hours sleep before we started off to explore Hong Kong in the early afternoon.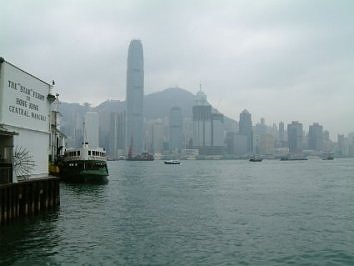 The hotel was just 5 minutes walking distance from the Star Ferry terminal, where we caught a ferry to Hong Kong Island (HK$ 1.70 – 0.17 Euro). Unfortunately we couldn't get a clear view as it was very misty or smoggy, but apparently this is not unusual for Hong Kong. It was a bit humid but quite bearable. February still seemed to be a good time for visiting Hong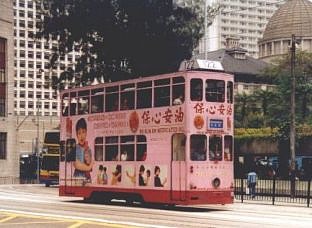 Kong. It must be very humid at other times of the year. From the ferry terminal in the Central District we walked up to the Peak Tram terminal in approximately 15 minutes (alternatively we could have taken bus no. 15C). We bought a one-way ticket for HK$ 20 each to go up to Victoria Peak. In 8 minutes and over 1.5 km this funicular railway covers a difference in altitude of 396 m with an incline of up to 45°. After finding our way out of the Peak Tower we did a 1 hour circular walk which took us once around the Peak where urban and green Hong Kong are in sharp contrast. The view over the skyscraper landscape of Hong Kong Island is truly spectacular.
After a late lunch at McD next to the Peak Tower we decided to descend on foot. It was a very steep decline all the way down and we had a muscle ache for 2 days afterwards! We passed through the Botanical Gardens and arrived back at the ferry terminal after one hour. It was around 6 p.m. We returned to Kowloon and had a look at Nathan Road, the main shopping street, when it was just growing dark. Then we walked back to the Waterfront Promenade to have a look at Hong Kong Island by night. It was an incredible view. All those skyscrapers were illuminated and it looked just fantastic! We had dinner at the self-service café in the entrance hall of the Salisbury and it was just bad.
Day 3: Monday, Feb. 2, 2004
Hong Kong
approx. 18 °C, overcast
HIGHLIGHTS: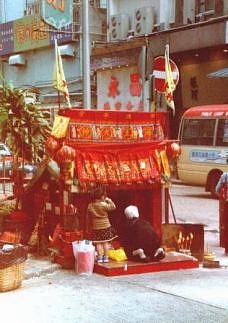 After a good night's sleep we were up at 8 a.m., helped ourselves to some breakfast from the buffet at the hotel and made plans for the day. We decided to go to Aberdeen, on the other side of Hong Kong Island, where I expected to see some traditional Chinese boats. After getting off the ferry, it took some walking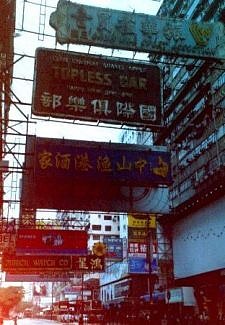 around before we found the Exchange Square Bus Terminal and bus no. 70. A ticket cost HK$ 4.70 and the exact fare needs to be paid. At first we thought we didn't have enough coins and nobody could change a banknote, but eventually we did get enough coins together and we hopped onto the double-decker bus. It was nice to see a bit more of Hong Kong during the 20 minutes bus ride, but Aberdeen itself was quite a disappointment for me as the so-called sampans didn't even have sails! We walked around a bit and were asked several times by the sampan owners if we wanted to go on a boat trip. The Jumbo Floating Restaurant could only be seen in the distance. You have to take a boat if you want to go there for lunch or dinner. The Aberdeen area seemed a lot poorer than the Central District where we went yesterday, but it was interesting to take a look. At the bus terminal we queued for the next bus back to Exchange Square. This time we boarded the upper deck of the Star Ferry, which cost a few cents more. Then we walked up Nathan Road to Kowloon Park where we had lunch at McDonalds. We had asked at the hotel if it would be possible to check out late and they agreed on 3 p.m.! This was perfect for getting the shuttle bus back to the airport at 3:25 p.m. for our 7 p.m. flight to Sydney.
LINKS:
---