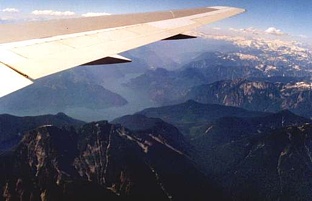 In 1994 I applied to a student exchange programme for Canada sponsored by the German-Canadian Society in Cologne. The programme consisted of two months working and one month travelling. Eventually I got a job offer from Weigh West Marine Resort on Vancouver Island where I was to work in a restaurant.
We arrived at Toronto International Airport on Tuesday, 19th July, at 3.10 p.m. on an Air Canada flight from Frankfurt. After checking in with immigration we got picked up by yellow school busses and were driven to a student's hall, our accommodation for two nights. In the evening we went downtown and the following morning there was an introduction by the Canadian partner organisation. In the afternoon we explored a bit of Toronto and in the evening we were invited to a garden party at the German consulate. During the following day our group, consisting of 69 people, broke up to join their different employers. So some of us took a flight to Vancouver in the afternoon.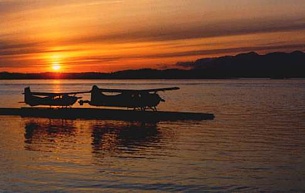 Vancouver is beautifully situated between the mountains and the sea. We had time to visit Chinatown and the city's old part Gastown as well as Canada Place which was built for the World Exhibition of 1986. We were four girls who continued to Vancouver Island: Claudia, Doro, Martina and I. We spent the night at an independent hostel in Vancouver and took the ferry from Horseshoe Bay to Nanaimo the following morning ($6,25) where Claudia and I were picked up by our new boss Heather. The drive across the island to our final destination Tofino took about four hours. Tofino is a small remote fisher village at the west coast of Vancouver Island with about 1000 inhabitants near Pacific Rim National Park. The landscape is really beautiful with lots of small islands, mountains, the rain forest and the sea.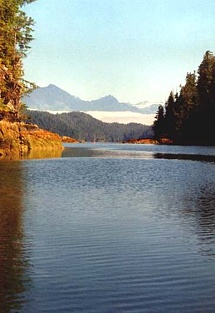 Claudia and I shared a room in a staff house, the "green" house we called it due to its colour. Doro and Martina were working at a bakery and coffee shop in the neighbourhood, the "Common Loaf Bake Shop". Before starting work on Monday we still had two days left, so the four of us took the opportunity to look around our home for the following two months. We went to Long Beach near Tofino and on a boat trip around Clayoquot Sound.
On 25th July I started working the evening shift from 6 p.m. to about 11.00 p.m. at "The Blue Heron Restaurant". I was employed as a hostess and busser, so my job was laying and clearing tables, ushering guests to their seats and making coffees. Friday was our first day off (Thursdays and Fridays were to be our week-end from now on) and on Saturday I worked the morning shift starting at 8 a.m. and finishing at about 2.30 p.m. On 2nd August I changed my working place to "The Loft Restaurant", also belonging to Weigh West, where Claudia had already been working. But while she did the evening shift, I worked from 9 a.m. to 5 p.m. This didn't change for three weeks. Then I had a split day working from 9 to 10.30 a.m. and again from 5 to 11 p.m. Afterwards I changed shift working from 3 to 11 p.m. From 30th August I was back to the 9 to 5 shift with the exception of one more split day. I had to work the morning shift on Friday, 2nd September, from 8 a.m. to 4 p.m. Thursday, 15th September, was my last working day.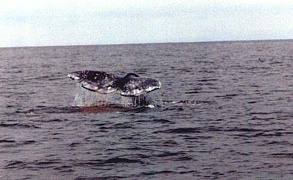 In our spare time we made several boat trips to some of the islands surrounding Tofino and we even went on whale watching tours which were just marvellous. We saw grey whales but unfortunately no orcas which are less common in this area. As staff members of Weigh West we were allowed to join their own tours for free when there were places available! Normally these tours aren't so cheap. We also visited the neighbouring village Ucluelet and once we went bathing in hot springs which was good fun. Besides we made a couple of bike tours to some of the beaches in the area. The evenings were sometimes spent at a local pub which offered occasional karaoke evenings or at the "Weigh West Pub". Once I also went to Vancouver with Heather and Claudia where we visited the "Pacific National Exhibition", a rodeo show and a concert by Prairie Oysters and Michelle Wright, Canadian country stars.
I left Tofino on 18th September with two guys from our group who gave Claudia and me a lift down to Victoria, the capital of British Columbia, at the south end of Vancouver Island. I stayed at the youth hostel (Victoria International Hostel) for two nights while Claudia stayed with a friend. The points of interest in Victoria where the Parliament, the Royal Empress Hotel, Mile "0" Point (the Western end of the 8000 km long Trans Canada Highway), Fan Tan Alley in Chinatown (one of the narrowest streets in Canada), Craigdarroch Castle (built by a Scottish eccentric) and the Royal British Columbia Museum.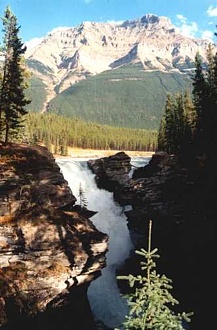 Victoria is still very British. You can go on a sightseeing tour in a red London Bus. I joined Claudia again at the ferry to Saltspring Island ($4,25). We spent one night at the youth hostel there (Cusheon Creek Hostel) and took the ferry to Galiano Island, another one of the Gulf Islands, the following day where we joined some friends of Claudia. We had booked rooms at a Bed & Breakfast place and got picked up by our host. The place was very idyllic. They had racoons coming to the terrace looking for food! The other girls intended to go canoeing but I took the ferry to Vancouver the day afterwards ($3,75) and in the evening the Greyhound bus up to Jasper in the Rocky Mountains ($84). I arrived very early in the morning, took a taxi up to "Whistler's Mountain Hostel" and spent the day hiking up The Whistlers (2464 m) by myself and, feeling a bit tired, I took a gondola ride in the Skytram back down to the hostel where I met up with Martina and Doro and their friend Jürgen who had come over from Germany. The following day we went to Mount Robson together, the highest peak in the Canadian Rockies and to Athabasca Falls in their hired car.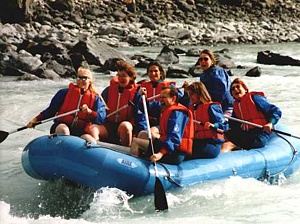 The day afterwards we went to Maligne Canyon as well as on a river rafting tour ($37) in the afternoon.
On 27th September they went on to Edmonton while I stayed yet another day to go mountain biking and horse-riding in beautiful Jasper Provincial Park. I saw bighorn sheep, elks and even a moose. Luckily I didn't meet any bear! The next morning at 7.15 a.m. I took an organised bus tour along the Icefields Parkway to Banff ($46) with stops at the points of interest like Athabasca Falls, Columbia Icefield (the Rocky Mountain's biggest glacier), Peyto Lake with its incredible turquoise green and Lake Louise with its Chateau. I spent three nights at Banff International Hostel and explored the town and its surrounding area like Lake Minnewanka on foot. On 1st October I took a Brewster bus to Calgary ($24). At the youth hostel I met up with Doro, Martina and Jürgen once again. We visited Calgary Downtown that day, and the following morning we travelled back to Vancouver together via the small town Nelson where we stayed at the mini hostel "Allen Hotel" and the Okanagan Valley where we stayed at "Penticton Hostel". Martina decided to stay there for a few days while Doro and I took Jürgen to Vancouver.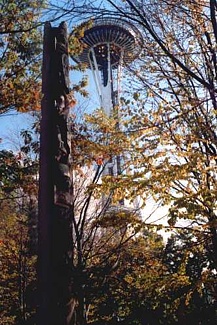 After spending one night at the youth hostel in Vancouver Doro and I took over the car and drove to Seattle, the Emerald City, one of the most popular cities in the States, for a couple of days. We checked into the youth hostel and visited Seattle Downtown, Pike Place Market, Chinatown, the famous Space Needle and the University Campus.
After getting back to Vancouver by Greyhound bus ($22) I spent the night at the airport and at 7.15 a.m. on 8th October I caught a Canada 3000 flight to Toronto with Claudia which we had booked in advance. We checked into the youth hostel for two nights, and the following morning I took a bus to Niagara Falls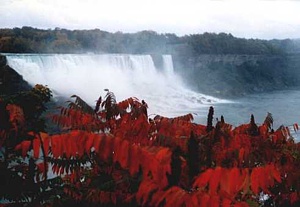 on my own ($40 return). The waterfalls were really impressive, especially the one on the Canadian side, but the town itself was a tourist trap. Back in Toronto in the afternoon I went up the CN Tower, the world's tallest building, and admired the panoramic view.
On Monday, 10th October Claudia and I took a Voyageur Colonial bus to Montreal, Canada's French part Québec (60 $ return). After checking into the youth hostel for two nights once again we visited the city, the old town "View-Montréal" which gives you a feeling of Paris and the hill "Mont-Royal" which gave the place its name. You have a good view over the city from the top. As we wanted to see the famous fall foliage in this region we decided to rent a car the second day to go to the countryside in the direction of Mont Tremblan Provincial Park and took along a guy who we met at the hostel. Unfortunately we were already too far into the season and too far up north, so most of the coloured leaves had fallen off. Back in Toronto I met up with a penfriend of mine. On 14th October our whole group finally caught our flight back to Frankfurt, leaving at 5.35 p.m. and arriving at 6.05 a.m. the following day. It was an experience of a lifetime!
Youth hostel prices were between $12,50 and $15 for members. They can easily be booked in advance by phone and credit card.
Duration of the final trip: 27 days
Itinerary: