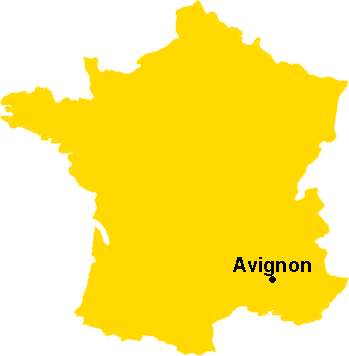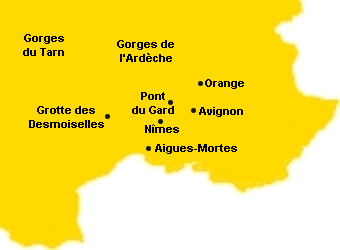 click on names in map
My Travels in France
I can't really count the number of times I have been in France. From several camping trips to Brittany in the north-east with my parents, when I was still so young that I hardly remember them, to camping trips to the south-east (Provence, Cevennes, Camarque, French Alps) when I was a bit older to several trips to Paris, a horse-riding trip to the Camarque and Provence in 1990, aikido summer school in the French Alps, a school trip to the Loire Valley, a 2-months work experience in Amiens in the north of France and a few visits to Mâcon near Lyon to visit friends.
The trip we did now was more or less a combination of my 1985 trip to the Cevennes and my 1981 trip to the Camarque plus a bit of Ardèche. I wanted to revisit the places with the glorious landscapes that impressed me so much during my earlier visits. It would have been good to go in spring, when the flowers are in bloom, I guess, but late summer was a better option (time-wise) for us this year.
Maps
Most of what we visited belongs to the region of Languedoc, part belongs to Rhone-Alpes and part to Provence. Most of the area we covered can be seen on this map of the Gard region.
Reservations
We booked our holiday apartment ("gite" in French) for the 2nd week of our holiday as early as mid March. A few apartments were already fully booked for early September, but we still had the choice. We decided on an old farmhouse, Mas de Rey, in Arpaillargues near Uzès in the Gard region. When I checked again a few weeks before our departure, the two larger apartments were still available, but the 2nd smaller one was already booked when we made our reservation. As we were fairly late in the season families had to return home for the start of school, so this may have been the reason.
We booked the guest houses for the first week of our holiday at the end of June, and it was no problem to get what we wanted. We decided on a small hotel in Florac as a convenient base for the Tarn Canyon, a B&B guesthouse ("chambre d'hôtes") at the gateway to the Cevennes between Anduze and Alès and a B&B near the Ardèche Canyon:
From Düsseldorf via Mâcon to Florac
We left Düsseldorf on Saturday, 3rd September, at 8 a.m. in the morning. The sun was shining and the thermometer pointed at 30 °C. We drove the 711 km to Mâcon north of Lyon where we stayed with friends. On the way we stopped at the petrol station in Luxembourg, which is always cheaper than the surrounding countries. Germany was at an all-time high of approx. 1.45 Euros per litre. In Luxembourg we paid 1.24 Euros. In Mâcon we paid 44 Euros to fill up. In France we also had to pay toll for the motorway (Autoroute du Soleil): 24 Euros.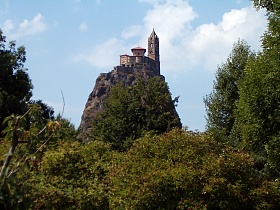 Sunday the 4th started off as a beautiful day with up to 33 °C. We travelled through Lyon, Le-Puy-en-Velay and Mende. Those three towns are also well worth visit, but we didn't linger. Around 3 p.m. we reached Florac, a small holiday town in the Cevennes mountains. We had driven 330 km. But the moment we arrived the clouds came up and then the rain! The temperatures sank to 27 °C. Florac is a typical French village, nothing special, but agreeable enough. We checked into our hotel, Hotel du Gorges du Tarn (42 Euro for the room plus 6.50 Euro per person for breakfast). We walked around the streets and had a beer and a pastis at one of the bars on the boulevard. The restaurants open at 7 p.m. Dinner menus start from 10-12 Euro. We had tomato and mozzarella salad for starters and trout (truite aux amandes) as the main course, followed by cheese platter or a dessert at the little hotel next to the pub.
On Monday it was cloudy, but at least the rain had stopped. It was around 20-24 °C. Breakfast consisted of a basket with fresh baguette, croissants and pain au chocolat (yummy!), jam and honey and café au lait. We were finished at 9 a.m. and drove to the Tarn Canyon or Gorges du Tarn, one of the most spectacular canyons in France. The road follows the Tarn River as it winds back and forth through the narrow canyon passages. Along the way you can look down on picturesque villages and clusters of old stone buildings that nestle above the river. We visited the medieval villages of St. Enémie and La Malène.
Then we drove up to Point Sublime, the summit of the limestone plateau, which we reached around 12 p.m. These table-plateau highlands separating the river basins are called Causses. The Causses are for the most part bare and arid owing to the rapid disappearance of the rain in clefts and chasms in the limestone. Point Sublime offers a fantastic view down into the Tarn Canyon. We then drove back down to the road along the Tarn River, then through the village of Peyreleau which looked quite picturesque, and up to Montpellier-le-Vieux where we arrived at 1.15 p.m. We paid a fee of 5 Euros each and did a little hike of 1.5 hours exploring the bizarre rock formations that look like a ruinous city. Afterwards we made the return trip to Florac via the Gorges de la Jonte canyon where vultures can be seen circling the skies. We had to fill up on petrol again: 46 Euros. That day we had covered another 170 km. For dinner we tried another restaurant on the boulevard. We had pork loin (entrecôte) and lamb (agneau).
Corniche des Cevennes
On the 6th we checked out shortly after 9 a.m. It was a two hours drive to Anduze along the panoramic route Corniche des Cevennes. But it was raining again. Temperatures were between 13 and 18 °C. We shortly looked at some fossilized dinosaur footprints (empreints de dinosaur) but as this was on top of a hill and there was thunder and lightning we quickly went back to the car! What a shame. It would have been really interesting to look at them more closely and the panoramic view would have been gorgeous. Then the rain got even worse and we didn't see a thing because the clouds were hanging so low over the plateau that we drove right through them. Thus we missed some good lookout points. As it was still too early to arrive at our next accommodation, a bed & breakfast place or so called Chambre d'Hôtes, we continued to the nearby town of Alès which we reached at 11:30 a.m. It wasn't fun to walk around in the rain. We had a drink at a café, then we ate a crêpe (pancake) for 1.30 Euros each at a stall. After a short pause the rain was pouring down again and we waited 30 minutes for it to stop so that we could safely walk back to the car. But it didn't abate, so we gave up and returned to the car anyway.
It wasn't far to our accommodation at the village of Blanas at Saint Jean du Pin between Alès and Anduze. It was 2 p.m. when we arrived. Our hosts at La Figalie (46 Euros for the night including breakfast) gave us a hearty welcome and offered us a cup of coffee which was much appreciated in this weather. Later that afternoon the rain finally did abate and at 3:30 p.m. we drove down to Anduze and St. Jean du Gard. We had already passed through both towns earlier that morning. Both are typical towns of the area and there's not very much to see. At St. Jean du Gard there's a beautiful old bridge across the river and Anduze has an interesting clock tower. We returned on the road from Jean du Gard via Mialet which was quite picturesque and there was another pretty old bridge. We got back to Blanas at 6 p.m. We had driven 137 km that day. La Figalie also offers self-cooked dinners (Tables d'Hôtes) every night (17 Euros per person) and they were really good. The place was fully booked. Sitting at a long table we were 8 guests plus our 2 hosts (all French except for the two of us). Dinner started at 8 p.m. and we were finished around two hours later. It consisted of 4 courses: There was a specially prepared bread with little pieces of bacon for starter, then we had beef (taureau) with rice, the obligatory cheese platter, all served with wine, and fig cake with coffee or tea for dessert.
Grotte des Desmoiselles and a 360° view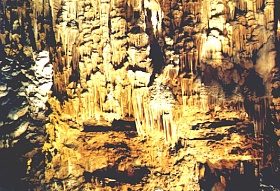 The following morning the rain had stopped, but it was still cloudy. It was around 20 °C. For breakfast (available from 8:30 a.m.) we had coffee, bread and home-made jam and honey. We left at 9:30 a.m. and after a short stop at the tourist information at St-Hippolyte-du-Ford where we asked about hiking tours in the area we arrived at the Grotte des Desmoiselles at St. Bauzille de Putois at 11 a.m., right in time for the next 1-hour tour. The Fairy Cave is an fantastic stalactite cave, one of many in the area. I would say there are 3 big ones: Aven Armand at the Gorges du Tarn, Aven d'Orgnac at the Gorges de l'Ardèche and Grottes des Desmoiselles. An aven is a special type of cave, typical of the Causses. There are 250 known avens in the Causses but only a few of them can be visited. Grottes des Desmoiselles comprises a spectacular underground cathedral. By the way, a way to memorize in French the difference between stalagmites and stalagtites is:
StalagMite: il Monte (it climbs); StalagTite: il Tombe (it falls).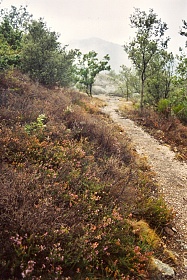 For lunch we had crêpes (2 Euros) in Ganges. Via St-Hippolyte-du-Ford and Lasalle we then drove to the little village of Soudorgues where we did a 3-hour hike up a hill with a 360° view. There was a 429 m change in altitude. The 7 km hike was well marked but we couldn't have done it without the little map that was given to us at the tourist information. We parked the car near the village hall (mairie). Then we walked past several farmhouses, up the Col du Mercou and Col du Bédos and just before we reached the summit of Mont Mauripe, we were surprised by a rain shower. Luckily it didn't last long and when the clouds had cleared we enjoyed a great view. At the end of the day we had driven another 120 km. At the Table d'Hôtes we were told that the country needed the rain of the past days as the last big rain was in November the year before! But as far as we were concerned it could have waited a couple of weeks longer, or arrived a week earlier!
Boïs de Païolive and Balazuc
On Thursday 8th September we left La Figalie around 9:30 a.m. It was 18-20 °C and it was raining heavily again. Bad luck! We shortly stopped at Saint Ambroix and climbed up to the white chapel with its Madonna overlooking the town on top of a hill. Then we went to the Boïs de Païolive near Les Vans and we started on the 5 km blue path in spite of the rain. It was a very pretty landscape through woods with bizarre rock formations, but in this weather it was a stupid idea to attempt the hike. We were hardly able to see the hermitage in the heavy mist which would have been very idyllic otherwise sitting on the verge of a cliff. When we got back to the parking area 1.5 hours later we were soaked and our car was almost standing in a lake. We changed out of the wet clothes and drove to our next accommodation, another bed & breakfast, Grand Chêne, at Largentière. We arrived at 2 p.m. and our hosts, who were really nice, took care of our wet and dirty clothes.
By 4 p.m. the rain had stopped and we drove to the medieval village of Balazuc, said to be one of the most charming villages in France. It's towering above the Ardèche River. When we were about to return to the parking area at 5 p.m., it started to pour down again. We drove back to Largentière and sat in the car for 45 minutes waiting to get out and visit the town, but the rain just wouldn't stop. So we returned to our accommodation and around 7 p.m. we drove back into town for dinner. We had pizza and tenderloin with a bottle of water for 24 Euros total. That day we drove 114 km.
Ruoms and Boïs de Païolive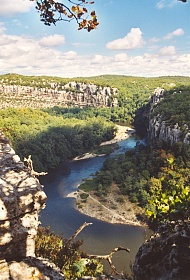 From the 9th the weather was improving. The day was partly cloudy with temperatures around 25-27 °C. We had breakfast, also with self-made jam, and left Grand Chêne at 10:15 a.m. First we visited the market in Ruoms (there are weekly markets in nearly every village in the area on different days) and the old centre with its city wall. Then we returned to the Boïs de Païolive and started on the yellow path "La Corniche" following the rim of the Chassezac canyon (Gorges de Chassezac) with some beautiful views. We were able to do the 1-hour hike with the sun shining and it was already quite warm. We had packed some fresh baguette and cream cheese for a picnic lunch which we enjoyed sitting on a rock overlooking the canyon. The Boïs de Païolive has three parking areas with different trails starting off from each of them. Besides the blue path leading to the hermitage and through rock formations and the yellow path along the canyon rim there was also a green path leading to further rock formations and a cave inhabited by bats (chauves-souris).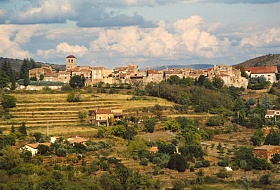 Afterwards we drove to Rosières. There would have been a hike along the La Beaume River that was described in our guide book, but with all the rain in the past days the river had swelled and the tourist office told us that the hike was not possible. So we finally visited Largentière, a medieval village that looks like a little fortress with the houses built above the river that flows around it. A castle from the 12th century is looking down on the village. We were back at our accommodation shortly before 4 p.m. Our host at Grand Chêne gave us a good tip for dinner: Auberges Les Ranchisses. We had a 4-course dinner for 20 Euros plus the wine. There was a local speciality salad with chestnuts, ham and warm goat cheese for starter and trout with almonds for main followed by cheese and finally a créme brûlée for dessert. Delicious. We did 88 km that day.
On Saturday the 10th it was cloudy and 20 °C and we had planned to travel down the Gorges de l'Ardèche. Between Vallon Pont d'Arc and Saint Martin d'Ardèche, these wild and impressive canyons carved by the river Ardèche stretch over a distance of 35 km. Originally we had intended to travel the canyon by canoe, but with all the rain in the last few days and temperatures still fairly low, we decided against it. Otherwise a descent of the gorges, through its 25 rapids, is a highlight for canoeists. We went by car instead and stopped off at the different lookout points. We were on the road by 9:45 a.m., passed through Ruoms again and filled up on petrol (43 Euros). Our first stop was at the famous Pont d'Arc, a natural stone archway across the river. Then the road was winding up the canyon walls and we stopped at several lookout points, such as the Cirque de la Madeleine.
Eventually we reached Saint-Martin d'Ardèche at the southern end of the canyon, passed over the narrow one-way bridge and drove up to Aiguèze, a well-preserved medieval village high above the river. Here we had a picnic lunch on a bench at the village square. Then we drove to the Chartreuse de Valbonne, a charterhouse in a fertile valley, and to the historic village of La Roque-sur-Ceze. A very narrow medieval bridge is the only access way to the village. We also had a look at the Cascades du Sautadet close-by. The Languedoc region is famous for its wines and we saw more and more vineyards. There are also many splendid plane tree avenues in the area.
At 3:30 p.m. and after another 140 km we reached Uzès and the nearby village of Arpaillargues where we had booked a holiday flat for the second week of our holiday. It was one of four at a picturesque old farmhouse, Mas de Rey, owned by a Dutch couple. Only one other flat was occupied, but we hardly saw the people that had rented it. There was also a large swimming-pool, which we had to ourselves most of the time. And finally we would be able to use it as the weather was going to improve considerably. The flat was a bit old-fashioned but quite large and it had a fully-equipped kitchen and a terrace overlooking the courtyard which was great for sitting outside. So this week we did a lot of self-catering: fish, pasta, salad, bread with goat cheese, etc.
On Sunday it was only partly cloudy and temperatures were up to 24 °C. We decided to visit Nîmes even though the town had been flooded only a few days ago. We could still see traces of the mud on the streets and some people were still busy cleaning their cellars, but the streets were dry again. We had left at 11 a.m. and we were back by 3 p.m. We spent a total of 3 hours exploring the centre of the old Roman city: the amphitheatre Les Arènes dating from the beginning of the 1st century where gladiator fights were held, the well-preserved Roman temple Maison Carrée, the St. Castor cathedral, the old city gate Porte d'Auguste and the gardens of the Jardin de la Fontaine with the Tour Magne which we climbed to the top to get a good view over the city. In the 19th century tailors in Nîmes invented a blue cloth that was called "bleu de Nîmes", hence the name "blue denim". Originally, denim and jean were two different fabrics. Jeans were actually invented in Genoa for the Genoese Navy as an all-purpose pant for its sailors. The French word for these pants was very similar to their word for Genoa, "Gênes". The return trip to Nîmes was 60 km. We spent the afternoon at the pool.
On Monday the 12th the sun was shining with just a few clouds and we had 27 °C. We decided to go kayaking to the Pont du Gard. Aida had recommended Kayak Vert at Collias and there was also a brochure at our accommodation. It wasn't a long drive from Arpaillargues and we set off on the river, the Gardon, at 10:50 a.m. We paid 18 Euros total including rehaul with a 10% discount because we were staying at Mas de Rey. The trip was fairly easy but the river was quite swift at times. So it didn't take us more than an hour before we passed below the famous Roman aqueduct, the Pont du Gard. Here we got off the kayak and spent about an hour exploring the aqueduct which was free of charge. The parking fees are expensive though as far as I heard. The debarkation point was 30 minutes further down the river and we nearly missed it as the sign had fallen down so we couldn't see it at first. Return trips were offered every hour from 12 p.m. We had agreed on 2 p.m., so we had to wait a little while before someone came to pick us up.
On the way back from Collias we passed through Uzès and spent another 1.5 hours exploring the town which is well worth a visit with its medieval buildings and its four towers. It may have been interesting to visit La Duché d'Uzès. The ticket for 12 Euros each would have included a climb up the Tour Bermonde. In 1996 the Haribo museum Musée du Bonbon Haribo, which tells the story of the production of sweets, liquorice and fruit gums, was opened at Uzès which is also a production site. If we'd had another rainy day we may have had a look. But that week we were luckier. We only drove 33 km that day - Arpaillargues to Collias and back. We spent another afternoon by the poolside.
Tuesday, 13th September, was our 3rd wedding anniversary. It was a beautiful day, sunny and 27 °C. We had planned an excursion into the Camarque for that day. We started off at 10 a.m. and at 11:15 we reached the walled city of Aigues-Mortes. We parked outside the city walls and walked around the town for 45 minutes. It was full of tourists that come in bus loads. Aigues-Mortes (Dead Waters) was constructed in the 13th century as a port and embarkation point for the crusades, but since the 14th century it's approx. 10 km inland, so it's pompous ramparts have never served their original purpose.
Then we drove to the near-by fishing village Le-Grau-du-Roi where we spent another 45 minutes. Unfortunately we just missed the Bull Festival (demonstration de taureau) where the "gardiens" (cowboys) drive a few bulls through the village or whatever they do. All we saw were throngs of people leaving and a few horsemen riding home. What a shame. If only we had known about it and arrived 30 minutes earlier. We could have visited Aigues-Mortes afterwards.
We left at 1 p.m. and bought some sandwiches for lunch at a supermarket. Then we drove through many vinyards growing "vin de sable", where the wine grows on sand, and the typical landscape of the Petite Camarque via the 14th century Tour Carbonnière and in the direction of Étang du Charnier and Étang de Grey. We found the right turn onto route D179 at Châteu Montcalm but instead of continuing all the way to Gallician we turned right towards St-Gilles too early so we missed the two lakes. Nevertheless we saw some pastures with the famous black bulls, a gardien riding along a canal on his white horse and a flock of flamingos flying above our heads. We drove to Tarascon and had a look at the majestic fortress.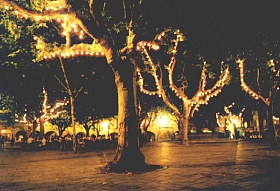 Then back to Arpeillargues where we arrived at 4 p.m. In the evening we drove back into Uzès for dinner. We found a very nice restaurant on the Boulevard Gambetta/Boulevard Charles Gide on the corner of Rue des Casernes next to the Lycée and opposite of the Hôtel de Ville (forgot to take note of the name). It didn't look like much from the outside but they had a very nice patio to sit outside. We had duck and lamb including desserts, wine and tip for 54 Euros. We saw a few bats flying above our heads on their nightly hunts. We drove as much as 199 km that day.
On Wednesday it was sunny, 28 °C. We left at 11 a.m. and it took us an hour to reach the city of Orange. We were lucky as we didn't have to pay anything for the parking space because it was free at midday! We spent 1.5 hours walking around the city. We had a look at the Roman theatre from the outside and from top of the hill and the Arc de Triomphe which is a little way off the centre to the north. The Comédie (opera house) and the town square with the Hôtel de Ville are also worth seeing. We took a different route home on smaller roads through the hills but more direct than of the main roads. At our return to Arpeillargues we went shopping for food and we were back at our accommodation at 3 p.m. We drove 108 km and we filled up on petrol for 47 Euros.
Concluses de Lussan
It was getting warmer every day. The 15th was another sunny day and temperatures were up to 30 °C. We started off at 10 a.m. and it took us 30 minutes to arrive at the Concluses de Lussan, a small canyon near the village of Lussan. From the parking area you can climb down a short but steep path to the river and some potholes. Or you can hike approx. 1 km (20 min.) down a path to the "Portail" where the creek enters a narrow flume. Across a small bridge of wooden planks you can hike up another 2 km to a menhir on the other side of the canyon. At a crossway we kept following the yellow path to the left instead of the red one straight ahead which would soon have turned into yellow again as well - PR 27 - and would have taken us straight to the menhir up a much steeper path. Instead we went round the long way and we were not always sure if we were still on the right track. It took us about 4.5 hours round trip from the portail. Back up the path to the parking area we were back at the car by 3 p.m. After a bit of food shopping we got back to Mas de Rey at 4 p.m. and we spent the rest of the afternoon by the pool.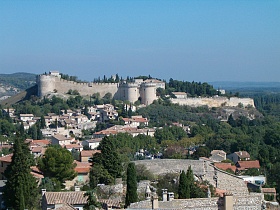 On Friday it was sunny, 30 °C. We left at 10:45 a.m. and it took us 45 minutes to drive to Villeneuve-lez-Avignon. We climbed the Tour Philippe le Bel (1.80 Euros) that controlled access to the famous Bridge of Avignon (Pont d'Avignon). It offers a beautiful view across the Rhône river to the city of Avignon. Unfortunately the light wasn't favourable and it would be better to visit in the afternoon with the sun behind you. The tower is closed between 12 and 2 p.m. We were given the free Avignon Pass which, after paying the full price at the first visited monument or museum, offers 20-50% discount at the second site visited. It's valid for 15 days. Then we drove across to Avignon. A free parking space proved very difficult to find even outside the city walls. Only on the 3rd level of the Palais des Papes car park (1.50 Euros per hour) we were finally successful.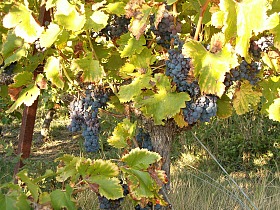 We walked around the city centre with the Palais des Papes (Palace of the Popes), the Rocher des Doms (a hill with a good view of the Rhône and across to Villeneuve-lez-Avignon and the Mont Ventoux in the distance), the Pont d'Avignon (Pont Saint Bénezet) and the Place de l'Horloge with the Hôtel de Ville and the Théâtre. Avignon is famous for its annual theatre festival in the summer months (mid July to mid August). It was the residence of the Popes from 1309 till 1408. Avignon's city wall is 4 km long and it has 91 towers and 7 city gates. Of the famous bridge of 1185, for a long time the only bridge across the Rhône in southern France, only 4 of the originally 22 arches remain. A visit of the bridge used to cost 3 DM according to a travel guide of 1995, now they charge 4 Euros (3.30 Euros with the Avignon Pass), so it has more than doubled in the last 10 years! We finished our visit at 1:45 p.m., drove back to Uzès, bought some food and were back at Arpaillargues at 3:30 p.m. The last opportunity for a swim in the pool. We drove 94 km.
Journey home: Uzès - Düsseldorf
Saturday 17th September, was the day of departure. We were ready to go by 9 a.m. We filled up on petrol for 25 Euros at Remoulins, then for another 20 Euros on the motorway. For most of the trip it was partly cloudy, just 15-17 °C. The light was fantastic though and the landscape in Burgundy and the Vosges looked lovely with gently rolling hills, fields and woods, meadows with grazing cattle, farms and villages. We had to pay 40 Euros toll on the French motorway (cash or CB = carte bancaire / credit card). Petrol in France cost approx. 1.35 Euros per litre at that time; in Luxembourg it was much cheaper: 1.11 Euros. Here we filled up for another 50 Euros. After a couple of deviations due to blocked access roads in France and Luxembourg and a couple of breaks for a quick snack we arrived back in Düsseldorf at 9:30 p.m. We had to fill up for another 30 Euros. We had covered 956 km.
The total distance for the entire trip was 3260 km.
Tips and Conclusion
In the entire Cevennes region there are numerous historic villages with beautiful old buildings and then there are the canyons and the mountain scenery. So no matter where you go there's always something to see. On the narrow winding roads you can't cover big distances though.
I would have expected hot sunny weather in early September, but you never seem to be able to count on the weather nowadays. While we had rain in southern France, Germany had sunshine and 30 °C! But at least this was the weather we had in the second week: 27-30 °C and a beautiful blue sky every day.
In the afternoons the sky is of such an intense blue, it's incredible. Sunset was at 8 p.m. While it was hot during the day, it always cooled down sufficiently in the evening.
The Provence is most beautiful when the lavender is in bloom between in mid/end of June and mid/end of July.
If you don't book in advance, you will find many bed and breakfast places, so-called "chambres d'hôtes" signs along the roadside, but you don't know if they still have availability or what they charge for their rooms. There are very expensive ones, but many don't cost more than 50 Euros per night and room. We saw some small hotels offering rooms for 40 Euros, or the 3-star Mercure at Uzès advertised for 55 Euros.
Parking in the countryside and in small towns is usually free.
The majority of tourists we met were Dutch, Belgian, British or German.
We haven't had any problems this time, but when you go to the Camargue bring mosquito repellent!
As for the French food I love the bakeries, the fresh baguette, croissants, pains-au-chocolats, apple tarts, galette des rois, etc. What I don't like is their pâté or terrine and the often rather raw meat or frog's legs. Here are some recipes.
During our holiday I read a very funny book set in France: "A Year in Provence", by Peter Mayle, an Englishman who bought a house in Provence and talks about all the typical French customs. Besides I read Robert Louis Stevenson's book "Travels with a Donkey in the Cévennes" of 1879. He's the author of "Treasure Island".
For folks interested in hiking there's a good guide in German: "Ardèche und Cevennen. Wege durch eine alte Kulturlandschaft Südfrankreichs" Weinhold/Schmitt, Schelzky & Jeep, ISBN 3-89541-148-5.
A spectacular new construction is the Viaduc de Millau, as high as the Eiffel Tower, built in only 3 years, but we didn't manage to see it this time unfortunately.
I would definitely like to go back, but next time I would like to see more of the south east (Provence and Côte d'Azur) and the south west (Montpellier, Carcassonne and Spanish border).