It all started off with a cancellation

Some three weeks before my planned horse-riding holiday in Ireland in May 2002 I received a phone call from the travel agency advising me that this trip had to be cancelled because the guide had fallen ill. What had appealed to me was a fast-paced trail ride on Irish Hunters guided by a former jockey in the Shannon/Tipperary area, including some cross-country jumping and even a visit to the racetrack with the horses! The travel agency now offered me an alternative trail in the same region but I wasn't too keen on that one as it would have involved different horses and most likely a slower pace. Besides I didn't want to pay a lot of money for something I didn't fancy. So I decided to opt for my second choice instead, the Donegal beach and mountain trail ride in the Sligo area. But this change of region meant I had to change my flight destination from Shannon to Dublin, or possibly Sligo, which involved a 50% cancellation fee for the travel agency. Until we got everything sorted out, another ten days had passed. And I finally received my tickets and the travel documents four days before departure, which was just about time!
My original travel arrangements would have been much more convenient as I had booked a direct flight with Aer Lingus from Düsseldorf to Shannon, and I would have been picked up at the airport for a 30 minutes transfer to the riding stable. Instead I now had to fly to Dublin with a stopover in Manchester in the UK on the way out and in Birmingham on the return flight. And because it was cheaper than the transfer organized by the riding stable I took the express bus linking Dublin and Sligo in 3.5 hours. There would have been a bus connection to Sligo from Shannon Airport, as well but this would have meant sitting 5.5 hours in the bus and if I missed it due to the tight connection with the flight I would have lost an entire day!
Day 1 (Getting there or The Journey Out)

My British Airways flight to Manchester was scheduled for Saturday morning, 10:55 a.m. Stupidly I had put some scissors into my hand luggage along with my toiletries so I had to hand them over at the security control. The airplane was tiny, an Embraer 145, with only 3 seats in one row, and half empty. We left on time and arrived in Manchester 1.5 hours later at 11:25 a.m. local time, and we were greeted with some lovely sunshine, while I had left behind a grey sky over Germany. On the plane I had started reading "Round Ireland with a Fridge" by Tony Hawks, an Englishman who went hitch-hiking round the green isle in an attempt to win a drunken bet in 1997. It was funny to read - while waiting for my connection at Manchester Airport - that Tony started his odyssey from that same airport. I recognized my own thoughts in his comment: "I had decided that I wanted to make my journey in the month of May, a time which I hoped would see Ireland dryish and warmish but not overrun with tourists."(p. 11) From Manchester British Airways fly in cooperation with Aer Lingus. So with a 30 minutes delay I finally stepped onto the green plane with the Irish shamrock. As this flight was only a short 30 minutes haul over the Irish channel we arrived in Dublin almost on schedule at 14:00.
It took me a little while to find the shuttle bus to the city centre. But after quitting with €4.50 I was finally on my way. It was 2:45 p.m. and it took nearly 30 minutes to reach the bus station in the heart of the city. A female traveller had left her handbag on the bus when she got off at the train station. But a helpful Irish couple realized her mistake, asked the bus driver to stop and the woman ran after her to hand her back her bag. So much for the Irish! The €7.00 phone card I bought at the bus station lasted me through a total of 60 minutes phone calls to Germany, which was pretty good. You got a number and ID you could dial, so you could make calls also from private phones, which served me well at the bed&breakfast. I paid only €18.40 for a return ticket to Sligo and the bus left right on time at 15:45. This one also was only half full. Reservations are not required as Bus Aireann will provide another bus when one is full. A river tour along the Liffey was sort of included in the price as that was the route the bus took on its way out of town and I recognized some of the places I had visited with the European Commission stagiaires (trainees) in 1997. I was sitting on the bus thinking that it was just great to be able to do something like this, get on an airplane and travel the world, set out to see another country, just like that. And I am extremely grateful that I have the chance to do this. Feeling a bit insecure if everything will work out as planned is balanced out by the excitement of what is lying ahead of me.
With still 2.5 hours to go the sky was growing a bit overcast. Like me Tony and his fridge are now on their way to Donegal, but on a slightly different route. The landscape between Dublin and Sligo consists of green pastures, with grazing cattle and sheep, some trees and a few scattered houses, the occasional village, an occasional lake and then pastures again. From Carrick-on-Shannon the landscape grew hillier and more diverse. Some 30 kilometres from Sligo we were passing through Boyle where I and the other stagiaires spent a jovial night with Irish music and an Irish storyteller those five years ago. So in fact I have travelled that same route before, only then it was in the middle of the night and pitch-dark. This time I was able to glimpse a view of the ruins of Boyle Abbey. We arrived in Sligo at 19:10 and as there was nobody around to pick me up and I wasn't even sure if somebody was supposed to be there, I looked out for a public phone. The bus station, however, was already closed, and there was no public phone to be seen anywhere outside. Luckily the little Spar shop at the corner was still open and they had a public phone. But nobody answered at the riding centre. So I tried the numbers of the two guest houses printed in my travel documents. I got lucky with the second one and the lady asked me to get a taxi out to Carrowmore. The charge was €7.00.
When I arrived at the bed and breakfast some ten minutes later, Declan from the riding centre appeared out of the blue, and it looked like he did indeed come down to the bus station to pick me up. Well, maybe I was on the phone just then… Sligo Riding Center was only a five minutes walk across the road from my accommodation and Declan told me to be there the next morning around 10:30 a.m. Breege, my landlady at Culbree House, had cooked me a large 3-course dinner with soup and dessert. It was very good. I had a neat room with bathroom en suite. But it turned out that I was the only guest for the entire week! Which meant on the one hand I had a room all to myself, even though I had booked a double-room, but on the other hand I had no company to share at least breakfast and dinner with…
Day 2 (Getting Acquainted)

I woke up early with the sun shining. After a large Irish breakfast with bacon and eggs, bread, toast, cereal, scones and yoghurt at 9 a.m. I walked over to the riding centre, which is managed by former Junior European Championship Rider, Declan McGarry. Declan told me that there would be only three of us on the trail this week: myself and two American ladies. Those turned out to be Ellen, a teacher, and Christine, a farmer's wife owning her own horses, from Delaware at the east coast. Christine and Ellen had booked the more expensive version of the trail with accommodation at the 4-star Sligo Southern Hotel right next to Sligo's bus station and in walking distance of the town centre. It was a pity we weren't staying in the same place though, as this meant I had to spend most of my evenings alone at the bed&breakfast. Well, I didn't mind too much reading about Tony's Ireland trip and watching Irish television... And with no one but English-speaking people around this was a good opportunity for me to speak English all week!
We started off that morning by trying out the horses in the indoor arena. I then changed with Christine from the large Irish Hunter gelding Stubben to the brown mare Mandela. I preferred Mandela's size and she was very forward-going which I liked. Irish Hunters are a cross between the slightly heavier Irish Draught mares and Thoroughbred stallions. It looked like Mandela and Oddish, our guide Michael's horse for the week, had more Thoroughbred blood, Stubben was more the heavier type. Ellen had especially asked for a pony, so her horse would be Black Star, also called Mucker, a pretty tall, white-grey Connemara, bred at the riding centre. Declan has been running his business for 20 years. He owns about a 100 horses and he breads his own ponies. He even did show jumping in the US and in Germany. Besides the trail rides the riding centre offers riding lessons, or you can get your "own" horse for the week and ride out by yourself all day. On the trail the horses are prepared for you in the mornings, so all you have to do is jump right up. Usually you don't even have to untackle them at the end of the day. After the introductory session we took off for an easy ride along the fields and pastures neatly divided by stonewalls and hedges in the surroundings of the riding centre. After a sandwich lunch back at the barn at 12:30 p.m. we continued with a two-hour ride through the Rathcarrick woods down onto the beach where we enjoyed our first long canters along the shores of the Atlantic Ocean. Back at the riding club bar we had another Guinness or tea and a chat, then Ellen and Chris were driven to their hotel and I returned to my B&B for dinner. I spent the remainder of the evening with Michael at the riding centre pub where I had to fight my way through a total of three pints of cider!
Day 3 (Getting Wet)
The following morning I woke up to rain and an overcast sky, but hoping that it would clear up a bit by the time we went out riding. But when we took off for the mountain of Knocknarea at 11 a.m., it was still raining. But it was a warm rain and it didn't feel as unpleasant as expected. And approximately 30 minutes later the rain had nearly stopped. During the short climb to the summit of Knocknarea we were able to experience some beautiful views of County Sligo and the Knocknarea peninsula with its 25 miles of beaches. But when we attempted the last climb up to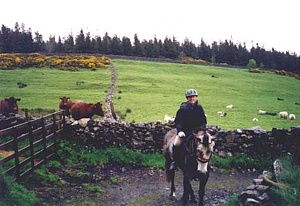 Queen Maeve's tomb, all of a sudden we were right in the middle of a huge storm cloud. The rain was beating down hard almost like hail and you could feel the horses didn't like to be exposed to the rain and wind at all when they tried to turn their backs to the weather as best they could. But it felt almost romantic to ride through the barren landscape on top of the hill in the driving rain. We finally reached the grave of Queen Maeve, one of Ireland's greatest warriors, which consists of a large pile of loose rock, and from its hardly sufficient shelter we turned into the storm again. It didn't feel cold at all, but I was glad for my new weatherproof coat which did a good job of keeping out the wind and rain. Nevertheless, for riding on horseback in the rain a longer coat reaching down over the knees would have been preferable, and so it was that I could eventually feel the water running down the back of my riding-breeches and down into my chaps. I was also glad I brought along my Gore-Tex boots, but rubber riding boots would have been more advisable in this weather. Michael pointed out the breathtaking views of counties Sligo and Donegal which we could have had on a clear day! Now all we saw was grey mist. When we started riding down the other side of the hill I thought the worst was over, but then Michael turned and we had to backtrack the way we came as there was obviously only one way up and down the mountain. So back through the storm we went. All in all it took us about an hour for the climb.
When we reached the foot of the hill, Declan came to pick us up with the minibus and he chauffeured us to a pub lunch in Strandhill, which has one of Ireland's best surfing beaches. Tony and his fridge also passed through Strandhill on their journey, which was recommended to them as the best place to stay in the Sligo area, the Ocean View Hotel or one of the bed and breakfasts. "And very nice they were too, overlooking a broad expanse of sandy beach complete with panorama of evening sun setting over the Atlantic Ocean."(p. 92) We were glad to be able to warm up a bit by the fire and enjoyed the hot soup and tea. Michael, nicknamed Skippy, couldn't miss out on his Guinness of course. In this same pub, "The Strand", and his fridge eventually ended up as well. After the break we were all feeling better, but I would still have liked to change into dry clothes. We were back on the road again by 2 p.m. By then the rain had stopped and we were starting to get almost dry again. We finally reached the beach and with the tide out cantered all the way to Coney Island, named after the Irish word for rabbit.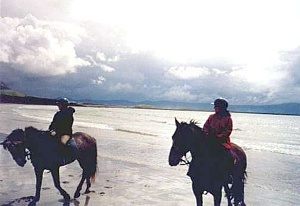 And rabbits were all over it. We rode across to the other side of the tiny island which has a beautiful deserted beach, and when we turned back again we already saw the dark sky reappearing over Knocknarea. By the time we were galloping back over the beach, once again the rain was driving down hard. By now I was pretty soaked, still it was sort of fun riding through the rain. It felt like a true adventure! My coat still kept most of the water off, so at least my upper body was fairly dry, however, the cold was starting to creep in. And then my right foot suddenly felt like it was standing deep in a puddle, the rain having finally found a way into the boot. Well, as I said I was hoping May in Ireland would be kind to me weather-wise, but obviously this was not meant to be. A character in "Round Ireland with a Fridge" says at one point: "You know what they say up here, 'If you can see the mountains it's going to rain, if you can't see the mountains it's raining already.'"(p. 90) With things standing as they were, even though the sun was coming out again after that shower, I was glad we called it a day and headed back to the barn, arriving there at 4:15 p.m.
After a nice hot shower and a good dinner of soup, chicken and mashed potatoes plus dessert back at Culbree House, I already felt much better. That Monday night, around 10 p.m., Declan and Michael took Ellen and me (Chris was feeling too tired) for a night out at the McLaughlings Irish Pub to listen to some music. As it looked like every night people meet down there to play their instruments and sing along. That night there were two guys, looking like hippies, one of them with long hair and a beard, who played the violin, the other, we were told, was a gypsy, with a guitar and harmonica, plus the owner and a couple more people who played the guitar as well. They were playing traditional and well-known songs by the Eagles, Bob Dylan, the Beatles, and people in the pub sang along. At one point I was encouraged to sing the German "Muss I denn zum Städle hinaus", hardly remembering the lyrics at all! There was also an older Canadian woman with a navel-free top and wide skirt who got up to dance later on and about whom Ellen remarked that she looked desperate for sex but not likely to get any! It was very enjoyable. Tony had a similar experience: "What followed was a great treat for me. This was Irish traditional music as I had hoped to see and hear it, spontaneous and from the heart, and not produced for the sake of the tourist industry."(p. 163) I had another three pints of Cider, which is as much as I can take, before I start to get slightly drunk! We left the pub at 1 a.m., and it looked like this was already past the official closing hours! At a hotel in Sligo Tony noticed the sign "Strictly no singing" and he explains "The need for the sign reflected an admirable Irish character trait, and that is – when the Irish get drunk, they sing."(p. 91)
Day 4 (Exploring the Area)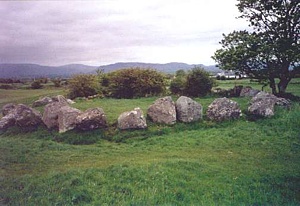 Today was a day off for the horses and also a day of relaxation for the riders, so instead of riding all day we explored the sights of the area. At 11 a.m. we started off with a guided walk around the Carrowmore tombs, a Megalithic burial site, right opposite of the riding centre. The cemetery consists of dolmen and stone circles and some of the tombs date back to 3,500 B.C. It was very windy that morning and we weren't far from getting blown away by the strong, fairly cold wind. An hour later, Michael exchanged his usual steed for some more horsepower when he took a seat behind the wheel of the minibus to take us on a tour around the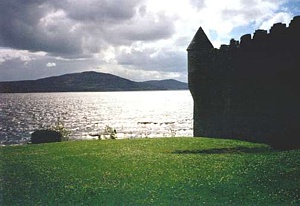 Sligo area. First we visited one of the entrance gates to Markee Castle, which had a tower that looked like Rapunzel would let her hair down any moment. Then we stopped at a crystal factory in Collooney where they still use the traditional methods of cutting and polishing the glass. Afterwards we went for a pub lunch consisting of soup and sandwiches.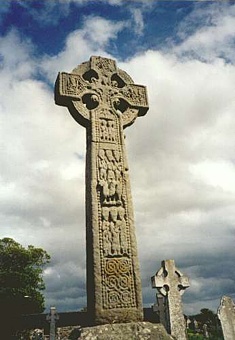 In the afternoon we visited a local shop in Dromahair and after that Parke's Castle, a 17th century fortified manor house which is picturesquely situated on the shores of Lough Gill. Then we went to see the grave of the poet W.B. Yeats at Drumcliff. Tony mentions in his book: "We were in Yeats country, so called because Sligo was where W.B. and his famous family once resided."(p. 90) The inscription on Yeats' grave reads:
"Cast a cold Eye
On Life, on Death
Horseman pass by".
A beautiful high cross can also be found at the graveyard. Our last stop was at a waterfall. While it had been quite a beautiful day so far, it started raining again just then. But it was only a brief shower. Ellen and Chris finished the day off with a visit to the Seaweed Baths in Strandhill. This treat has also been tried out by Tony, at another place however: "We visited Kilcullen's Seaweed Baths in Enniscrone where I had the privilege of having seaweed draped all over me whilst immersed in an enormous bath full of hot sea water. It seemed a ludicrous idea but was surprisingly relaxing."(p. 118)
Day 5 (Markee Castle Ride)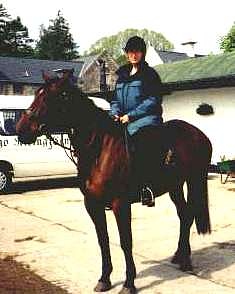 After a large breakfast we left the barn at 11 a.m. that morning and after an hour along country lanes we reached Union forest. We enjoyed a few long canters along the forest trails. When Michael called out "Single file!" the horses and we already knew what was coming. And afterwards came always his question: "So, how was that?!" Well, excellent of course! The heavens didn't wait too long, however, and it started to rain again in a steady fine drizzle. But as long as they didn't pour the waters down in buckets again, it was okay. With a rainproof coat this was no problem. When we reached Markee estate, we explored the castle grounds and its park landscape for a while. Then at 2 p.m. we left the horses for the night at the Markee Castle Riding Stables. We had a drink at the bar in the castle, which has been transformed into a 1st class hotel, and when Declan arrived he drove us back to our accommodation. That night I went to the riding centre club bar again and I talked to and tried to understand Geraed and Seamus, which was not always easy due to their heavy local accents, while drinking Bacardi Breezers, two of which they bought me, as seems to be the Irish custom. Tony and his fridge were now leaving Ballina.
Day 6 (Getting nearly killed)
This was the day I almost died. We rode for five hours, leaving Markee Castle around 11 a.m. After about another hour along country lanes we reached the foot of Ballygawley Mountain. Following old, partly boggy shepherds' trails we reached Lough Lumman, a presumably bottomless mountain lake.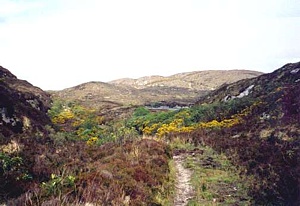 On the way we even saw a few deer disappearing into the woods and we enjoyed the great views over County Sligo. In the distance even Mount Knocknarea could be seen. The weather this time was quite perfect for a ride: dry, a bit sunny, but not hot. Up at the lake Michael ordered lunch by mobile phone and when we reached the foot of the mountain again on the other side, Declan was just arriving with a table, chairs and sandwiches for a picnic lunch. Tony says: "I don't have many good things to say about mobile phones but one plus point is the freedom they offer you to choose exiting mountainous landscapes for your office space."(p. 142)
After lunch our ride took us through Union forest again and after a few more gallops and more deer we reached the same roads again which we had taken the day before. When we had to pass under the bridge of the main Sligo-Dublin road, it happened. My horse Mandela got scared by a truck, jumped from the sidewalk onto the road – and for a moment I thought she would run off with me right into the cars! I don't know if I was able to hold her or if she just changed her mind, but somehow I managed to direct her to the side of the road again, and she calmed down a bit. And so did I. This was pretty scary and I was still shaking. Everything happened very quickly. I didn't know if I would be able to stay on the horse, control the horse, and avoid being hit by a car all at the same time! But luckily everything turned out well. Actually, I could have seen this coming. All week long I could already feel Mandela getting nervous in the vicinity of cars, especially vans and lorries. But with Michael saying that Mandela had been on the trails already for ten years I assumed this was nothing to worry about. The morning before, however, she already tried to break out when a van was passing close by in a narrow road, almost knocking over the horse behind us! But then she didn't have any space to run! Well, with only one more day to go now I didn't really want to change horses for the final day, especially not on a beach ride as horses can be hard to control in the open space, and by now that horse and I knew each other fairly well. So I was just hoping that everything would be okay, although I must admit I was just a little bit nervous by now! But at least we wouldn't have to pass by that bridge again…
Well, after that exiting experience we returned to the riding centre and I had a quiet night reading in my room. Tony and his fridge had arrived at Kylemore Abbey, (p. 138) which I visited during my trip to Ireland five years ago. Ellen and Christine were supposed to stay at Markee Castle that night, but as a wedding was going on there and the hotel seemed to have forgotten about the two of them not belonging to the wedding party, they wouldn't have been allowed out of their rooms. Well, that's not really the point of staying at a castle if you can't walk around! So they asked the management to be taken to a different place, which turned out to be a 4-star hotel some 30 minutes out of town. That night we had a thunderstorm, and I was hoping, if it was raining during the night, it might be dry again by the following morning, but that was unfortunately not the case.
Day 7 (Getting wet again)
Even worse, it didn't stop raining all day. It took us 45 minutes to get down to the beach, my horse still pretty nervous when big cars were passing by. When we reached the shore, we kept walking through long stretches of shallow water with the water reaching up to the horses' bellies. After about an hour of continuous rain, I almost had enough. We were getting more and more wet and I had to try to keep my feet out of the water. But finally we reached a stretch of beach were we could gallop and which lead us right up to Strandhill.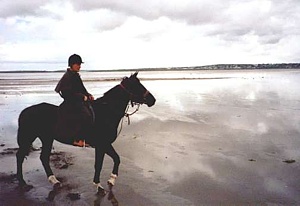 So after two hours on horse-back in the rain we ended up at the "Strand" pub once again, where we had a late lunch. During the following one and a half hours we were still getting wet, but we enjoyed some nice long canters along the beach. The last one must have been several miles! At the end of the day I was drenched again and this time both my feet were standing deep in puddles! We rode around the entire Knocknarea Peninsula that day. And that night we should have had our farewell dinner, but as Ellen and Christine were staying far out of town, it was just me who Declan took out to an Italian restaurant for dinner. We went to the riding centre pub for a last pint afterwards. There was this youngish guy, with already glassy eyes, who told me that I should come back during summer when they have a nightclub upstairs and karaoke evenings at the bar. There will be many students taking English and riding lessons. Declan mentioned that in July and August they have about 80 guests! Well, that would be too busy for my taste anyway. But I'm sure the students enjoy the "craic" (Irish for fun)!
Day 8 (The Journey Home)
Breege was kind enough to give me a lift down to the bus station. The sun was shining again when I left Sligo. Well, that lasted us half the way to Dublin, but it was not raining again. Tony and his fridge were now approaching Dublin as well, but they were arriving from the south, while I was headed there from the north. Tony had to be there in time for a live radio broadcast (p. 229) and I for my return flight. "I was glad that I was to leave Ireland exactly as I had found it over the previous four weeks: warm, accommodating and enjoying a drink."(p. 247) Well, I was only there for a week, but for the rest I can say the same. The bus journey worked out fine, but my last adventure was still ahead of me and it was to take place at the airport. I arrived there at about 11.15 a.m. and my flight was scheduled for 12:40, so this would have been quite perfect timing. But I immediately saw that the flight was delayed until 2 p.m. It wasn't easy to find the correct check-in desk and I had to change queues a couple of times. I finally got a boarding pass for the Aer Lingus flight to Birmingham but not for the final leg to Düsseldorf and also my luggage wasn't checked through. Well, in spite of the delay I should still have enough time for the transfer in Birmingham so I didn't really care. It still said 12:20 boarding time on my boarding pass, but I thought it would make no sense now to proceed to the gates and just sit around for a couple of hours.
So I spent some time wandering around the duty-free shops, occasionally checking the departure screen, just in case anything might change. But still the same message was displayed. Around 1 p.m. I slowly walked down to the gate – and I hardly believed my eyes when I read at the gate "Birmingham 13:10 Departed"! Oh, great! So what now?! I rushed to the nearest Aer Lingus desk asking the clerk how this could have happened, and I was told that the information displayed on the departure screens was wrong! They had obviously paged me, but as this could only be done locally, I didn't hear a thing! At least it looked like I was not the only person who missed that flight! I had to collect my luggage again, which they had removed from the plane, and I was directed to the ticket desk in the departure hall, meaning I had to go back to where I've come from, dragging my luggage along all the way. There was another flight to Birmingham scheduled for 3 p.m., but this would get very tight for my connecting flight to Düsseldorf, which was supposed to leave from Birmingham at 16:40. After exploring the option of spending a self-paid – the incorrect information was not the airline's fault - night in Dublin and leaving early on Sunday morning on a direct flight, I decided to risk it and maybe spend a self-paid night in Birmingham if I didn't make the connection! Well, if all went according to schedule I still had 40 minutes for the transfer, which should be time enough. My luggage would be checked through this time and I would already have the boarding pass for Düsseldorf - so this was possible after all!
But of course things went not according to plan and the 3 p.m. flight was already delayed 10 minutes when I arrived at the gate, and we didn't actually take off until 15:40. So even with only 35-40 minutes flying time this was getting really tight indeed. We touched down at 16:20 – boarding time for my next flight. At 16:30 I was running for it to reach Terminal 2 before the plane took off, and I made it onto the aircraft right on the minute at 16:40! I had been hoping that this flight would be delayed a bit as well now, so I would have had more time. There weren't many passengers on this flight, and they were waiting for a few people coming in from Belfast. But I had hardly sat down, before they commenced with the departing procedures and we were leaving right on schedule. Well, the most important was that I had made it! Honestly, this was a lot of excitement for one day, but I was glad that I didn't end up stranded in Birmingham at the end of it!
Epilogue
Well, in the end everything turned out well. I guess I was overly optimistic regarding the Irish weather. In Germany it was fine that entire week. I had picked May for the trip because I assumed it would be sunny as it so often is in Germany at that time of year. Now I doubt that this is also the case for Ireland. It looks like the weather there is changing all the time. But you can also get lucky. The last two groups on the trail obviously didn't have any rain at all and even left Ireland a bit disappointed. Well, I wouldn't have minded! Tony and his fridge seem to have had more luck as well, but even for them things could change quickly. "I was lucky enough now to be experiencing weather for which the west coast of Ireland is most definitely not renowned. Clear blue skies and a gently setting sun hung over Clew Bay (…). On the walk back to Westport out of nowhere some storm clouds appeared, and the heavens opened."(p. 132/133) I rather regretted that we didn't ride that first day when I arrived, because that was the sunniest day during my entire week in Ireland!
The riding was good. I didn't enjoy it so much, however, that you have to ride along the country lanes so much there are no bridle paths and hardly any hiking trails. But I immensely enjoyed the long canters on the large open beaches.