We left Düsseldorf on 11th June at 7:30 a.m. on a sunny morning, and travelling by car via Switzerland (St. Gotthard Tunnel) we reached Menaggio at Lake Como in Northern Italy by 5:30 p.m. Via the internet we had made a reservation at Hotel Corona (€55.00 for the double room, which wasn't very modern but okay) right on the main piazza. Parking spaces are available close by along the lakeshore promenade. We spent a nice evening strolling through the village and along the promenade with a beautiful view across the lake.

Breakfast in the morning was an additional €8.00 per person, but they had quite a nice buffet with fresh rolls, cheese, sliced cold meat, muesli, etc. We didn't expect much for breakfast in Italy anyway as for most Italians breakfast consists of nothing more than an espresso and a dry biscuit with jam. Therefore, after a comparatively hearty breakfast we continued south along the western shore of the lake and reached the city of Como. We strolled along the lakeshore promenade and through the historic city centre for an hour.

Five ancient villages hugging the cliffs and the sea: the Cinque Terre

Via the motorway connecting Milan and Genoa we arrived in Monterosso al Mare around 4 p.m. Via the internet we had booked a double room at Villa Caribe B&B (€80.00 per night incl. breakfast and parking – the room was small but it had a little balcony and air-condition; breakfast was so-so. The cappuccino was good, but nothing else was fresh; everything was offered wrapped up in plastic). We stayed in the new part of the village, called Fegina, which extends on a long promenade adjoining the sandy beach where most of the hotels are. Fegina's advantages are the largest beach in Cinque Terre, public parking and the train station. After checking in we went down the hill to the beach where we spent the rest of the afternoon. We rented sun chairs and an umbrella for €7.00. The water was warm and perfectly enjoyable. Later we strolled along the sea promenade and through Monterosso's historic centre which can be reached via a pedestrian tunnel. We had a dinner of gnocchi and tomato and mozzarella salad at a beach bar back in Fegina.

Monterosso is part of the Cinque Terre (the Five Lands), 5 coastal fishing villages that hug the rocky cliffs of southern Liguria. There are hiking trails, a narrow, winding road, and a frequently running train service connecting all the villages. They can also be reached by sea, except Corniglia, which is perched on top of a cliff. The trails along the coast represent perhaps the best way to see the Cinque Terre, offering unique views of the villages from above, of steep cliffs and the sea below. It takes about 5 hours to walk the 12 kilometres between the 5 villages. The car should be left at one of the public car parks in Monterosso (Fegina) or Riomaggiore. The train tickets are very cheap and it only takes a few minutes to travel from one town to the next. There are also special Cinque Terre cards which can be bought at the tourist information or train station for 1 day, 3 days or 1 week's stay. The price includes admission to the hiking trails. We bought the 1 day ticket for €5.40.

A beautiful hike between the mountains and the sea in Cinque Terre

The following morning we hiked all the 12 kilometres between the five villages within only 4 hours and we did the return trip by train. With temperatures of approx. 30 °C and some steep climbs the hike was quite exhausting and the sweat was running freely but we were rewarded with fantastic views over the Cinque Terre coast, the villages and the Mediterranean. We left around 9:15 a.m. and it was already hot. First we took the path from Monterosso to Vernazza, the pearl of the five Cinque Terre villages, which we reached after about 1.5 hours. The hike started off with a long climb up many steps but it was really spectacular passing along the cliff edge and through vineyards, woods and olive terraces. Eventually we stepped around a corner to see Vernazza spread out below.

From Vernazza we took the 11:30 a.m. train to the last village, Riomaggiore, which we reached only 10 minutes later. In Riomaggiore we took the lift (included in the Cinque Terre Card) to the upper village. From there we strolled down to the harbour and the rocky beach. Then we followed the "Via dell'Amore" (the Lover's Pathway), the most famous and easiest path of Cinque Terre, carved directly into the rocks (only a short 15-20 minutes walk), which links Riomaggiore to Manarola. In Manarola we discovered foccacia, thick slices of pizza bread filled with tomatoes and basil, salami, eggplants, potatoes, etc., sold from little shops. Delicious!
| | |
| --- | --- |
| | |
We decided to carry on to the next village, where we arrived after approx. 45 minutes. Cornigilia was built around the year 1000 on top of a cliff and it is connected to the sea by 365 steps. After passing by the train station we walked up the steps leading to Corniglia and rested a while on one of the village squares. As we didn't feel much like retracing our steps all the way down the stairs again and back to the train station, we decided to venture on the final hike back to Vernazza (which we reached after 1 hour and 15 minutes, a bit less than the official 90 minutes). It was still hot and the path was leading further up than expected. At the last section there was a long steep descent down large steps from high above the coastline back to sea level. We were glad that we hadn't taken the path from the other direction, which would definitely have been even more exhausting! But the path was well worth the effort, offering unique views back to Corniglia and even Manarola in the distance and down to Vernazza.

From Vernazza we took the 5:45 p.m. train back to Monterosso. Our legs and feet felt really tired and we had a bad muscle ache for the following three days, even though the hike didn't seem that strenuous at the time! There were only two really long climbs, the one after leaving Monterosso and the one from Corniglia. In our view the best walk was the one between Monterosso and Vernazza. The hikes and towns were fairly crowded with tourists, but not as much as we had feared from reading other reports on the internet. After a much needed shower we went down to Fegina for dinner (€15 for a menu including pasta, a meat dish with salad or chips, bread, water and wine.

From a colourful fishing village, Portovenere, to Tuscany

On 14th June we left Monterosso around

9:45 a.m. and, taking the road to La Spezia, we reached Portovenere by 10:30 a.m. As it was Saturday and on the weekends almost everyone in Italy heads for the sea, it was nearly impossible to find a parking space. When we were about to give up we found some space at the beach parking, a 20 minutes walk from the town centre. In the blazing sunlight we walked back to town, which is a very picturesque fishing village with colourful houses, a castle and a church on a rocky peninsula. It's located on the Poet's Gulf, so named for its many famous bards, from Dante to Bryon. We strolled through the village, had a foccacia and arrived back at the car park at 12:30 p.m. After some food shopping at a Coop supermarket in La Spezia we were on our way to Tuscany and we arrived at our holiday home Podere I Moricci near Péccioli around 3:30 p.m. We had quite a large flat (Pendolino) on the first floor, consisting of a living-room with kitchen, bedroom and bathroom. In total there were four flats to rent, but when we arrived we were the only guests, quite surprising at that time of year! I Moricci is an old villa and it is beautifully situated on top of a hill with views of the surrounding landscape between Volterra and Pisa. There's also a large pool and after some unpacking we immediately tried it out! Later we cooked dinner and walked into the nearby village of Fábbrica di Péccioli. The village has a small supermarket and a pharmacy and an inconspicuous restaurant requiring pre-booking. There's only a menu at a fixed price of €20.00 per person. We didn't try it, but our Austrian neighbours who arrived later did. Apparently it was quite good.

A "coastal" town 20 km from the sea and an old town overlooking the new town: Massa Marittima and Colle di Val d'Elsa

On 15th June we started off around 9:45 a.m. and after driving south for 1.5 hours through the soft rolling hills of Tuscany we reached the town of Massa Marittima. Despite its name Massa Marittima is located more than 20 kilometres from the sea. Situated on the southern slopes of the "Colline Metallifere" it is considered one of the medieval jewels of the Maremma region. The 13th century Duomo (cathedral) San Cerbone and the Piazza Garibaldi are masterpieces of Italian architecture. We climbed the Torre del Candeliere which offers a good view over the town and strolled around the centre for a little while. Overall, Massa, however, didn't impress me as much as Siena, Lucca or San Gimingnano. After leaving the town we drove to the ruins of the San Galgano monastery. We stopped for lunch at a roadside restaurant. Finally we visited the old part of Colle di Val d'Elsa which spreads on top of a hill overlooking the new town. The oldest part of Colle is characterized by narrow paved lanes interconnected by many flights of steps. After a long day on the road we arrived back at I Moricci by 5 p.m. We went for a swim and a sunbath at the pool and cooked dinner around 7 p.m. This was to become our usual ritual for the next couple of weeks.

From our holiday home it was about 50 km to San Gimignano, and we arrived after about an hour's drive just before 11 a.m. It wasn't easy to find a free space on one of the parking lots outside of the city walls and cars were already queuing up, so we were about to give up and return another time. But the last one we tried still had some space left, so we were lucky. We were charged €2 per hour. To avoid the busiest time of the day the recommendation is to come either early in the morning, or late in the afternoon. San Gimignano is not a large town and as Italy's "Medieval Manhattan" it's included in almost all tours of Tuscany, so it's no surprise that it's full of tourists. Of San Gimignano's 72 medieval towers, only 14 remain. But that's still many more than all other towns can boast of! We walked around the historic centre for a couple of hours and climbed the 54 m high Torre Grossa, the highest tower in town, which offers a great view over the city and its surrounding area. We couldn't find any foccacia like in Cinque Terre, but we had a pizza slice for lunch. We arrived back at I Moricci around 2 p.m. and went for a swim in the pool. An hour later clouds appeared and the blue sky turned dark. There were strong winds coming up and we saw a thunderstorm in the distance. Around 6 p.m. we went to the Coop supermarket at the road to Péccioli to do some shopping for our dinner. Later that evening we walked to nearby Fábbrica di Péccioli to make a phone call home.
| | | |
| --- | --- | --- |
| | | |

A hike in the heat

In spite of another day promising temperatures of 30-35 °C we left for Montecatini around 10 a.m. this morning, following the description of a hike in a nature reserve in that area. But unfortunately we couldn't find the starting point, no matter how hard we tried. Eventually we turned around and stopped off near Volterra for a quick lunch of bruschetta (toasted bread with tomatoes), lasagne and tartuffo ice-cream. Thus fortified we started off on another hike near the village of Pignano. We left the car at the roadside and hiked to the Fattoria di Castelvecchio and the castle ruins of Castelvecchio following a path through vineyards and woods. We saw a deer and a couple of hares. All in all it took us about 2.5 hours. It was very hot but at least there were a few clouds offering a bit of shadow. When we arrived back at I Moricci around 4 p.m. we immediately went for a swim and lazed about at the pool for the rest of the evening.

Florence: The Medici City

After a night of lightning, thunder and rain we decided to visit Florence, expecting the heat in t he Florentine valley to have cooled down a bit. We went to the town of Pontedera by car (a 20 minutes drive) and from there we took the train (€8.00 per person for a return ticket) in order to avoid the heavy traffic and parking problems in Florence. The trip took an hour and we arrived in Florence by 12 p.m. Temperatures were still quite agreeable. As Florence lies in a valley it is said to be very hot, humid and smoggy in summer. We walked around the city centre and visited its sights: the 13th-century cathedral Santa Maria del Fiore, the churches Santa Maria Novella, San Lorenzo and Santa Croce, Piazza della Signoria, Ponte Vecchio, Belvedere Fortress. Florence's economic and cultural predominance goes back to the Medici in the 15th and 16th centuries. We didn't visit the Uffizi Art Gallery which requires advance booking or a long time of queuing, and as it's so large you could spend more than a day there. Copies of Michelangelo's famous David statue can be found in front of the Palazzo Vecchio and on Piazzale Michelangelo. The latter offers beautiful views over the city and it's only a 15 minutes or so walk across the Arno River and up a hill. The churches all charged entry fees, except the cathedral. When we arrived there was a long queue, so we came back in the afternoon. Climbing the cathedral dome or its campanile was €6.00. We took the 4 p.m. train back to Pontedera and returned to our holiday home for our daily swim. Admired and photographed the sunset. New guests arrived, a couple from Munich, Jan and Astrid, with their little daughter. When they went to Florence by car a few days later they paid €21.00 parking fee (€3.50 per hour)!

A town with a view: Volterra

Volterra was only about 30 km from our holiday home. We arrived around 11 a.m. and strolled through the narrow, stone-paved streets of the historic town centre surrounded by medieval city walls, admiring the Piazza dei Priori with its ancient palazzos, the Duomo and the Baptistry, the well conserved Roman Theatre, the 4th-century BC Etruscan city gate Porta dell'Arco, and the Fortezza, originally a Medici castle, now a high security prison. Volterra sits atop a 555-metre-high rocky plateau that dominates the surrounding hills and valleys. It is full of workshops where artisans craft the native alabaster into souvenirs. In spite of all its history Volterra is much less overrun with tourists and it has a very agreeable atmosphere. The Museo Etrusco Guarnacci (€7.00) may be worth a visit, but we didn't go to see it. Instead we settled down for a pasta lunch in Piazza XX Settembre and returned to I Moricci around 3 p.m.

The Leaning Tower: Pisa

Pisa was about an hour away. We went there on 20th June and arrived shortly before 12 p.m. We left the car in a big parking lot near the Piazza dei Miracoli and went to see the famous Leaning Tower (reopened since December 2001; entry fee €15.00!!) and the cathedral (entry fee €2.00). Afterwards we walked around the city centre to the beautiful Piazza dei Cavalieri, Borgo Stretto, a street lined with arcades, and down to the palazzos along the Arno River and the pretty church Santa Maria della Spina. From an overall perspective, however, the centre of Pisa is not very striking. We had a pizza slice for lunch and returned to the parking lot after some 2 hours. Then we drove to the Certosa di Pisa, a baroque monastery, in nearby Calci. We did some shopping at Coop in Ponsacco and when we arrived back "home" around 4:30 p.m. we went for our usual swim and sunbath. We had dinner on the terrace and enjoyed the beautiful landscape bathed in a mild yellow light and the gorgeous sunset.

A tower overlooking the Arno valley and the birthplace of a genius: San Miniato and Vinci
This morning we left around 10.45 a.m. and drove cross-country to Vinci, Leonardo da Vinci's hometown, situated a few kilometres from Florence and Pistoia. We stopped off at San Miniato on the way and climbed its tower Torre di Frederico II, which offers a fantastic view over the Arno valley. In Vinci we visited the Museo Leonardino with models constructed after Leonardo da Vinci's drawings. Leonardo was a man well beyond his time. He was a renaissance painter, architect, engineer, mathematician and philosopher, a true genius. For its €5.00 entry fee the museum was interesting, but much smaller than expected. We went for a pasta lunch at a roadside restaurant and had a quick look at the Villa Medicea di Poggi a Caiano. Then we returned via the Fi-Pi-Li motorway and arrived back at I Moricci by 5 p.m. More guests had arrived, 2 couples from Austria. At around 10 p.m. we heard some music coming from Fábbrica di Péccioli and we went to have a look. There was a little country festival with live music going on. I have never seen so many fireflies as that night on the way to the village! They were sparkling in the dark like Christmas illumination! When we returned after a little while, we joined Jan and Astrid for a glass of wine on the terrace.

A tour in the countryside

On 22nd June we slept till late and after breakfast we went to the pool. Everyone else was there, too! After lunch we left around 2 p.m. for a drive around the Tuscan countryside, stopping off at the village of Lari with its castle. Then we went for a 1.5 hours hike near Casciana Terme. It was hot but a bit windy. We walked past orchards, olive groves and through the forest and arrived back at I Moricci around 6 p.m. After taking a shower we went out for dinner. We had a lovely meal at the Trattoria La Botteghina near Chianni consisting of pasta with wild boar minced meat sauce for starters, rabbit and duck for the main course, and ice-cream for dessert, plus bread, wine and water, all for a total of €33.00. It was very good and comparatively cheap!

A walled city and a bareback horse race: Monteriggioni and Siena

We left around 11 a.m. and 1 hour later we reached Monteriggioni with its nearly intact 13th century fortified wall, covering a length of 570 meters and alternated by 14 towers and 2 gates. We strolled through the village and arrived in Siena by 1 p.m. We went to see the cathedral, which has a very impressive façade and interior, and the beautiful Piazza del Campo with the Palazzo Pubblico. Here the Palio, a wild bareback horse race instituted in 1147, is celebrated every year in July and August. We climbed the 400 steps of the 102 m high Torre del Mangia built in the 14th century. The views from here over the rooftops of medieval Siena and the outlying Tuscany hills are breathtaking. Only a certain number of visitors are allowed to climb the tower at a time so that tickets (€5.50) can be purchased only for a certain time of day and waiting periods should be expected! It is therefore recommended to buy a ticket for the tower immediately upon arrival in Siena. You can then visit the town until the time indicated on the ticket for access to the tower. We were lucky in so far that we arrived at the Torre del Mangia shortly before the afternoon ticket sale was opened at 3 p.m. We queued for 20 minutes and were able to get tickets for 3:15 p.m. In the remaining waiting time we bought an ice-cream at an ice-cream parlour with a view of the piazza from a balcony on the first floor! We left Siena at 4:15 p.m. and arrived back at I Moricci 1.5 hours later. Jumped into the pool and had dinner.

A day at the coast: Golfo di Baratti

Decided to spend the day at the sea. Left around 11 a.m. and tried a shortcut instead of the main road to the coast. However, that road was in quite a bad condition and it took a while until we got back to the main road to Cecina. Between Bolgheri and San Guido we drove through a 5 km long cypress avenue. Then we followed the coastline until, at 1 p.m., we reached the Golfo di Baratti with the town of Populonia nestled on top of a hill. Parked near the beach and had a panini (bread roll) with mozzarella cheese and tomato respectively porchetta (pork). The golden sand at the beach was incredibly hot. In the sun and without shoes it was easy to burn your feet! We rented 2 sun beds and an umbrella for €16.00 the day. The water was clear and refreshing, very salty, so you could even stay afloat without drowning! We stayed till 5 p.m. and returned to I Moricci in 1.5 hours via the expressway to Cecina and the main route via Saline di Volterra. Had a shower and went for dinner at a pizzeria in Péccioli (2 pizzas, 1 mixed salad, water and 2 tartuffo ice-creams for €20.00). Back at I Moricci we joined Jan and Astrid on the terrace for another drink, a chat and some more ice-cream.

A typical country town: Péccioli

In the morning of 25th June we drove the 8 kilometres to Péccioli and strolled around its centre for the first time since we arrived. Did some shopping at the Coop. After lunch we went for one of our usual swim and ball games in the pool. Settled down to read afterwards. Had dinner on the terrace. Watched the sunset. A lazy day.

A medieval town behind a wall: Lucca



We left for Lucca at 10:30 a.m. and arrived around noon. We parked outside of the city walls and walked through the historic centre: Piazza del Mercato built in the shape of the former Roman amphitheatre, the

church of San Michele in Foro with its beautiful façade, the Duomo San Martino, Torre delle Ore, etc.

Had a piazza lunch (€13.00 incl. water) on Piazza Napoleone. Climbed the 230 steps up Torre Guinigi (€4.00) with a beautiful view over the town and a tree on top! Lucca is a very charming town with lots of nice restaurants where you can sit outside without being disturbed by cars. The bicycle is the preferred mode of

transportation within the city walls. We returned to our car via the Passegiata della Mura. Lucca's 16th-century fortification wall is topped by a tree-lined promenade running a 4.2 km loop around the city rooftops. We left the town around 3 p.m. and went to the Devil's Bridge, Ponte del Diavolo, in Borgo a Mozzano and to Villa Mansi in Segromigno in Monte. Arrived back at our holiday villa around 5:30 p.m.


Another lazy day

On our last day at I Moricci we just lazed about at the pool. In the evening we went to the Trattoria La Botteghina again (€32.00 for 2 penne cinghiale, 1 rabbit, 1 dish of goat meat, 1 portion of beans as a side dish, 1 mixed salad, ½ litre of red wine, 1 litre of water). It was also Jan and Astrid's last day and upon our return we joined them once again on the terrace.

A day spent with friends in Reggio Emilia and at Ferrari in Módena

On Saturday, 28th June, we left I Moricci around 10 a.m. and arrived in Reggio Emilia at 12:30 p.m. where we were met at the motorway exit by Mimmo and Caterina who are old friends of the family. When I was 17/18 years old I went on school trips to the Amalfi coast near Naples a couple of times and they were my host family. Later they came to see my family in Schwerte and we went to see them in Italy again later on. But the last time we met was 10 years ago. They have now bought an old farm house near Reggio Emilia which they are about to do up with the help of their sons. They gave us a hearty welcome and we had a "light" lunch of pizza, salami, parmesan cheese, tomato and mozzarella salad, pizza spaghetti and melon followed by coffee. As Mimmo now works for Ferrari, we went to the Galleria Ferrari near Módena (Maranello) in the afternoon. It was a cloudy day (the first one during our holiday) and on the way there we were suddenly hit by a heavy rain storm and even hail! But luckily it didn't last very long. After visiting the gallery we returned to their house and we had some wonderful fruit sticks and a drink. In the early evening Mimmo took us to Reggio Emilia for a walk through the city centre. Dinner at 9:30 p.m. consisted of spaghetti with mussels, melanzana (eggplant pudding), grilled meat and a cake of fruit and cream for dessert. It was lovely but we overate!

A waterfall in Switzerland: The Rheinfall

After breakfast (croissants, biscuits and jam, coffee) on Sunday it was time to say goodbye. We left at 10:30 a.m. and via Milano we reached Switzerland. On our return trip we travelled through the San Bernadino Tunnel. We were planning to spend another night near Lake Constance at the border to Germany but after visiting the Rheinfall waterfall (only €0.75 for the ticket to the viewing platforms, but more than €4.00 for a grilled sausage!) near Schaffhausen, which we reached at 5:30 p.m., we decided to continue straight back home. It was another 4 hours drive (with a stop at MacDonalds in Germany) and we arrived back in Düsseldorf by 11:30 p.m.

Final comments

We spet a lovely time in Italy with sunshine every day. It was unusually hot, 30-35 °C, for June – the maximum temperature normally being only 28 °C – but luckily we had the pool to cool down after visiting the different sights! We had booked the upstairs flat as it offered some more privacy but later we regretted that we didn't have immediate access to the terrace and garden like the downstairs flats. With the hot summer weather we had, it was very agreeable to sit and eat outside.

Unfortunately in all of Tuscany we didn't come across any more foccacia, which we enjoyed so much as a lunch snack in Cinque Terre. Instead we often had pizza slices. But ordering a full size pizza in a restaurant for lunch proved to be very difficult. Most restaurants (even if they call themselves "pizzeria") offer pizza only in the evening!

We enjoyed Siena, Lucca and Volterra because they were not so much overrun by tourists like San Gimignano or Pisa. In Pisa, however, this can only be said of the Piazza dei Miracoli. Nevertheless San Gimignano was worth the visit as it's very special with its towers. The Cinque Terre and Portovenere were pretty crowded with tourists and expensive, but lovely.

And there are still many more places to see in Tuscany…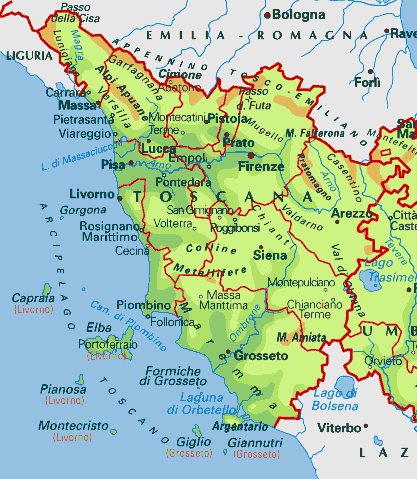 ---