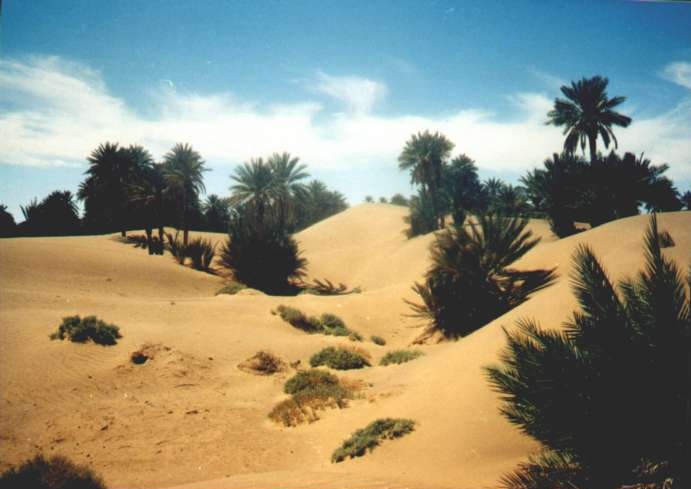 For one week I went horse-back riding in the Sahara desert! I left Düsseldorf airport on 28th March at 6.25 a.m. In Frankfurt I changed planes for Casablanca where I had to wait for my final connection to Ouarzazate in the Atlas mountains for 10 hours. The last flight was a short one, nevertheless I arrived only at 11.10 p.m. (with one hour time difference to Germany, so for me it was actually 0.10 a.m. already). At Ouarzazate airport I met my fellow-travellers and our Moroccan guide and we were driven to our hotel by taxi. The hotel was a very nice one (It must have been in the 4-star category).
The next morning we had to get up very early: at 6 a.m. (!) in order to be picked up for our transfer to the town of Zagora by 7 a.m. We were 12 travellers (German and Dutch) driven by two big taxis. The transfer across the mountains through pouring rain (so close to the desert!) took about 2 1/2 hours. At 11.15 a.m. we finally set off on horse-back (here it was dry again). Our guides were a Moroccan guy and a German lady. The horses were Arab/Berber stallions. We rode for 5 hours (with a one-hour break) through the Draa valley and stony desert. Eventually we arrived at our camp which was set up near the river by our Moroccan courier and his two assistants, one of them also being our cook. So we were served typical Moroccan food which was delicious. The sky at night was bright with stars, simply fantastic.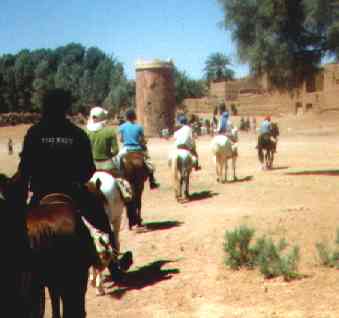 In the morning we woke up with the birds singing. After breakfast we got the horses ready for our longest ride of about 45 km which took us 7 hours through a very impressing landscape. We had to pass through the river Draa and we stopped for a coke at a local village. Eventually we camped near the river again. This time we heard the frogs croaking before we fell asleep. It always got dark very quickly between 6 and 7 o'clock.
On our third day we only rode for 3 1/2 hours. At lunchtime we had a long break of about 2 1/2 hours with salad and bread which we transported in our saddlebags. We also passed through sand dunes and spent the night in a traditional Moroccan house. For dinner we got served Couscous which is the traditional North-African dish. Every evening we also had the tpyical freshly made mint tea. This night nearly all of us slept under the open sky on the roof of the building and it was just beautiful to watch the stars. In this place there were many noises: dogs, donkeys, the horses in the courtyard and cocks could be heard in the morning. We woke up at sunrise at about 6 a.m.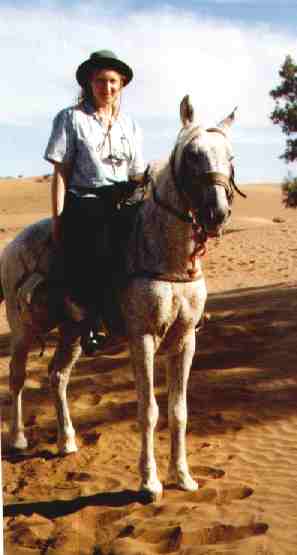 On the fourth day we had another long ride of 5 1/2 hours and this time we went into the real Sahara desert with sand dunes and everything. There we also had a couple of very wild gallops. It was also the hottest day with temperatures of 36 °C (in summer they must reach about 48 °C!) and with hardly any wind. Normally there always was a breath of wind which made riding in this hot country agreeable.
On the fifth day we had to cross a mountain range and we also had to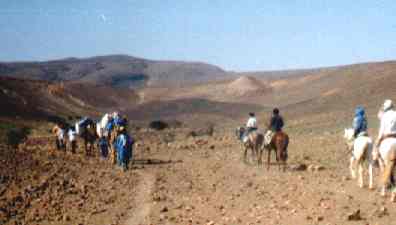 lead the horses for about an hour as the path was too stony to ride and fairly steep. On this day we also passed a group of tourists on camels. At night we camped at a well, and here we hardly got any sleep at all as there was a terrible wind which would have been quite nice normally but which rattled the tents so much it was really noisy! So finally most of us went into the main tent which was just for eating but which made less noise than the small 2-person-tents which we used to sleep in during this trip.
On our last day we only rode in the morning. It took us 3 hours to get back to Zagora where we had one last picnic at lunchtime before we were driven back to Ouarzazate. On the way back our taxi had a breakdown (which was not surprising considering the state the car was in), but we managed to get it repaired and arrived only a little late. We did some shopping for souvenirs and had dinner at the hotel. We were so glad to see a shower and toilet again after one week in the desert! Afterwards we went into the hotel disco for a couple of hours until midnight (it was said to be the only disco in town!), and we had to get up early again, at 5 a.m. (!) in order to catch our flight back to Casablanca at 7 a.m. This time we didn't have to wait so long in Casablanca. The plane to Frankfurt left a bit later than the scheduled time of 12.25 p.m. We had two hours time difference now due to summer time and arrived at Frankfurt at about 6 p.m. My flight back to Düsseldorf left punctually at 8.25 p.m. and we arrived even a few minutes earlier than the scheduled 9.15 p.m.