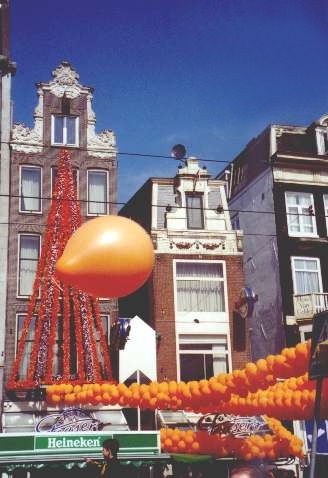 We went on the new German high-speed train, but the train didn't go very fast and it took more than two hours to get to Amsterdam from Düsseldorf. It was Koniginnendag (Queen's Day) and we didn't know that when we bought our non-refundable tickets (Euro 50). I hate crowds but I thought, oh well, it might be interesting to see the festivities. But really, I can't recommend it, unless you want to join in the fun. People were dressed in orange and were wearing orange plastic crowns. Many of them were partying on boats in the canals. But if you want to go sightseeing, it's really difficult to get through the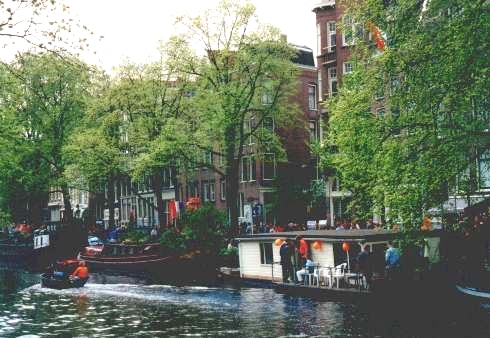 crowds sometimes. Besides there was garbage everywhere and people pissing in the corners. At least the museums were open, so we tried to get away from the crowds in there.
We went along Damrak to the Dam square ant then to the Anne Frank House in Prinsengracht. As I had just finished reading her diaries it was doubly interesting to see the wartime hiding place of the Jewish girl and her family. It was nice to walk along the canals afterwards and it was less crowded there. For lunch we went to a pizza place, but the pizza was awful: charred and with some clumps of spinach that looked disgusting. Right next to us was a music box and five minutes after we were seated outside, they started to turn it up to disco level! So we swallowed our food quickly and made a dash. Afterwards we went to the Van Gogh Museum which also features some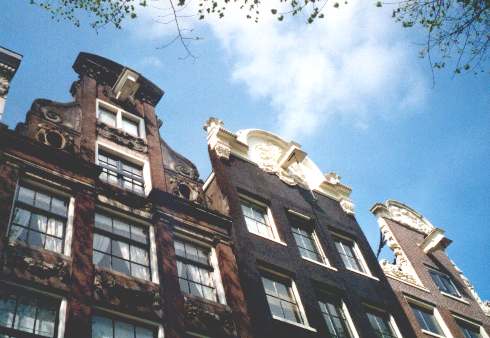 of his contemporaries (Euro 8.70). When we tried to return over the bridge at the Rijksmuseum we nearly got squeezed to death in the crowd. We then went along the Amstel to the bridge called Magere Brug and the Montelbaan tower. Finally and to relax our feet we intended to go on a canal tour, but we had spent our last money at the museum and couldn't find a working cash machine.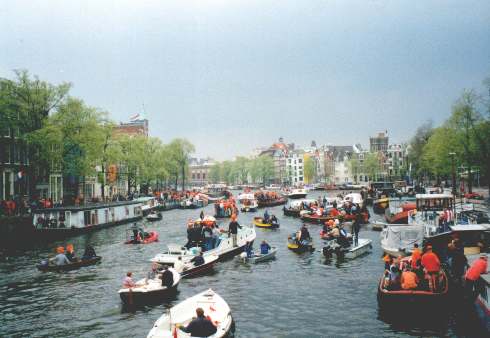 When we finally got to an exchange office at the station, it was too late to go on the tour as we only had one and a half hours left before we had to take the train. So we just tried to find a place to grab a snack and have a drink, but we couldn't find anything decent enough near the station. Eventually we just had a slice of pizza and a hamburger at the station and finally succeeded in finding a place at the overcrowded station pub where we had a cappuccino.
I would still have liked to see the Begijnhof at the Spui, one of Amsterdam's many courtyards hidden away between houses, and Rembrandt's house in the old Jewish quarter. The Rijksmuseum would probably have been worth a visit, too, but then we would have needed more time. It would also have been good to admire the view of Amsterdam from the top in the café Metz at the corner of Leidsestraat and Keizersgracht. Well, maybe another time...