We are back from New Zealand and we loved it! But we were really fortunate with the weather, so this impacted our impressions a lot.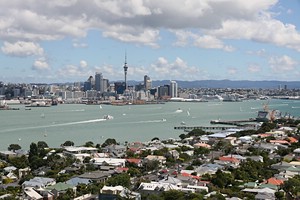 We left on Thursday, 16th February. The flights with Korean Air were good. We had approx. 11 hours flight ahead of us from Frankfurt. In Seoul we had four hours between flights and we took the opportunity to take a shower at the airport. Then another 11 hours to Auckland. We got to Auckland at 8.15 a.m. and took a shuttle bus to the city where we checked into our hotel. The we walked down Queen Street to the harbour and took a ferry to Devenport. Devenport has some pretty Victorian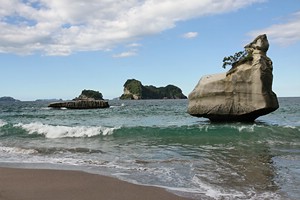 buildings and from the top of Mt. Victoria you get a great view of the Auckland skyline.
On Sunday morning we picked up our rental car and drove to the Coromandel peninsula. The water was an amazing blue, so the views were lovely. We checked into a motel in Whitianga and in the late afternoon we hiked down to beautiful Cathedral Cove.
The following night we spent in Rotorua. Here we visited the thermal area Wai-O-Tapu and the Lady Knox Geyser. On our way to Taupo we visited Orakei Korako, another area with colourful pools and bubbling mud. The weather was still great.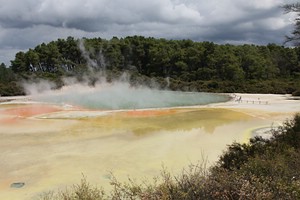 But for the next two days they predicted rain in the mountains and shuttles for the famous Tongariro Crossing hike had been cancelled. So we went to the east coast first where we visited the Art Déco towns of Napier and Hastings. After a rainy day we did an 18 km hike along the coast to a gannet colony in sunshine at 27 °C.
The next two days we spent in Tongariro National Park. When we arrived the volcanoes were still hidden in the clouds but the next day we were able to do the Crossing which was spectacular! In spite of wind speeds of up to 45 km per hour and temperatures of 0 °C at the top. It was quite a climb. The following day we had fantastic weather again and from the still active volcano Mount Ruapehu we had great views from the Skyline Trail.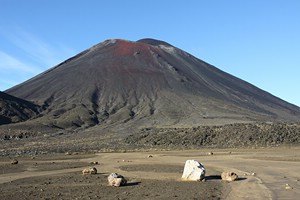 Then we drove to New Zealand's capital Wellington and took the ferry to the South Island. We saw some dolphins on the way. We spent four nights in a double room in a hostel at Abel Tasman National Park. Here we took a water taxi ride to the famous coastal track so we were able to do a day hike between Tonga Bay and Torrent Bay. Sunshine, golden beaches and turquoise blue water. We also saw a few seals at Tonga Island. Another day we paddled along the coast in a sea kayak. And one day we drove up to Golden Bay and Cape Farewell. There are some sea arches at Wharariki Beach.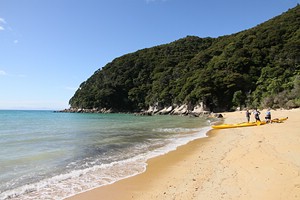 Next we drove to Cape Foulwind, visited the seal colony there, and spent the night close to the Pancake Rocks at Punakaiki on the rainy west coast. We visited Hokitika Gorge with its beautiful turquoise waters that comes down from the glaciers. We had fabulous weather at Franz Josef Glacier and Fox Glacier. After two nights in the township of Fox Glacier it was raining when we drove over Haast Pass. We spent a night at Lake Wanaka and visited historic Arrowtown. Then we stayed in Queenstown for two nights and did a day trip to Glenorchy where several scenes from Lord of the Rings were filmed and hiked on the Routeburn Track.
Next we had two nights in Te Anau. We drove to Milford Sound and did a cruise there. It was another beautiful sunny day. But the following day was overcast and we just did a bit of cycling along Lake Te Anau. Then we drove to the Scottish town Dunedin on the east coast. This was the only day of heavy rain we had. But the next day the sun came out again. We visited Moeraki Boulders on the coast and the white town Oamaru and did a short hike to the Clay Cliffs near Omarama.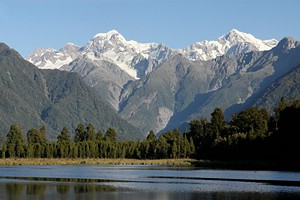 We spent two nights in Twizel and did a day trip along turquoise Lake Pukaki to New Zealand's highest mountain Mount Cook. The hike into the Hooker Valley was fantastic. Our last night on the South Island was in the town of Lake Tekapo. The next day we visited Lyttleton, Christchurch's harbour. The city of Christchurch was badly damaged in the earthquake last year. The cathedral will probably not be rebuilt. In the evening we took an Air New Zealand flight back to Auckland where we spent another night at an airport hotel.
The flight back to Seoul experienced a lot of turbulence. But we arrived safely and Korean Air booked us into a hotel for the night. The last leg of the trip started at 1 p.m. the following day. We arrived in Frankfurt at 5.30 p.m. local time and still had to drive back to Düsseldorf. It was already past midnight for us based on Korean time, and 5.30 a.m. based on New Zealand time, so we were very tired. Next time we will take the train again…
The motels in New Zealand were great. Large, clean, modern rooms with full kitchen so we often prepared our own dinner as restaurants are quite expensive, in particular as we had a very unfavorable exchange rate this year. But fish & chips and pies for take away were a good bargain. And they had great coffee!