On 30th May at 2 p.m. we took the ferry from Kiel in Northern Germany to arrive 19 and a half hours later at 9.30 a.m. in Norway's capital Oslo. There we hit the road immediately and went west to a little place called Heddal which hosts the country's largest stave church. Later we passed over the plateau of Haukelifjell and spent our first night on Norwegian soil in Røldal which also has a stave church.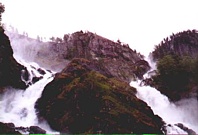 After this first long trip we only went along Sørfjord (after first passing three very close waterfalls right next to the road). Near Eidsfjord we went to see Norway's most famous waterfall, the Vøringfossen. This waterfall is a bit peculiar as it is only to be seen in summer, the reason for this being that the rest of the year its waters are used by a hydropower station. I read in one of my guidebooks that the waterfall is switched on again for the tourist season on 1st June, which was exactly the date on which we arrived! So we were lucky I guess!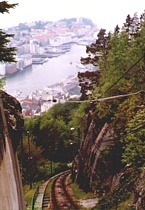 Next day we took the ferry across the fjord to Bruravik and then went along Hardangerfjord until we reached Norheimsund. There we saw a waterfall where you can walk behind! Not very long afterwards we arrived in Bergen. And here we were lucky again as it wasn't raining! Bergen especially is notorious for its rain. So we were able to take advantage of the great view which you get by going up the local mountain in Bergen's cable car Fløibanen.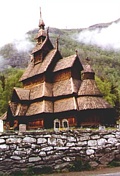 The following day we took the main road to Voss and then the old steep highway down to Stahlheim gorge. We passed by Norway's smallest stave church in Undredal as well as Flåm and its famous Flåm train which goes up 867 m to Myrdal at a distance of only 20 km. The steepest gradient is 20 %! Therefore the train has 5 different brake systems. We then went over the mountains and down to Laerdal and finally Borgund with Norway's most beautiful stave church.
On 4th June we took the ferry across the Sognefjord and then went along its other side until we reached Vadheim. Afterwards we went to a lake called Jølstravatnet and spent the night near Moskog. That day it was raining very hard so it wasn't much fun visiting places.
The following day we went to Brikdal and walked up to the glacier of Jostedalsbreen, the largest plateau glacier of the European continent. We then tried to cross the plateau of Strynefjell, a summer ski area, but the road was closed after half the distance. By then it was raining again and as we were right in the clouds we couldn't see anything. So we missed out on a famous viewpoint on top of the mountain Dalsnibba and went straight into the town of Geiranger and looked for accommodation.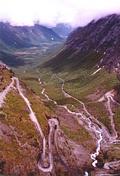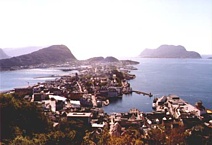 The next day the weather improved and we went along a famous road called Trollstigen which is winding down a mountain in many serpentines. Afterwards we visited the coastal town Ålesund which is different from most of the Norwegian towns as it's built in Art Nouveau style. As most of the buildings in Norway are made out of wood many of them burnt down and often complete towns. To avoid this happening again Ålesund was reconstructed with stone buildings. It's beautifully situated on little islands. Several islands near Ålesund are connected to the town via a tunnel under the sea.
Via Molde and the Atlantic Road which is constructed over several small islands we travelled to Kristiansund where we spent the night.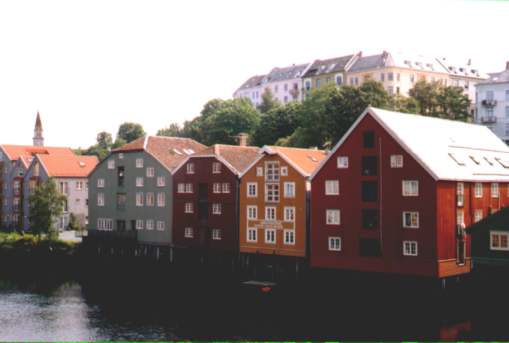 From there we went on towards Trondheim. On the way we had to use another sub-sea tunnel, a pontoon bridge and a ferry. In Trondheim we stayed with a Norwegian friend of mine, her boyfriend and their baby girl.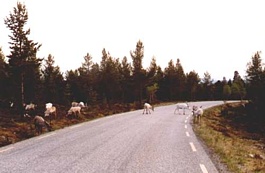 After two nights we left towards Røros, an old mining town, and Femunden Lake which is situated in a national park. There we saw some wild reindeers. Unfortunately we didn't see any moose.
On 11th June we went to Lillehammer where the 1994 Olympic winter games were held. There we saw the famous ski-jumps and a very nice open-air museum with houses from different parts and periods of Norway.
Along Mjøsa Lake we then travelled down to Oslo where we stayed two nights with another friend of mine. Unfortunately during those two days it was raining all the time, so we didn't see much of the city, except the harbour, the Viking Ship museum and the Ski Museum in connection with the Holmenkollen ski-jump.
As we had two days left until we had booked the ferry on 16th June, we went further south to Frederikstad with its old fortress.
The last night we spent at a lake again in Ørje near the Swedish border.
We arrived back in Kiel on Thursday, 17th June at 9.30 a.m.
The landscape in Norway is really fantastic. There are countless fjords, waterfalls, bridges and tunnels. The world's longest road tunnel with a length of 24.5 km will be opened in 2001!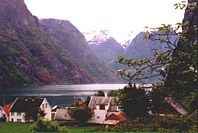 Norway is very expensive, so we travelled with our own car and brought along a lot of our own food to prepare a simple meal in the evenings and for breakfast. We spent the nights in wooden cabins on camp sites. They offer cooking facilities and aren't so expensive (per cabin about 200 - 300 Norwegian crowns per night, that's about 30 - 40 US $). A glass of beer in a pub in Norway costs about 6 $! Petrol costs about 1.25 $ per litre. We have travelled about 2000 km.
Out of 17 days we only had 5 days with rain which I think is very good for a Northern country! We also had quite a few very nice and sunny days. In the north the sun only went down by 11.30 p.m. but it still didn't really get dark during the night.
Useful Link: