During two weeks we mainly toured the two provinces of Castille (Castilia-La Mancha and Castilia-Léon), but we also went as far as Asturia and Cantabria at the north coast. All in all we covered about 2700 kilometres, an average of 200 kilometers per day. Temperatures in June ranged between 25 °C and 35 °C.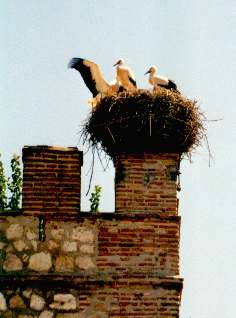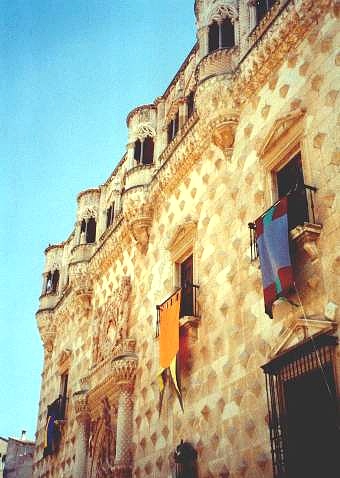 We arrived at the airport of Madrid at 11:10 a.m., took over our rental car and drove some 30 minutes to Alcalá de Henares, a small pretty town, east of Madrid, with an old university, an archbishop's palace, and surprisingly many storks nests. The storks weren't even mentioned in my guidebook, and they shouldn't remain the last ones we saw during this trip. We left the main road in the direction of Pastrana to travel through some pretty countryside before we arrived in Guadalajara. We had planned to spend the night there, but apart from the Palace of the Dukes of Infantado the town didn't have much of special interest to offer. Therefore we decided to continue on our way to Cuenca where we arrived around 6 p.m. We found logdings at the Hotel Alfonso VIII (very nice hotel, 3 stars, only 48 Euros for the double room, breakfast not included) at the Parque de San Julián in the new part of the city. Cuenca's old town is famous for its Casas Colgadas, the Hanging Houses. It's a long climb to the upper part of the town, but well worth it. When you get to the cathedral square it's not far anymore to the bridge which offers a great view of the hanging houses. Right across the bridge is the Parador, one of Spain's state-owned 4-star hotels, housed in an old convent.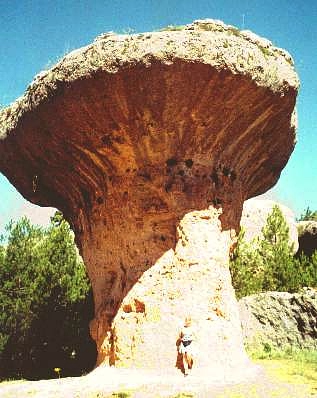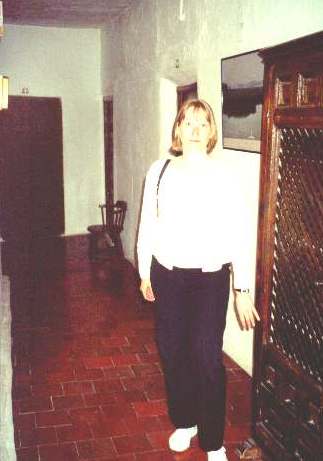 The following day, 14th June, we checked out of the hotel and drove to the Enchanted City, about 30 kilometers east of Cuenca. The Ciudad Encantada is one of Spain's most spectacular landscapes and consists of curiously shaped rocks formed through erosion. There is an entrance fee of 1.20 Euros, but it's a nice walk through a pretty countryside. On our way there we were stopped by the police (Guardia Civil), but as all our papers were okay, we were allowed to drive on. We then went to the source (nacimiento) of the Cuervo river, which was another nice, short walk. As we had to pass by Cuenca anyway on our way back and as it was too far to drive to the next place on our route, which seemed to be likely to offer some kind of accommodation, we decided to spend another night in Cuenca. This time, however, we checked into a hotel in the old part of town, which saved us the long climb up the hill! The Hostal Posada de San José (2 stars, 29 Euros) occupies a renovated historic building. Nothing posh but neat.
On Friday, 15th June, we travelled through the flat, dry La Mancha region, which is Don Quijote country. At first we visited Belmonte castle, where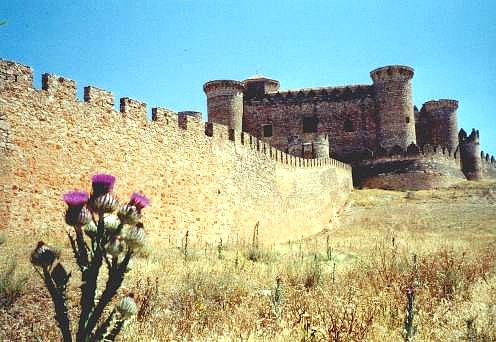 the first part of the "El Cid" movies was shot, then the windmills of Mota del Cuervo and Campo de Criptana, which are so typical for this region. Afterwards we went to El Toboso where the house of Dulcinea, Don Quijote's beloved, is located and can be visited. In Argamasilla de Alba we saw the prison where Cervantes, the author of the famous Don Quijote novel, spent some time behind bars. But as it was the hour of siesta, which is typically between 2 and 5 p.m., it was closed, so we saw it only from the outside. At the town entrance was a sign with the first sentence of the novel "En un lugar en la Mancha..." with the silhouette of Don Quijote on his old horse. As Don Quijote in the novel didn't want to remember which village he was from, all villages in this region can claim that they are the place! We spent the night in the rather modern Ciudad Real at the Tryp Almanzor Hotel (2 stars, 61 Euros including breakfast and parking). In my opinion the latter part of our trip that day after Campo de Criptana wasn't really worth driving the long distance as there wasn't much to see.
On Saturday, 16th July, we went to Consuegra, a village with some picturesque windmills on top of a hill right next to a castle, and then to Ocaña, which has a Plaza Mayor (main square) from the 18th century. Afterwards we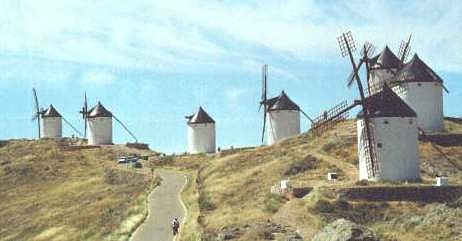 visited the Royal Palace (Palacio Real) of Aranjuez. We walked through the gardens and joined a guided tour. There was no access to the castle without a tour. Unfortunately, unless we wanted to wait for a couple of hours or so for the next tour in English, there was only a Spanish tour available. But at least the guy didn't talk too long and some of the rooms were really impressive, so it was worth the 4.80 Euros we paid to get in. In the afternoon we arrived in Toledo, a medieval city of narrow winding streets perched on a small hill above the river Tajo. It's a beautiful town with many old buildings, an awesome cathedral, a castle (the Alcázar), a city wall, two synagogues, but it's also quite touristy. We visited the Sinagoga Santa Maria La Blanca, now a church but built in the style of a mosque. The interior is beautiful, but as it's not very large it's not much you get to see for the 1.20 Euros they charged at the entrance. When we were there, Toledo was still decorated for the Corpus Christi procession a couple of days ago. We found lodgings out of town in a beautiful country house, the obviously recently renovated 2-star Hotel La Almazara (45 Euros including breakfast, 51 Euros with panaromic view).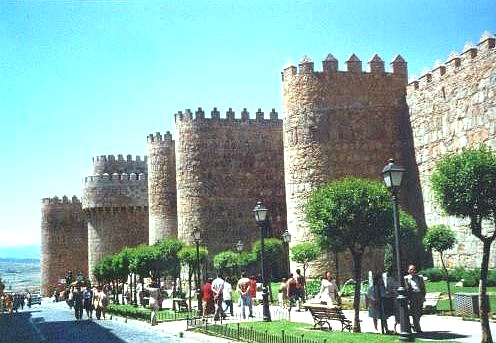 On Sunday, 17th June, passing by the castles of Maqueda and Escalona, we drove to the walled city of Ávila, the Spanish provincial capital situated at the highest altitude (1,130 metres above sea level), and indeed there was a cold wind in spite of the sunshine. The old centre of Ávila is completely surrounded by a medieval city wall. Commenced in 1090, 2.5 kilometers long, it is the most complete and best preserved in Spain. So it calls itself the best fortified city in the world. When we got there, all the streets into the old centre were closed due to a religious procession going on. But we managed to find a parking space not too far away and started exploring the city. We arrived at the tourist office before their siesta at 2 p.m. and asked for a hotel map. This made it easy to choose the hotel that suited us best, Hotel Mesón del Rastro (2 stars, 39 Euros), still in the old centre, but with parking possibilities nearby. So when the streets were open again, we checked in with our luggage. The room was not as nice as others we had, but it was okay and we were right in the town centre. After checking in we visited Spain's first Gothic cathedral, completed in the 16th century, and strolled along the top of the city wall, which offered some good views of the towns many churches, as well as storks flying around and sitting in their nests.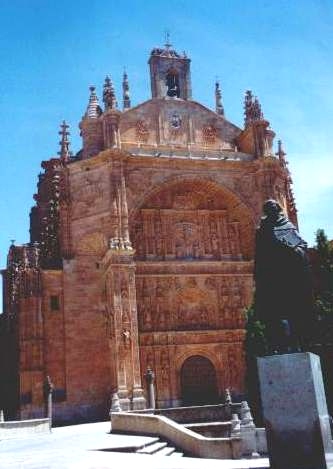 The following day we travelled to Salamanca and visited its historic centre: the Plaza Mayor, doubtless the most beautiful arcaded square in Spain, the two cathedrals, and of course the university. Salamanca used to be one of Europe's greatest universities. It is the oldest university in Spain, founded in the early 13th century, and it is still famous for its summer language school. Salamanca's countless historical buildings are constructed from sandstone, which seems to turn to gold in the afternoon sun. The facades of the celebrated Casa de las Conchas (House of Shells) are decorated with rows of carved scallop shells, symbol of the pilgrimage to Santiago. We stayed at the modern Hotel Condal (2 stars, 51 Euros) in Plaza de Santa Eulalia, where we payed an additional 9 Euros for the public car park. But at least we were in walking distance to the historic centre.
On our way to León on Tuesday, 19th June, we stopped in Zamora. But there wasn't as much to see in Zamora as we thought, nevertheless it has an old centre with a cathedral, a castle, a Plaza Mayor and a city wall. Léon, however, was much prettier than we expected. It has a magnificent Gothic cathedral with beautiful stained-glass windows, the other great attraction is the church of San Isidoro with the Royal Pantheon of the early kings of León and Castile (we didn't visit the latter though), all within remains of Roman and medieval town walls. But León's modern quarters are also quite attractive. The Casa de Botines for example is a work of the Catalan architect Gaudí. We found lodgings right in the centre, Hotel Boccalino (2 stars) in Plaza San Isidoro, but for a room without private bath and not even a wash basin 51 Euros were quite a high price. At least this time breakfast was included.
On Wednesday, 20th June, we continued north on our way to the Costa Verde, via Oviedo and Gijón. We were surprised how much smog there was around those two cities, and we were beginning to believe that it was a mistake to visit the coast. But when we arrived in the village La Isla we came across a 2-star hotel at a beautiful, solitary beach. But as we preferred some more infrastructure, we drove on towards the fishing village Ribadesella where we checked into the Hotel Don Pepe (3 stars, 51 Euros without breakfast), right at the beach promenade. Near the village, caves have been found which are famous for their 20.000 years old wall paintings, but we didn't go to see them. We had the impression that the village was more touristy than most places we visited. Prices in the restaurants were generally more expensive.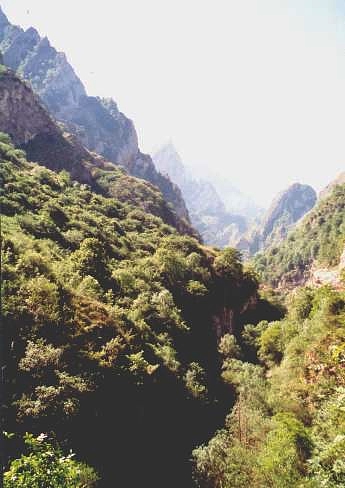 The following day we explored Spain's first national park Picos de Europa. This montainous region is the hinterland of the Costa Verde. The scenery was spectacular with snow-capped mountains, some peaks are over 2,400 metres high, steep ravines, green alpine meadows, forests of willows, poplars, yew, oak and beech trees. Occasionally, a bear or a wolf pass through the park, chamois are more frequent but we saw no wild animals from the road, which is not surprising I guess. In spite of the altitude it was a very hot day. So we were looking forward to going back to the coast where a cool wind was blowing the day before. When we arrived there, the picturesque fishing village San Vicente de la Barquera which was lying before us in the sun. The one hotel at the beach was quite expensive, so we chose a hotel out of town, Hotel Las Calzadas, where we got a small but nice room with a view and a balcony for only 27 Euros! After checking in we drove down to the beach. It was around 6 o'clock and people were sunbathing, some of them even swimming in the cold Atlantic. We walked along the beach, but all of a sudden the horizon darkened and within minutes the view was obscured by a fairly dense fog! It seemed like we were standing right in the middle of a huge cloud. It was eery! So we drove back into town, which was still partly lying in the sun, climbed up to the church and the castle and looked out for a not too touristy, not too expensive restaurant, which we eventually came upon in one of the back streets.
The next morning it was very misty, but we intended to leave the coast anyway. We drove to the medieval, but rather touristy village Santillana del Mar, which despite the name is not at the seaside, maybe it used to be. We had to pay for the car park (1.20 Euros), and it seemed only tourists had to. The weather was still cloudy and cool. But after we crossed the mountains on our way back inland, the sun was shining again. We arrived in Burgos and checked into the Hotel Norte y Londres (2 stars, 58 Euros), a beautiful old building, right in the centre. This time we were lucky and managed to find a free parking space nearby! As it was very hot, we had our siesta at the hotel before we ventured out into the city. Burgos was the home of Spain's national hero El Cid in the eleventh century. It has a famous Gothic cathedral, one of the greatest in Spain, and we climbed up the castle hill, which offers a fine view over the city and its surrounding countryside. The castle itself is a ruin.
On Saturday, 23rd June, we travelled to Valladolid. This was the first time that we had trouble finding a hotel right away. Only the third place we tried still had vacancies. This was the Hostal Paris (2 stars, 55 Euros), just a few steps from the Plaza Mayor. We left the car at the Plaza Mayor car park (12 Euros). The hotel was very nice, but we spent a horrible night. Our room went out to a pedestrian area and as it was a Saturday night, people were sitting at a bar downstairs until at least 4 a.m. in the morning! Even with closed windows we could hear almost every word spoken!! So we hardly slept at all, and at 9 a.m. on Sunday morning, some noisy cleaning machine was rattling through the street to wake us up again! Valladolid, which used to be Spain's capital several times in history, has some interesting old buildings, among them the Church of San Pablo with a beautiful facade, Pimentel Palace with an angled corner window as an architectural highlight, and the unfinished cathedral. But it doesn't really have a historic centre, wherefore it has a rather modern aspect on the whole.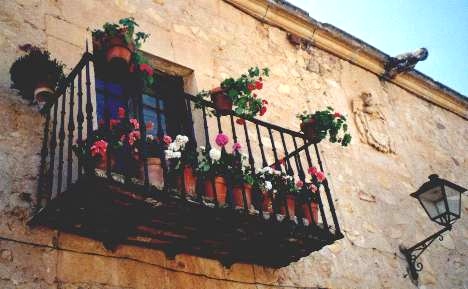 On 25th June we made a trip to the Spanish royal summer residence and world-famous gardens of La Granja. The historic palace and spacious gardens were built in French style after the model of Versailles in Paris, and were completed in 1723. As it was a Monday, the palace itself was closed, but we had mainly come for the gardens. Those were a big disappointment however, as all the celebrated fountains were one big construction site. Obviously they are working on an improvement of the watering system. We then crossed the Guadarrama mountain range and went to Manzanares el Real with its pretty castle. If you like hiking, check out the Parque Natural Cuenca Alta del Manzanares. Pedraza de la Sierra is a lovely old village, lying on top of a hill. The castle of Turégano is only a ruin.
After another night in Segovia we drove on towards Madrid. We stopped at Valle de los Caídos (Valley of the Fallen), built by dictator General Franco in the 1940s as a memorial to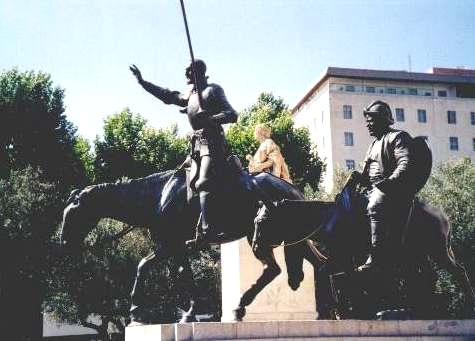 those who died in the Spanish Civil War. The basilica is a temple of monumental proportions, built into the mountain and crowned by a huge, 125m-high cross. It was a peculiar feeling to visit this strange monument, and it was expensive (4.80 Euros per person). Afterwards we visited the nearby El Escorial, a vast 16th century monastery-palace built by King Philip II. They charged 6 Euros per person, but in particular the Royal Pantheon (containing the tombs of the Spanish royalty up to the present day) and the Sala de Armas with its huge battle paintings were impressive. Finally we arrived in Madrid, Spain's rather modern capital, and checked into the only hotel we had booked in advance during our entire trip, Hotel Regente (3 stars), in a side street of the Gran Vía, the city's main street. Its was a good choice as we were right in the city centre and had a quiet room with air condition, and this at a fair price of 71 Euros. We also got a special rate at the nearby public parking (9 Euros). After a short siesta we started exploring Madrid, walking to the Plaza Mayor, the Palacio Real, Plaza de España, Puerta del Sol and Plaza Santa Ana. The latter has some nice restaurants and tapas bars.
On our last day, after visiting the ancient Templo de Debod (Wednesdays free of charge), an Egyptian temple donated to Spain, we took the cableway across the Casa de Campo park (return ticket 3.64 Euros). Later we visited the waxworks at the Museo de Cera (6 Euros) and strolled through the Parque del Retiro. Madrid was interesting but didn't impress me too much after all the other places we had visited. And compared to other European capitals like London, Paris or Rome I don't think it has so many interesting sights to offer. If you like museums, there's the Prado of course. And it is famous for its vibrant nightlife.
Our day of departure was Thursday, 28th June, and we had to drive through the centre of Madrid to get to the airport. The traffic was nightmarish. We were just glad we arrived at the airport in time, without an accident and without getting lost!!
To find a hotel we usually went to a tourist office where they handed out city maps which also showed the hotels, so it was easier to find a convenient location. All the hotels we stayed in were very nice, clean, and not too expensive. The only disadvantage sometimes was that the walls were so thin. Breakfast is usually served but in most cases not included, and all you usually get is just a roll, toast or biscuit with jam and a café-au-lait. It's cheaper to go to a bar round the corner and order the typical churros with coffee or hot chocolate. Don't expect restaurants to open for dinner before 8 or even 9 in the evening! But at least restaurants are fairly inexpensive. Most places offer set meals (look out for the menú del día) for around 7 or 8 Euros.