On Monday 10th October I took a flight (www.hapagfly.de) to the island of Djerba, Tunisia, for a week of horse-riding booked via Pferd & Reiter. We took off on time at 16:50. It was a sunny day and the flight was perfect but unfortunately I didn't get a window seat. There would have been a good view of Düsseldorf from above on the left-hand side. Then we flew over the Alps and along the Italian coast, across to Sicily and Monastir. The service was good, there were newspapers and magazines, food and drinks were served. With an actual flying time of 2 hours and 30 minutes we arrived 30 minutes early at 18:35 (instead of the scheduled 19:05). We were one hour ahead of German time as Tunisia had already switched back from daylight saving time at the end of September. It took a while to get through customs. Our German guide Carmen who has been living in Tunisia for 20 years and another participant, Andrea from Munich who had arrived in the morning, were already waiting for me. My friend Agnes from Apolda was supposed to arrive at 20:25 and her plane touched down as scheduled. But she was not the last one of the group, a couple from Kassel, Sabine and Holger, were still to join us. They should have arrived at 21:40 but their flight was delayed by two hours! It was 1:20 a.m. German time when we finally left the airport in a taxi on our way to Tataouine. From Djerba we took the ferry to the Tunisian mainland across a narrow channel. We nearly fell asleep in the car but it was interesting to see all the illuminated mosques which we passed on the road. There were several police checkpoints but we were waved through. We finally reached the Dakyanus Hotel at 3:30 a.m. German time (2:30 Tunisian time).
On 11th October it was partly cloudy in the morning, but fairly warm. I guess it was around 28 °C and it got cloudier in the afternoon. We had a French-style breakfast at 10 a.m. (croissants, bread and cake with jam, coffee, juice and yoghurt). Then we had a look around the hotel and the stables which were 2 minutes walk away and we also met our Tunisian guide Hedi. At 1 p.m. we had a lunch buffet. During lunchtime there are tour groups that come to eat at the hotel, but during the evenings we were mostly the only guests. After lunch we started on our first ride of around 3.5 hours. During the entire week I rode a beautiful black mare named Natascha. Agnes's horse had a more Arabic sounding name: Nasira. It's unusual to ride mares in Arabian countries as they normally ride only stallions. That afternoon we rode through sand-coloured canyons, palm groves and typical villages with earth-coloured flat houses, sometimes painted white. We saw chicken, dogs, goats, donkeys and camels and sometimes women were waving friendly and young boys were just looking at us. The men were often sitting on the doorsteps. And at dusk the muezzins were shouting from top of the mosques via loudspeakers to announce the end of the Ramadan fast for the day. The fasting period of Ramadan had just started about a week ago. It lasts a month and the period shifts every year. During Ramadan Muslims are not allowed to eat, drink or smoke between dawn and dusk (here it was from around 4:15 a.m. till 6:00 p.m.). This can be quite tough on a hot day! But apparently they allow exceptions if people have to work hard during the day. Otherwise the main activities shift to the evening during this time of year. Luckily we did not have to follow this rule. We had a 4-course dinner at the hotel restaurant. Usually this consisted of a spicy hot soup to start with and sometimes salad, then Brik (a triangle of fried pastry with filling), and the main course was lamb or chicken with rice and vegetables or the traditional couscous, and for dessert we had pomegranate and vanilla or chocolate pudding. We had to pay the drinks extra, but we normally ordered only two bottles of water and I paid twice 2 dinars for all of us.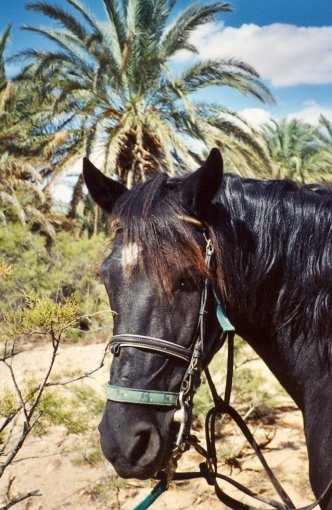 On the 12th we had breakfast at 9 a.m. It was sunny, around 30 °C. We started off on our ride at 10:30 a.m. When we were about to have our first gallop Andrea's horse stepped into a hole in the ground and fell, but luckily nothing serious happened to horse or rider! At the end of 2 hours we had a 1-hour lunch break. We rode through a barren landscape with occasional villages and a view of table-top mountains on the horizon. Shortly after 4 p.m. we reached our camp site at Guermessa. The view was gorgeous as everything was glowing in the light of the setting sun. We took care of the horses and put up our tents, and then we climbed up to the village where we had a dinner of soup and couscous. Guermessa is an old Berber village that's clinging to a steep mountain side. It's mostly in ruins and almost totally abandoned. The white mosque is the most eye-catching sight. Apart from the man serving our dinner there was nobody else about (apparently Guermessa is off the regular tourist route and it was also pretty late during the day) so we had the village all to ourselves. After dinner we sat around our tents at the bottom of the hill and opened a few bottles of wine. Compared with the hot temperatures during the day it cooled down considerably during the night, but it wasn't too cold for the tent yet. The moon was bright, but we were able to see Mars and Venus in the evening sky. And I even spotted the first shooting star in my life! And later at night, when the moon had set, I gazed in awe at the starry sky. Far from the city's pollution and any obscuring lights the brilliance and number of stars was just incredible and the Milky Way was a bright white band across the sky.
| | |
| --- | --- |
| | |
| | |
| | |
| | |
| | |
On the 13th we went back up to Guermessa for our breakfast at 8:30 a.m. Even so early in the morning it was already hot and it was to be a very hot day of 30+ °C. We had the horses ready shortly before 10 a.m. and we had to return on a similar route than the one we had come on. And as we wanted to be back early to try out the hotel's beautiful large swimming pool, we also had a few good gallops. The return trip took us 3.5 hours, an hour less than the day before and we left out the lunch break as well. We were back at the hotel at 1.20 p.m. and we were served a 4-course lunch of salad, fish, couscous and pomegranates. From 3 p.m. until sunset at 6 p.m. we relaxed by the pool. At 6:30 p.m. we had a 4-course dinner. That was really too much food for one day and I felt really stuffed!
Fridays are like Sundays in Muslim countries. It was also a day off for the horses and us, but it fell on the Friday by accident as Carmen had changed our route slightly because Andrea, Sabine and Holger were staying another week for the South-Tunisia Trail. We had breakfast at 9 a.m. and took our time. In the late morning Agnes and I went on a camel ride (10 dinars each for 30 minutes). The other three would have a camel ride included in the following week, so it was just the two of us. Well, it was good to give it a try, but I was glad to be back down again. I really feel much safer on a horse! The camels felt a bit unpredictable. As it was another hot day we had a swim in the pool just before lunch. There was a tour group, so we had a buffet lunch this time, which was good as we were still filled up from the day before and that way we didn't have to eat such large portions again. At 3 p.m. we took 2 taxis for all of us including Carmen and Hedi (10 dinars each) to drive us to Ksar Ouled Soltane, 15-20 km from Tataouine. This is one of the most impressive and best preserved "ksour" (plural of "ksar") in Tunisia. The ksour are fortified Berber strongholds of the 12th-15th century used for storing grain. They are the castles of the desert as they were also used as refuge. Afterwards we visited Ksar Beni Barka all of which remains are heaps of stones and bits of walls on top of a hill. From the hill the view is of a landscape that looks like it was on the moon, hardly fit for people to live on it. It was 5:15 p.m. when we got back to the hotel. Dinner was the usual 4-course meal at 6:30 p.m. That night everyone was sick.
| | |
| --- | --- |
| | |
In the morning of the 15th nobody felt like breakfast and we wondered what it was that had made us all sick as in spite of the set meals people had eaten different stuff at different times. As it seemed the worst was over we decided to ride anyway. It was sunny and hot, but there was a breeze. We started off shortly after 10 a.m. and rode for two hours until we reached Ksar El Ferch, another fortified granary. There we had a 2-hours break at the café where everyone was content just to sit there with a drink, relax and watch the bus loads of mostly French tourists visiting the place. When we left again it was cloudy and slightly cooler. We wanted to return by the shortest way, so we just headed back the way we came.
On the 16th it was partly cloudy but hot and there was no wind. We left around 10 a.m. and after a bit more than a 3 hours ride we arrived at the Mosque of the Seven Sleepers, which can be found a couple of kilometres off Chenini. The tombs that dominate the graveyard are 5 metres long and the legend goes that 7 giants were buried here. The mosque may be explored by non-Muslims and we even climbed the minaret! The door to the minaret was so small that you had to crouch to enter! We visited the village afterwards. Located about 18 km west of Tataouine, Chenini is the most visited of the mountain villages of southern Tunisia. The village is made up of cave houses built on the slopes of a mountain with a white mosque in the midst and the ksour on the opposite side. Most of the buildings are now in ruins and there are only old people still living here, as most of the younger people have moved to the modern settlement of Nouvelle Chenini at the bottom of the hill. This was the only place during our ride where children asked us for money. It was 3 p.m. when we left Chenini and 30 minutes later we arrived at a little palm grove with a well where we left the horses for the trail that was to start the following day. As we had paid for it we asked to be driven back to the hotel, especially as it was our final night, so we were able to have a shower and pack properly before our departure. But those who went on the trail the following week would have their first camp at that location. Hedi stayed with the horses and we were picked up by taxi at 5 p.m. The sun was setting when we arrived at the hotel and assuming that our shower would be cold anyway as it was for the past few days, Agnes and I went for a final dip into the pool before dinner. It was lovely to swim a few rounds under the full moon. Afterwards we found out that the shower was hot again that night, but at least it was good to wash properly then!
| | |
| --- | --- |
| | |
| | |
| | |
| | |
| | |
| | |
| | |
| --- | --- |
| | With the 17th the day of departure had arrived. We had breakfast at 7 a.m. One hour later the two ladies arrived who would join the rest of the group for the one-week trail that followed our daily excursions. The taxi drove them all to the camp location at Chenini and when it returned about 9 a.m. it took Agnes and me back to Djerba. We made a photo stop at a salt lake and it was 10:45 a.m. when we arrived in Djerba's main town Houmt Souk. We were allowed to drop our luggage off at the hotel that Carmen regularly works with, then we strolled around the oriental markets and souks, trying to take in the atmosphere. Some vendors were trying to talk you into buying their stuff but it wasn't as bad as I thought. It's best just to ignore them. I had a peppermint tea for 1 dinar at a little town square and I bought 2 pieces of pottery at a shop with fixed prices and 3 big pomegranates at a local market for just 0.25 euros. Agnes did try to bargain a few times. |
| | |
| --- | --- |
| | |
| | |
| | |
| | |
| | |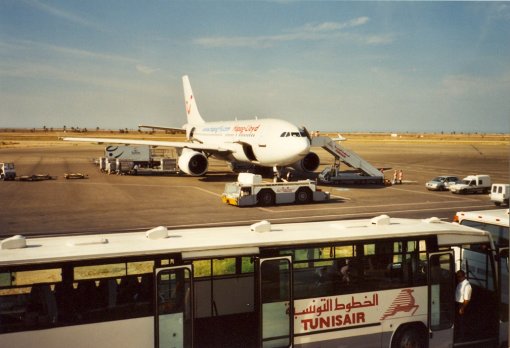 I didn't have too much time to kill until my flight though. Around 1:20 p.m. I took a taxi to the airport. The driver took the longer (but faster??) route along the coastline which cost me 5.5 dinars. I was told before that it would cost around 3 dinars (with taximeter). I gave the driver all the coins I had left. The remaining 20 dinars I changed back at the airport (I had 80 to begin with - 50 euros - and Carmen gave us 5 dinars each for the taxi. We also gave a tip to Hedi). It was a bit stupid that we usually didn't have enough coins for tips. My flight was at 15:10 and this time I managed to get a window seat. We took off at 15:30 and flying time was 2 hours and 50 minutes. The route was via Monastir, Tunis, Sardinia and Corsica but I was only able to catch glimpses of the landscape below as it was mostly cloudy. Then we reached Genoa and suddenly the first peaks of the Alps appeared like islands in a sea of clouds. It looked really spectacular. And then we were over the expanse of the mountain range with its summits glowing in the evening sun. I tried to take photos but unfortunately they didn't turn out well with the simple camera I used for horse-back riding. We just made it across before it got dark. And then there were no more clouds. We must have flown over Zurich in the dusk. Then the moon came up: a magnificent white ball that appeared right above the airplane's wing and behind it a glowing band of red light from the setting sun with the blue sky above. When we got to Stuttgart it was almost dark, then came Frankfurt. There wasn't much to see except the city lights and the moving bands of light of the motorways. But when we descended upon Düsseldorf I was able to see the city from above and it looked fantastic with all the evening lights and with the full moon shining above the city. I had never seen it like that before. We touched down in Düsseldorf around 19:15 local time (18:15 Tunisian time). It was 14 °C and sunny.
We rode between 3.5 and 4.5 hours every day with one day to relax. The hotel was very nice with a lovely big pool. The food was plenty and good, especially dinner. Our guides and the hotel staff were very friendly.
We had sunshine and 30 °C almost every day that week in October. It's supposed to cool down in November. The summers must be incredibly hot.
The landscape was interesting but because we sometimes had to follow similar routes it got a bit boring once in a while. And for my taste we could have done a few more gallops, but the ground was often too rough and stony.
I would have loved to see some of the Star Wars film locations, such as the cave dwellings of Matamata, the fortified granary of Ksar Haddada or the film set at Touzeur, but unfortunately we weren't close enough.
This year, from 1st May till 30th September, Tunisia began observing daylight saving time, while Germany observes daylight saving time from the last weekend in March till the last weekend in October. The best times for a holiday in Tunisia are the months of May till June with average temperatures of 20-25 °C, or September/October.