My six months stay in the UK began on Saturday 28th September, when our friends Michael and Rosemary took me back with them to Hastings after a visit to my family in Schwerte. On the Monday my big adventure began. I had won a scholarship for two terms (1 semester in Germany) at Reading University! As Reading and Düsseldorf are twinned, the two universities also support exchange programmes. There were four of us from Düsseldorf University participating in this programme during this university year.



St. Andrew's Hall

Michael and Rosemary were so kind to take me to Reading and drop me off at my hall of residence St. Andrew's, an Edwardian style building, which has by now been turned into a museum. My room wasn't in the main house though, but in the so-called Garden Annexe. But I always went to the main buildings for meals at the central dining room and to study in the old library. St. Andrew's Hall was also conveniently located in walking distance between the university and the town centre.

In the evening of the 30th new students were invited to a reception and dinner with the university's Vice-Chancellor at St. Andrew's Hall. During the first week a Fresher's Fayre was held which provided information on the many societies and sports clubs at the university. I signed up for the aikido club (which became one of my major evening occupations) and the English Club (where I never turned up in the end). During my time in Reading I also tried out Taekwondo and Wu Shu Kwan. There were regular disco evenings at the university's Students' Union or the different student halls, one of my personal highlights was the Halloween disco at St. Andrew's. My best friends at Reading were Sophie from France, Lizzie from Belgium and Antje from Germany who were all staying at St. Andrew's Hall. The Spanish hall residents organized sangria parties from time to time which was fun and people often met for a coffee after lunch or dinner in one of the hall kitchens or just for a chat in the corridors. After aikido practice the club members usually went to a pub after training sessions and once in a while we even went out for dinner, most often a curry at an Indian restaurant which was quite affordable. I often went to the cinema and sometimes we organized video evenings or saw a live band at a pub. One night a hypnotist show with Michael Sutherland was organized by the Students' Union. It was really interesting what some people where asked to do who I actually knew as ordinary students!! One evening I went to see "The Importance of Being Earnest", a play from Oscar Wilde, enacted by students of the university. Sophie also had a part in it, as well as in "La Sauvage" by Jean Anouilh. I also saw "West Side Story" and Verdi's "Aida" which were also staged by students.

Reading itself is not particularly interesting, but it's very conveniently located in the heart of the Thames Valley, very close to London and on most of the major train routes to all parts of England. The University of Reading belongs to the so-called "red brick" universities, meaning that it came after the old universtities like Oxford and Cambridge, but before the new 20th century universities. Founded at the end of the 19th century, the university moved from the old red-brick campus site on London Road (right next to St. Andrew's Hall) into newer and bigger buildings on Whiteknights campus in the 1960s. The campus is set within Whiteknights Park, a beautiful landscaped area with a lake and woods.

Oxford

For Sunday, 6th October, a trip to Eton College and Windsor Castle was organized for new students. During my time in Reading I made further day trips to Oxford and to London.

On 9th November I took a train to Hastings for the weekend (£14.20). On 16th November I went to London again with some folks from the aikido club.

Canterbury Cathedral
| | |
| --- | --- |
| 13th December was the end of the autumn term. For a few days I was nearly on my own in St. Andrew's as most people had already left for the holidays. On 19th December I took a train to Canterbury. Canterbury has two train stations and it's about a 10 minutes walk between the two. Canterbury's main attraction is the famous cathedral where Thomas Becket, Archishop of Canterbury, was murdered, but it also boasts of many Tudor-style houses that scarcely seem to have changed for centuries. Unfortunately the day of my visit was a very grey day. I travelled on to Hastings where I spent Christmas and New Year's Eve with Michael and Rosemary and their family. On Thursday 9th January I bought a train ticket to Salisbury (£18.50) where I spent the night at the youth hostel. Salisbury has a lovely historic centre with many half-timbered houses and it has a famous cathedral with the tallest church spire in Britain. Unfortunately, without a car and out of season, I was unable to go to Stonehenge. | Salisbury |
Bath, The Circus

Then on the 10th I went on to Bath (£5.75). Bath is full of amazing architecture and I would highly recommend seeing it as its Georgian-style buildings are very different from British towns built in Tudor-style. The highlights are Pulteney Bridge, Bath Abbey, the Roman Baths and Pump Room, the Colonades, the Royal Crescent and The Circus. Bath is also famous for its hot springs and spa water. I climbed up to the castle on top of a hill and was surprised to find out that it's just a facade. Jane Austen lived in Bath and set two of her novels in the city.

On Saturday the 11th I finally caught a train back to Reading (£6.20).

Pulteney Bridge
Monday 13th January was the first day of lent or spring term. One evening in January the four Düsseldorf girls were invited for dinner at the home of the head of the Reading-Düsseldorf Association. We had the traditional roast beef and Yorkshire pudding.
On Saturday, 15th February, the Reading University Aikido Club made their second inofficial trip to London. On Thursday, 27th February, I went to Edinburgh with some of the aikido folks for an aikido weekend course. It must have taken around six hours by car. In Edinburgh we visited Nelson's Monument which offers a great 360° view of the city and we hiked up Arthur's Seat, a hill overlooking the city. We returned to Reading on Tuesday 3rd March.
On Friday, 6th March, Queen Elizabeth II visited the Reading campus for the university's 100-years anniversary. I even managed to take a few pictures.
On Wednesday, 18th March, I joined a Thames Rivercruise party aboard the Caversham Princess with some of the aikido folks. It was a crazy night with lots of beer and cider, disco-dancing and partying! Unfortunately it was one of my last nights in Reading.
Friday the 20th was the end of my second term in Reading. I was sad to leave my new friends and I enjoyed living in another country. It was a fantastic experience which I would recommend to everyonebody interested in other cultures and languages. University life in the UK is much more international than it is in Germany and I've never met so many people in such a short time in my life! There are so many social clubs, not just sports clubs and because most student halls also cater for their resident students there are many more opportunities for contact between them as everyone meets for the meals once or twice per day and the usual coffee afterwards. I made many more contacts at my hall and at the aikido club than in my university classes.
But I still had an exciting holiday ahead of me! From Friday, 20th March, until Wednesday, 8th April, I travelled around the UK on my own (click here for details). After some more days in Hastings my parents arrived on Monday the 13th. On Tuesday we went to Reading by car so I could show them where I had spent the last five months and to pick up the rest of my luggage. After a few more days of visiting places with Michael and Rosemary the three of us took the ferry from Sheerness to Vlissingen in the Netherlands on Saturday. After another night at our holiday house we got back home on Sunday the 19th.
But I came back to Reading very soon. On Friday, 5th June 1992, I took a British Airways flight from Düsseldorf to London Heathrow at 7:50 a.m. From there I took a RailAir coach to Reading (£5.50). I spent a few days with my friends from St. Andrew's and I also took the opportunity to visit my old aikido club and practise a few sessions with them. On Thursday the 11th Sophie, Lizzie, her Finnish boyfriend Christer and I took a train (£8.60) to Warwick where we visited Warwick Castle with its beautiful gardens and to Stratford-upon-Avon, Shakespeare's birthplace and a lovely medieval town.
| | |
| --- | --- |
| Warwick Castle Gardens | Shakespeare's Birthplace, Stratford-upon-Avon |
On Sunday the 14th I visited Kew Gardens in the south-west of London with Sophie and Edmund from Hong Kong. Then on Monday at 13:30 I took a flight back to Düsseldorf.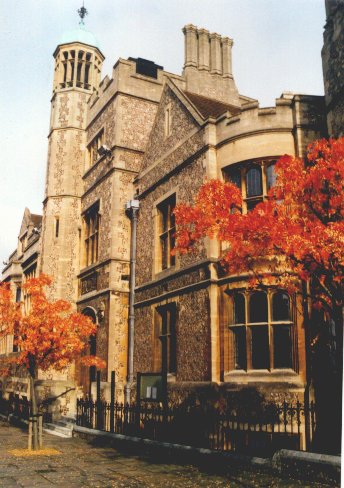 4.5 months later, on Saturday, 31st October 1992, at 10:10 a.m. I took a Lufthansa flight to LHR. From Heathrow I took a train to Hastings where I stayed with Michael and Rosemary once again. On Wednesday morning I took a train to London and in the afternoon I continued to Reading. I stayed with Lizzie again, visited friends and practised aikido. A friend of mine from Düsseldorf was now also spending a university semester abroad. On Thursday the 5th Lizzie and I went to Winchester (£4.55), once the capital of England. Its cathedral contains the tomb of Jane Austen. The weather was perfect. On Saturday we visited Henly-on-Thames (£1.50), which is very close to Reading, and on Sunday the 8th I returned to Düsseldorf.
I was to see some of the aikido people again during one more weekend course in Edinburgh and two Aikido Summer School weeks in Durham in 1993 and 1996. Click here for details.