San Francisco 1 Yosemite NP Mono Lake Bodie Ghost Town Death Valley Las Vegas Hoover Dam Valley of Fire State Park Zion NP Bryce Canyon Capitol Reef NP Arches NP Natural Bridges NM Goosenecks State Park Valley of the Gods Monument Valley Grand Canyon Route 66 Lake Havasu City Calico Ghost Town Los Angeles Highway No. 1 Santa Barbara Pismo Beach Monterey Big Basin Redwoods State Park San Francisco 2



We left Düsseldorf for the States on Saturday, 12th September, at 11.30 a.m. and arrived in London about an hour later where we took another British Airways plane, a Jumbo Boeing 747-200, which took us straight to San Francisco in about 10 hours. We arrived in S. F. at about 4.30 p.m. local time (5.30 a.m. German time). The view was fantastic. We descended right onto San Francisco, in full view of the Golden Gate Bridge and the weather was a beautiful sunshine! Unfortunately our luggage didn't arrive with us! We got 100 $ cash each and were told that the bags would arrive the next day during the late afternoon at our hotel.

Well, so we had to spend another night at the S. F. Travelodge Airport Hotel which we hadn't intended and which cost us $100 (okay, we got the money anyway!), the first night which we had booked from Germany was only about $82. Our original plan was to visit San Francisco during the last days of our holiday, but as we had no choice we decided to make use of the additional day anyway. So we drove into S. F. (our rental car was a Toyota Corolla with 4 doors - we were lucky to get a slightly better car than booked!) and followed more or less the scenic drive through the city. We also went across the Golden Gate Bridge to the other side of the bay and little towns like Sausalito and Tiburon. On our return our luggage had arrived as promised and on the next day we were able to really start our trip.
In the early afternoon we arrived near Yosemite National Park where we found a motel for the night ($60) at Groveland before we went into the park. There's a loop tour down in Yosemite Valley which we followed by car. We also saw the famous waterfall. On 15th September we followed the road across the Tioga Pass which also leads through Yosemite Park. There were some spectacular views. Eventually we arrived at Mono Lake, a salt lake which is drained by water pipelines to Los Angeles. There are some interesting towers of calcium carbonate called tufa which appear when the water level sinks. North of the lake is an old mining ghost town called Bodie which we visited even though we had to follow quite a long dirt road. Afterwards we went south towards Bishop where we spent the night ($40). On the way we stopped at Hot Creek, a river with hot springs, where we took a bath. It was strange to bathe in hot water in a river!

The next day we crossed Death Valley and stopped at some interesting points like the sand dunes, Badwater (the lowest point in the Western Hemisphere at 86 m (282 ft) below sea level), Dante's View and Zabriskie Point.

In the early evening we arrived at Las Vegas where we got ourselves a room at the Stratosphere Tower Hotel ($47 only!). In L.V. prices for hotels and food are really cheap, except on the weekends. For $6-8 per person you can eat until you drop! Later that evening we strolled down the crowded Strip (Las Vegas Boulevard) and saw the Buccaneer Bay Pirate Show in front of the Treasure Island hotel (a life-size sailing ship was actually sunk!) and the exploding volcano in front of the Mirage. We made it down half the Strip before we got too tired. So the next morning, after we went up the Stratosphere Tower to have a top view of Las Vegas, we drove up the other end of the Strip and had a look at the newer hotels Luxor, Excalibur and New York New York. They were just building the Eiffel Tower and Venice's San Marco Tower was nearly completed. We tried our luck at the slot machines as well but didn't win the jackpot. Nevertheless we continued our trip, first to the huge Hoover Dam and then along Lake Mead, through the Valley of Fire State Park and finally to St. George ($39 at Motel 6).
The next morning we nearly got recruited by the Mormons when we tried to visit their church! It wasn't far anymore to Zion National Park. Similar to Yosemite Park we first went into the valley and then followed the road leading out of it and further north towards Bryce Canyon. Before we entered the park we booked a room ($41) at Panguitch. Bryce Canyon, which isn't really a canyon after all, was quite impressive. We stayed until sunset at a place called Sunset Point waiting for spectacular lights but nothing much happened. It only got very cold and dark. The next day we went into the park again as we hadn't seen everything the day before. Due to road works we didn't get to the far end though. But I guess we have seen the most interesting view points.
We had to return on our tracks to the park entrance and then were still going north until Torrey where we stayed at a Days Inn motel (pure luxury with indoor pool and spa at $65). We still had time to spend so we went into Capitol Reef National Park and followed the Scenic Drive to a Capitol Gorge, a narrow canyon where you can find occasional waterpockets (holes in the rock filled with rainwater) which gave the waterpocket fold its name. We were glad to return anyway as there were warnings of sudden floods! Out of the park again we went, and after a nice trout dinner at a restaurant next doors we spent a relaxing evening at the motel. The next day we hiked to Hickman Bridge, an impressive natural bridge (which was washed out by a river) that also belongs to Capitol Reef National Park. Then we drove up to the town of Green River and from there we went south again. We found a room in Moab ($72 - quite touristy) and visited Arches National Park, an area of many often free-standing red sandstone arches (similar to a natural bridge but withered by wind and rain).
On Monday, 21th September, we went to see Natural Bridges National Monument (more bridges), stopped off at Goosenecks State Park and drove along a dirt road through the Valley of the Gods which was similar to Monument Valley. We spent the night in the Navajo Indian reservation, at a village called Mexican Hat (at the Canyonlands Motel, expensive at $47 as the motel room was very simple, it didn't even have a television!).

The following day we saw Monument Valley itself, famous through many movies and commercials, and the Grand Canyon. It got a bit cloudy at Monument Valley and then the sky got more and more overcast and it started raining.
When we got near the Grand Canyon it was pouring down. It was also very cloudy and we were right in the clouds, so I thought at first, like during my first visit in March/April 1991 when it was snowing, I would see nearly nothing of the Grand Canyon once again! We decided to return the next day if it didn't get better, but eventually it did clear up. There were still clouds but they opened up so that we could catch some nevertheless quite spectacular views of the enormous canyon. Due to a discount coupon we spent only $35 for a motel at Williams which is usually more expensive. The disadvantage was that we got a smoking room which did stink much more heavily of smoke than we expected (well, at least we saved some money). On 23rd September we finally followed the famous Route 66 which used to run from Chicago to L.A. Eventually we arrived in the town of Needles where we found the cheapest motels ever, only 18 $, even with a pool! As this evening was hot again, we spent it at the pool swimming a bit and enjoying the last rays of sunshine. The next day we went to Lake Havasu City in order to see the original London Bridge (another bridge!) which was shipped across the ocean stone by stone to be reconstructed in the desert of Arizona! We went back the same way via Needles and got to Barstow not far from Los Angeles ($38 at Motel 6) where we did some shopping for jeans at a Levi's factory outlet.
On 25th September we visited Calico Ghost Town which wasn't as original as Bodie but more touristy. Afterwards we went down to Los Angeles where we stayed two nights at Motel 6 in Hollywood ($61 per night). We drove through Hollywood and Beverly Hills and up to the Griffith Park Observatory to get a good view of the city. The following day we spent $38 each to get into Universal Studios, parking was $7 but we had a discount coupon for $8. The Studio Tour were you could see real movie sets and experience a fake earthquake was interesting. We also enjoyed the "Back to the Future" flight simulator, the "Jurassic Park" ride in a boat where we got soaked and the "Waterworld" stage show. "Backdraft" was closed unfortunately. In 1999 there'll be "Terminator". On 27th September we had breakfast at a café at the Ocean Front Walk in Venice Beach and visited the old Spanish mission of Santa Barbara. We had cake and coffee in a Danish village, Solvang, and spent the night at Pismo Beach ($40, Motel 6 once more). Then we followed Highway No. 1 (Pacific Coast Highway) with offers some great views of the Californian coast until we arrived at Monterey. Here we tried another coupon and got a motel for $32.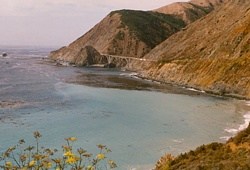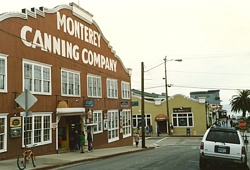 On Tuesday, 29th September, the sky was gray and it was even raining a bit, so we thought it would be a great idea to visit Monterey Bay Aquarium. It wasn't cheap (about
$
15 each) but it was worth it. They had a three-story aquarium with fish native to the Pacific coast, a two-story sea otter exhibit where you could see the otters swim under water and a huge Outer Bay aquarium with sharks and sea turtles. We found another Motel 6 at Watsonville (
$
62) and drove up to Santa Cruz in the evening. Back in Watsonville we got a special value meal for only 5 $ for both of us (we chose on burger dinner and got the second one for free)!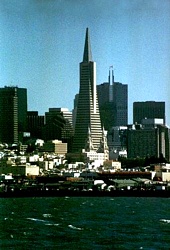 On 30th September we visited Big Basin Redwoods State Park where you can find the big Redwood trees as the name says. Then we went back onto Highway No. 1 until we arrived at San Francisco once again.This time we stayed at a hotel downtown which we had booked from Germany (approx.
$
80). First we stayed at the Embassy Hotel in the Tenderloin district, an area where you shouldn't be out in the streets at night, but we didn't know this when we booked! The hotel didn't sound that good in the catalogue though and we only took it because they didn't have three nights in a row available at another hotel. For the last two nights we chose Holiday Inn Civic Center which was in a slightly better area, but still it was fairly cheap compared to other Holiday Inns (about
$
100), obviously because it wasn't in the best of areas either. Well, we had to make do with what we got. The hotels were okay though, especially the last one.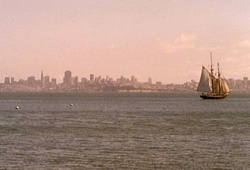 1st October was a very grey day in San Francisco. We walked around the city most of the day and in the evening we went to see Andrew Lloyd Webber's "Phantom of the Opera" (about
$
35 ea.) which I'd already seen in London in 1992. Like last time I thought it was fantastic and Volker enjoyed it, too. On our last day we took the Cable Car to go to Fisherman's Wharf and from there we took a ferry across the bay to Sausalito. We went right past Alcatraz and also saw the Golden Gate Bridge. This time it was sunny again and we had a wonderful view.
What I didn't like about the big cities like San Francisco and Los Angeles were all the tramps on the street, especially when you walked about in the evening and when you keep thinking they might all be carrying a gun with them! During our trip we covered about 3500 miles (5600 km). Petrol was cheap at only between $1 and 1.30 the gallon, that's approx. 4 liters! Almost all the other tourists we met were Germans if not Americans. Occasionally we could hear French and there were quite a few Japanese. Italian restaurants were surprisingly expensive. We often had burgers (which are much better than McDonalds) or Mexican food. We left San Francisco on 3rd October at about 4 p.m. and arrived back in Düsseldorf on 4th October at about 5.00 p.m. local time (8.00 a.m. for us which adds up to 28 hours without sleep!). During the first two weeks in the States we had temperatures of up to 40 degrees Celcius! The last week wasn't that good anymore. It got colder and there were even a few grey days. The last day was nice again though which made leaving even harder!

Duration: 20 days/21 nights
---