click on picture to enlarge




Badlands NP Bighorn Mountains Black Hills 1 + 2 Carhenge Chimney Rock Cody Colorado NM Crazy Horse Memorial Custer State Park Denver Devils Tower Dinosaur NM Flaming Gorge Fort Bridger Georgetown
Glenwood Springs Grand Teton NP Jackson Mount Rushmore Naill Ranch Rapid City Rocky Mountain NP
Salt Lake City Scotts Bluff Wind Cave NP Yellowstone NP

Arrival (Friday, 1st Sept. 2000)
The flight to New York with Continental Airlines was scheduled for 11 a.m. and we were airborne half an hour later. On the way there wasn't much to see as the sky was overcast. Service was good and they put up four movies during the 7 1/2 hour flight. We arrived at Newark at 1 p.m., half an hour earlier than scheduled. As I was sitting on the left-hand side of the plane I could catch a glimpse of New York with a full view of Manhattan, the Empire State Building, World Trade Center and the Statue of Liberty! Immigration and customs was quick, then on to Terminal C for domestic flights. Calling the shuttle service to the Naill Ranch in Denver was tough as they didn't seem to know about my reservation. Besides, the background noise from the airport was deafening. Then I had to prepare for a long 5-hour wait for my connection to Denver at 5.55 p.m. local time. On the flight to Denver we had to sit on the tarmac for 1 1/2 hours before we were finally able to take off. At first they had trouble heating up the engine and then we had to wait on the runway until we got the go ahead. The flight itself was one hour shorter than scheduled: 3 hours 48 minutes, so with the delay we eventually arrived at 9.20 p.m. instead of 8.55 p.m. local time. There was no film but I would have been to tired to watch anyway. Then I had to find the shuttle to the Comfort Inn Airport at Aurora where I checked in at 10.45 p.m., that's 7.45 a.m. German time! As I got up at 8 a.m. that morning, this added up to a 24 hour trip!! At least at the hotel a message from the ranch was waiting for me and after all I had all my luggage with me this time, unlike two years ago in San Francisco!

Naill Ranch, Colorado (Saturday, 2nd Sept. - Friday, 8th Sept. 2000)
I woke up at 6 a.m. but fell asleep again until about 9 a.m. I called the shuttle service again and confirmed pickup at the airport for 12.55 p.m. So I had to take the hotel shuttle back to the airport in time. The coach was punctual but then we headed north towards Wyoming and picked up some more people along the way instead of going east as I had expected. In Cheyenne I finally switched busses and eventually continued east for about another hour. In Kimball I was picked up by the people from the ranch (Penny and her daughter Tiffany) where I finally arrived at 5.30 p.m. That made it a 4 1/2 hour instead of the 2 1/2 hour trip which is also possible but obviously on different days of the week. The shuttle bus round trip cost $55. The Naill Ranch is situated in the northeastern corner of Colorado. The closest town, 30 miles away, is Kimball in Nebraska. There were also Gary, Penny's husband, and Theresa, a Swedish girl, who was there to work for the summer plus the dogs Molly and Poncho. A French guy who helped with the horses during the summer was on vacation when I was there. The Naill Ranch has 5000 acres, 300 cows (50 of them are their own) plus calves and, at the time I was there, 17 horses but this is changing all the time as they are always buying and selling. They never take more than 10 guests at a time. The other guests during my stay were a family from Denver who were only there for the day and a Thailand-born guy from Philadelphia who had been there before. The American family of five was replaced by a German and an Austrian couple the next day.

Breakfast was usually at eight and most days we rode about 5 hours. Except for once I always rode Willie, a 4-year-old Paint gelding. In general we checked on water, salt and fences and looked for sick cows and calves. Once we had to gather a herd to get them sprayed against flies and another time we had to bring in a bull which was good fun. One afternoon we had to doctor a limping calf. It was a tough job for three guys and Gary to throw it down and give it an injection. On another day we rode out to a neighbor's ranch to drive their cattle to a different pasture. One morning when we didn't have any special job to do, we loaded the horses into a trailer and drove out to the Pawnee Buttes which took us about an hour along dirt roads. The pickup truck didn't make it up the last hill and we had to unload the horses but as we were nearly there, it didn't matter. The Pawnee Buttes, rock formations like those in Monument Valley, are holy sites for the Indians. We rode around them for about three hours and did a lot of climbing into and out of the canyons. Gary, Theresa and Harry, the Austrian guy, tried to climb the East Butte but only Harry succeeded. As we got back to the ranch early this time I took a dive into the pool in the afternoon. Poncho and Molly were barking at me and Molly even jumped in for a swim! During our rides we also saw wild antelopes and coyotes. Gary tried to teach us to rope and in the end I was quite successful with the dummy. We also played at horseshoe but I was no good at this. On most days day-time temperatures were about 30 °C (86 °F). It always cooled down quite a bit in the evenings. One night we had a storm with lightning and rain. It came up suddenly but had disappeared as quickly. One day it was more cloudy and windy and we only had around 25 °C (77 °F) and on another sunny day there was a strong, cold wind.

On my last day we went out riding around the pastures for about 3 hours and in the afternoon it was just me, Gary and Theresa. The other Germans wanted to swim in the pool and the Austrians intended to fish in the nearby lake. A nice warm wind was blowing over the plains this afternoon. When we were riding back, a thunderstorm was just about to start. It blew over the ranch after we got there but as before it was gone again in a second. When we arrived at the ranch, Harry had just been bitten by a rattlesnake! They had called the ambulance and he had been driven to the hospital where they gave him the anti-venom. He was stable then but they kept him in for the night just in case. The Austrians were really unfortunate. At first their luggage didn't arrive until three days later! Then Sabine fell off her horse but luckily she didn't hurt herself and didn't fall into a cactus - the prairie is full of them -, and finally Harry was bitten!! Gary and Penny said this was the first time that this happened to one of their guests. Normally only horses and nosey calves get bitten by rattlesnakes. That night we intended to do some guitar-playing and singing, but instead nearly everybody had to go out fire-fighting. The prairie was on fire only about three miles from the ranch!! But luckily they managed to turn the fire down quickly. What a day!

Rocky Mountain NP (Saturday, 9th Sept. 2000)
This morning I only just managed to catch the shuttle bus back to Denver. It was about to leave when we got there due to some misunderstanding that I had cancelled my trip! Well, we left at 8.20 a.m. and I got to DIA (Denver International Airport) at noon and I was glad to see Volker sitting there as expected. We then went to the car rental agency to pick up our pre-hired car and drove up to Estes Park in the Rocky Mountains where we arrived at 3 p.m. It was Saturday and the town was busy. There was also an Irish-Scottish festival on. So we were glad to find a room at all for the night but it cost us $130 incl. tax (Mountain 8 Inn). After checking in we drove into Rocky Mountain National Park just around the corner and up to scenic Bear Lake. At the park entrance we bought the National Parks Pass for $50 which gets us into all National Parks and National Monuments. We also saw some elk from the road. Later we strolled a bit through Estes Park which is a pretty enough tourist town.
Driving distance: 110 miles

Rocky Mountain NP, Georgetown, Glenwood Springs (Sunday, 10th Sept. 2000)
This morning we left at 8 a.m. and drove through Rocky Mountain National Park. We also hiked one mile along the Colorado River. We arrived at Georgetown, a historic silvermining town, around 1 p.m. and saw the famous Georgetown Loop Railroad. Then we headed west on Interstate 70 which leads through the mountains including Glenwood Canyon. We arrived at Glenwood Springs at 4 p.m. and checked into the Glenwood Motel ($55). Then we went swimming in the Glenwood Hot Springs Pool ($9), the world's largest public hot springs pool maintained at 32 °C (90 °F) and a smaller pool at 40 °C (104 °F). It was very relaxing.
Driving distance: 235 miles


Colorado NM, Dinosaur NM (Monday, 11th Sept. 2000)
Today we visited the Colorado National Monument near Grand Junction, which offers views of steep cliff faces, canyons and rock monoliths, and the Dinosaur National Monument near Vernal, Utah, where we spent the night at Motel 6 ($51). Dinosaur NM shows an array of fossilized dinosaur bones at the Western Quarry Visitor Center. Some of the most complete dinosaur skeletons in the world can still be seen encased in the rock in which they were buried. We only just managed to get in as the Visitor Center closes at 4.30 p.m. The park is much bigger than that but the dinosaur quarry is the main attraction. In the evening we took a dive into the hotel indoor pool and spa.
Driving distance: 260 miles


Flaming Gorge, Fort Bridger, Park City, Salt Lake City (Tuesday, 12th Sept. 2000)
This morning we took off to Flaming Gorge National Recreation Area. When the Flaming Gorge Dam was built the waters of the Green River formed a lake within beautiful red canyonlands. Later we visited Fort Bridger State Historic Park ($2 each) in Wyoming. Fort Bridger used to be a supply stop and military outpost along the Oregon Trail. At around 3 p.m. we arrived in Park City, site of the 2002 Winter Olympics, where we strolled along the shops on Main Street and grabbed a sandwich. An hour later we were in Salt Lake City, the Mormon capital, where we checked into Downtown Motel 6 ($51). We visited Temple Square and Joseph Smith Memorial Building.
Driving distance: 265 miles

Antilope Island, Bear Lake, Montpelier (Wednesday, 13th Sept. 2000)
Today we visited Antelope Island State Park ($7) in the Great Salt Lake. We saw some buffalo and tried to swim in the salty lake. It would have been possible to lie in the water reading a paper like in the Death Sea but the lake was too flat to swim really. Besides it was fairly cold. We took a quick picture and then headed back into the mountains towards Bear Lake. We rested our heads at Super 8 ($57) in Montpelier, Idaho, a godforsaken village with a handful of motels and only one restaurant which was, of course, crowded. Montpelier's bank was once robbed by Butch Cassidy and his Wild Bunch.
Driving distance: 210 miles


Jackson Hole, Grand Teton NP (Thursday, 14th Sept. 2000)
Today we drove the remaining 100 or so miles to Jackson Hole, Wyoming, which is an expensive ski resort and the biggest town near Grand Teton National Park. We checked into the Antler Motel and got a room for $60. This was a bargain, especially as we were right in the town center. Then we headed into Grand Teton NP where we hiked along Jenny Lake to the Hidden Falls waterfall which took us about 2 1/2 hours there and back. Then we drove along Teton Park road and had a good view over the valley and the towering mountains of the Teton Range from Signal Mountain. The valley looked very pretty with the trees in yellow autumn colors. We also saw a moose from far off. In the evening we strolled around Jackson Hole. Being there on a Thursday we missed the famous shoot-out at the Town Square only held on weekends at this time of the year. We had a good steak for dinner at the Teton Steakhouse and went for a drink at the Snake River Brewery afterwards. At around 30 °C (85 °F) temperatures were still unseasonably high.
Driving distance: 195 miles


Yellowstone NP (Friday, 15th Sept. 2000)
Once again we passed through Grand Teton NP on our way to Yellowstone, America's first National Park. The geysers and hot springs and the wildlife there are fantastic, but much of the park's forest has been destroyed by fire. There were some fires this year which was uncommonly hot but the worst fires for a long time were in 1988 and you can still see the burnt trees. It will probably take another ten years or so until they are all gone. Nevertheless the park is healthy. New trees are growing, smaller plants flourish due to better light conditions and the animals find more food. The West Thumb Geyser Basin in the south of the park is well worth a visit. Afterwards we headed towards Old Faithful to see its famous eruption which occurs regularly every 60 to 90 minutes. The Old Faithful Inn could be saved in the fire of 1988. It is a unique structure, especially from inside. The Black Sand and Biscuit Basins are also very pretty. The Fountain Paint Pot is interesting in a different way. Buffalo and elk in Yellowstone are abundant but you have to be really lucky to catch a glimpse of a bear, wolf or moose. Warnings are issued, however, not to approach wild animals. The best time of day to spot animals is near dawn or dusk. We checked into Gardiner Motel 6 ($69) just across the state border in Montana for the nights of Friday and Saturday. As this was the last weekend of the summer season in Yellowstone I had made reservations two days in advance. It can start snowing any day now.
Driving distance: 170 miles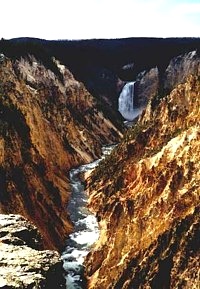 Yellowstone NP (Saturday, 16th Sept. 2000)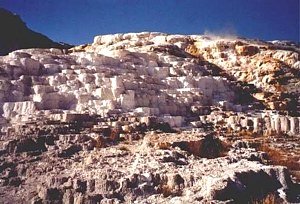 Today we explored the upper part of Yellowstone NP, i.e. Mammoth Hot Springs, the Norris Geyser Basin, Grand Canyon of the Yellowstone, the Lower and Upper Falls and Tower Fall. The Echinus Geyser which erupts every 35 to 70 minutes in the Norris Geyser Basin is worth seeing. We hiked down Uncle Tom's Trail to the foot of the mighty Lower Falls. The view was fantastic but the climb back up was very strenuous. The viewpoints around both falls are spectacular. For dinner I had a buffalo burger and Volker a rainbow trout at the recommendable Yellowstone Mine Restaurant in Gardiner, just across the road from Motel 6.
Driving distance: 110 miles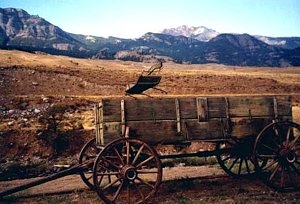 Yellowstone NP, Cody (Sunday, 17th Sept. 2000)
Today we traveled south through Yellowstone NP and saw the Mud volcano and Sulfur Caldron before leaving the park via the east entrance. The scenic route through Shoshone National Forest, Wapiti Valley and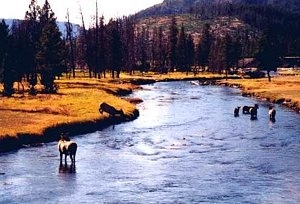 the Rattlesnake Mountains was picturesque. We passed Buffalo Bill Dam which was the highest dam in the world when it was completed in 1910. We arrived in Cody in the late afternoon and checked into the Western Six Gun Motel ($49). I was a bit disappointed by the town as, apart from the Irma Hotel, which was built by "Buffalo Bill" William F. Cody and named after his daughter, and the Buffalo Bill Historical Center (admission for two days to four museums under one roof is $10), there's not much to see. Jackson Hole, for example, had much more western flair. From June to August the town is renowned for its nightly rodeo as well as the Cody Stampede in July. The Irma stages a nightly shoot-out - except Sundays - so we also missed that one! We were two late for the museum as well.
Driving distance: 180 miles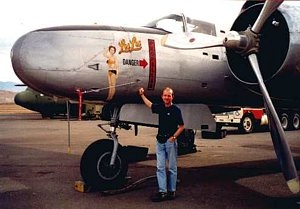 Bighorn Mountains, Sheridan, Buffalo, Gillette (Monday, 18th Sept. 2000)
We left Cody for the Bighorn Mountains. On the way we visited the Museum of Flight and Aerial Fire Fighting near Greybull. We passed through scenic Shell Canyon and arrived in Sheridan in the afternoon where we visited the historic Sheridan Inn and Trail End Historic Site which used to be the residence of one of the big cattlemen at the turn of the last century. We also passed through the historic center of Buffalo and finally checked into Gillette Motel 6 ($49) for the night. What's called historic in America is nothing really compared to Europe. The historic houses, the oldest dating from the end of the 19th century, are often prettier than modern ones but still they are nothing very special or unusual.
Driving distance: 270 miles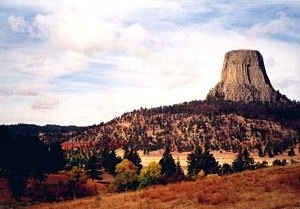 Devils Tower, Black Hills (Tuesday, 19th Sept. 2000)
Under an overcast sky we started off this morning towards Devils Tower. On the site of America's first National Monument is a prairie dog town. The little animals are very cute and can be seen right from the road. While we were hiking around the Tower, the sky cleared up. Devils Tower was the alien landing site in the Steven Spielberg movie "Close Encounter of the Third Kind". Later we passed by Vore Buffalo Jump which wasn't so easy to find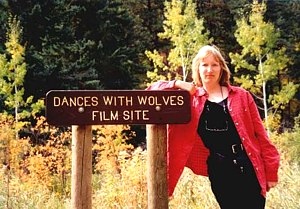 between exits 199 and 205 on Interstate 90 near Beulah, but apart from a big hole in the ground there wasn't much to see. The site was discovered during construction of the Interstate and still needs to be developed. The Indians used this place to hunt buffalo. Many bones have been found but obviously none had been left on the site. Afterwards we traveled through pretty Spearfish Canyon in the Black Hills where the winter camp scene of "Dances with Wolves" was filmed. We made a surface tour of the Homestake Mine in Lead, the biggest still operational gold mine in the US which will be shut down in 2001 as it is no longer profitable. Then we strolled through the western casino town Deadwood, also a former gold mining town, but now the money there is made with the casinos. Even Kevin Costner has bought a place, the "Midnight Star". Sheriff "Wild Bill" Hickok was shot in "Saloon No. 10" and is buried now next to "Calamity Jane" on Deadwood's Mount Moriah Cemetery overlooking the town site. We spent the night at Rapid City's Motel 6 ($45) in South Dakota. In Rapid City a replica of the Norwegian stave church of Borgund can be found, but as it was too late we didn't visit it.
Driving distance: 235 miles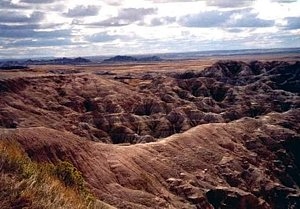 Badlands NP, Mount Rushmore, Crazy Horse Memorial
(Wednesday, 20th Sept. 2000)
Today we drove through Badlands National Park which was really impressive as erosion has carved spires and steep rock formations into the earth. Just when we arrived at the other end of the park we were surprised by rain. The entire morning it had been very windy and temperatures were only about 14 °C (57 °F). After passing through Rapid City once more we headed into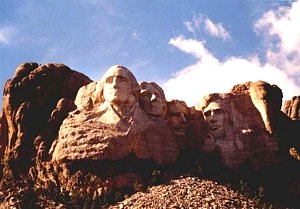 the Black Hills again. We visited Bear Country USA ($8.50 per person), a drive-through safari park, where we encountered deer, elk, mountain goats, bighorn sheep, wolves, coyotes, buffalo, mountain lions, lynx, wild turkeys, a grizzly and many black bears including cubs. The bears were very cute but you had to keep the windows of the car closed at all times. Then we saw the four presidents' heads (Washington, Jefferson, Roosevelt and Lincoln) at Mount Rushmore. From a small parking lot off the main road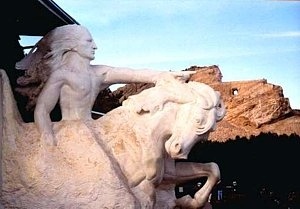 Mount Rushmore is accessible free of charge. The bigger main parking lot costs $8. On the way to the Crazy Horse Memorial we finally saw some wild mountain goats. If Mount Rushmore is big, Crazy Horse is huge. The sculpture of the famous Indian chief was commenced in 1947 and up to now only Crazy Horse's face is completed. Eventually his entire head and torso as well as the head of his horse will be carved into the mountain! The admission fee of $8 per person wasn't cheap but the money is used to finance the project. There is also a film on the project's history and an Indian museum. We spent the night at the Chief Motel ($47.50) in Custer.
Driving distance: 205 miles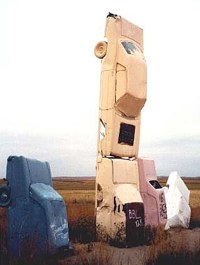 Custer State Park, Wind Cave NP, Carhenge, Chimney Rock (Thursday, 21th Sept. 2000)
On this last but one day we took the Needles Highway into Custer State Park ($4 each). We saw some spectacular landscape like granite boulders formed like spires, among them the so-called Needle's Eye, as well as wild deer, antelopes, prairie dogs, buffalo, wild turkeys and tame donkeys/burros. We hiked around Sylvan Lake and later in the adjoining Wind Cave National Park up to the Fire Lookout Tower. Wind Cave NP has the world's fourth most extensive cave system. There are several tours of about 1 ¼ hours which cost $8 per person. But as it was already past 2 o'clock and we still had a long way to go, we left it out. We saw Carhenge in Nebraska, constructed in reminiscence of Stonehenge in the south of England but made from cars painted gray instead of rocks, located 3 ½ miles north of Alliance on Highway 87. On our way to Scottsbluff we passed by Chimney Rock, one of the first landmarks for the settlers on the Oregon Trail indicating the beginning of the difficult Rocky Mountains passage. We spent the night at Microtel Inn & Suites ($54.50) in Gering/Scottsbluff. The hotel was good value for money.
Driving distance: 260 miles
Scotts Bluff NM, Denver (Friday, 22nd Sept. 2000)
This last morning we woke up to the most disagreeable weather like we also have it in Germany so often: gray skies, drizzle and cold. Temperatures were around 3 °C (37 °F). Nevertheless we visited Scotts Bluff National Monument and the Oregon Trail Museum but didn't drive to the overlook as you couldn't see very far anyway. Then we headed south to Colorado again and passed by the road leading to Naill Ranch. We arrived at the Microtel Inn & Suites Denver International Airport ($76) at around 1.30 p.m. After checking in we drove downtown, left the car in a parking lot for a daily rate of $9 and had a look at the Civic Center and State Capitol, walked along 16th Street Mall and to the historic center at Larimer Square. There they were celebrating Oktoberfest with German beer, bratwurst and Bavarian music! It was very funny for us to see. But as we were freezing, we didn't manage to do any more sightseeing, instead we returned to the hotel. With the heavy traffic we got there only by 5.30 p.m. and I needed a hot bath to warm me up! It's a pity we didn't experience one of the 310 sunny days per year in Denver!
Driving distance: 220 miles
Departure (Saturday, 23rd Sept. 2000)
This morning we got up at 5.30 a.m. to return the car and catch our flight to Cleveland at 8.35 a.m. Originally we had booked a direct flight to New York leaving as early as 7 a.m. which would have meant a 5-hour or so wait at Newark Airport but that one was cancelled, so we were left with this flight to Cleveland and a connection to New York with only one hour for transit at both airports! Well, we knew this could get tight but we were timely heading for the runway until suddenly the plane slowed down and the captain informed us that they were having engine problems and that we had to return to the gate to have it checked by maintenance. When we were running nearly an hour late – the time left for us to change flights – and departure was expected within ten minutes, Volker and me were called off the plane as they realized we were likely to miss our connection –as we had figured already. We were then booked on the 11.05 a.m. direct flight to New York scheduled for arrival at 4.55 p.m. local time (the time difference is two hours). Our flight to Düsseldorf was due to leave at 5.25 p.m. and – as we assumed from our incoming flight – from a different terminal connected by a shuttle bus as the quick monorail was shut down due to maintenance work! Well, it was worth a try anyway, at least we would be able to fly out of New York the following day... The flight to Cleveland had left by then and with it our luggage! Well, a day without dirty luggage back home can be survived...
It was nearing boarding time again but by almost 11 o'clock no plane had appeared at the gate! When it finally did arrive, the passengers still had to disembark and their luggage had to be unloaded, before we could board. It was about 11.20 a.m. by now but we hit the runway pretty soon afterwards and were advised by the captain that we would make up time during the flight and therefore would be running late about ten minutes only. Well, I had hoped that with a timely departure we might even have arrived a little bit early which would have given us more time... At least this time they showed a good film "Keeping the Faith", but you had to purchase the headsets. After all we came down punctually at 4.55 p.m. as scheduled and we got off the plane five minutes later which left us with 25 minutes to get to our plane. We thought with changing terminals we would never make it! We ran in direction of the signs saying shuttle bus and eventually realized that it didn't say Terminal C on them - that was the one we wanted – it turned out then that we were already in Terminal C! Good luck this time! So after a little bit more running we reached the correct gate roughly ten minutes before departure.
Soon afterwards the doors were closed, but before taxiing to the runway we were informed that we would be approximately 25 minutes late for departure due to poor visibility. Well, at least we didn't have any more flights to catch! We didn't get window seats this time but as the sky was overcast there wasn't much to see anyway. They only showed one movie for the whole length of the flight and that was the same as one of those which we had already seen on our way out! Well, at least I got to finish reading my book, Bill Bryson's "Notes from a Big Country" which gives a good insight into American culture! The 3700 miles (6000 km) distance from New York to Düsseldorf took us about 6 hours on the way back. We made up some time during the flight and arrived as scheduled at 6.50 a.m. local time (only 10.55 p.m. Denver time which wasn't too bad for us) on 24th September. For a change we were greeted by a wonderful sunny 17 °C (63 °F) late summer day instead of the continuous drizzle which awaits me normally when I return from a holiday. After passport control we went straight to the lost-luggage office to report that our baggage went by way of Cleveland and probably wouldn't arrive before the next day. But we were told that we would have to wait anyway to make sure that our luggage really wasn't there. And then at the baggage claim we didn't believe our eyes when suddenly all three of our bags appeared! Against all odds our luggage made it even via Cleveland! They can't have had more than ten minutes to reload the bags. Up to now with only an hour for transit – and this time it was considerably less – I had made the experience that the luggage wouldn't arrive in time! So fly with Continental!
The total distance we drove was 2930 miles (4690 km). Gas/petrol prices were between $1.55 and $1.79 per gallon, still very cheap compared to European prices. Unfortunately during our trip the dollar exchange rate rose to DM 2.30. On our last trip in 1998 it was only rated at DM 1.85 and it used to be less before then!
Duration of the round trip: 14 days/15 nights
Links:
---