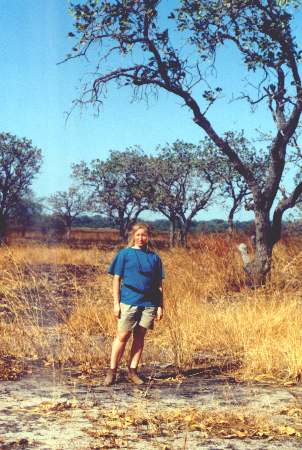 From December 27, 1993,till January 17, 1994, I travelled all the way to Africa to see my friend Sophie in Niger. I had met Sophie during my time as a visiting student at Reading University in the UK the year before. She's got both the French and the British nationality and she is bilingual. Her boyfriend Christophe is French and she followed him to Africa during his two years of social service as a teacher at an African school. He chose this as an alternative to doing his military service in France. During their time in Africa they lived in Niamey, the capital of Niger, in a big house with a garden, a cook and housemaid (Martine), a guardian and their cat Mousse. They were able to afford all this even though they lived on a comparatively small income. Christophe only had his social service payment and Sophie didn't work except for teaching the piano in a few private lessons.
It was very interesting to get to know a continent with such a different culture. Although it was winter there when I arrived, it was like three weeks of summer to me with around 30 °C every day!
At 9.05 a.m. on Monday morning I took an Air France flight via Paris to Niamey. The flight was pretty expensive as Air France was the only company flying to Niger then and it's not a tourist destination. When I called the travel agencies for flight information, they asked me, "Where do you want to go? Miami?"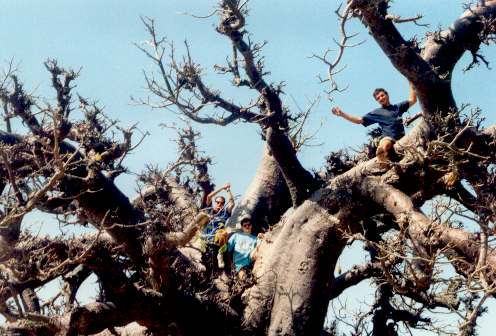 Well, I arrived safely after a four hours flight, but not my luggage. And the next flight was only four days later! At least I received some money for compensation so I could buy some clothes. I bought a pair of shorts and I borrowed a couple of t-shirts from Sophie. Luckily she and Christophe could also lend me a sleeping bag as we had planned to go on a bush tour the following day. Already that first evening I got a chance to ride Sophie's horse Piccolo, which she bought whilst in Niamey.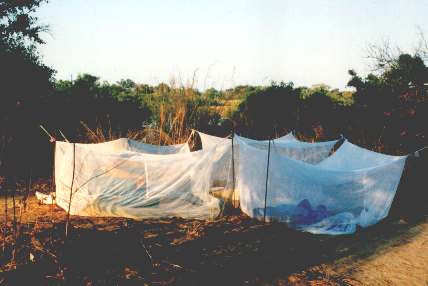 During the afternoon of Tuesday, 28th December, we left Niamey and Niger on our way to the neighbouring country Burkina Faso. We went with two jeeps: Sophie and I, and three French guys: Sophie's boyfriend Christophe, a friend of his with the same name and that guy's brother Jean-Luc, who was there visiting like me. In the evening we just camped out in the bush, with only our sleeping bags and a mosquito net and I did something very stupid: As I had the mosquito net I thought this would be sufficient and I didn't need to spray myself against insects, so I didn't. But when I woke the next morning my legs were covered all over with mosquito bites! Hello malaria! Well, I had taken the prophylactics (Lariam) but still I was lucky I didn't get infected! The next surprise was that while we seemed to be on our own the evening before, with no one around for miles, we were surrounded by a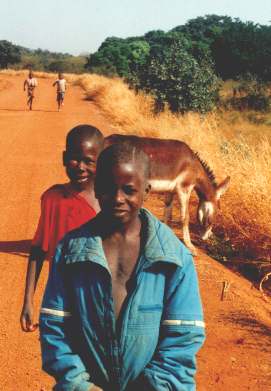 whole group of village people! They watched us during breakfast as if we were animals in a zoo, and when I wanted to collect our trash to take back home with us, I was told just to leave it were it was. Not because we didn't care about spoiling the environment, but because it was a feast for the local people who rushed onto the stuff right away after we got into our cars!! Well, maybe it's good that nothing is wasted, but in fact this is pretty sad, isn't it?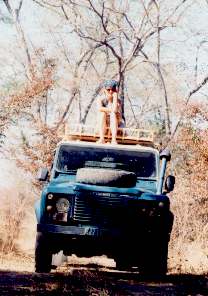 Niger is one of the poorest countries in the world, but in spite of this fact the people there didn't look unhappy. They seemed to be content with just what they had and as they weren't used to tourists, there wasn't much begging. An occasional old woman, but most of the time only children asking for a "cadeau" (present), or money.
I was amazed how much the cars could take when we were driving through the bush far from any proper roads! Only once we had a problem, but luckily we were in a village just then and found a little garage able to help us.
On Wednesday we reached the Parc National d'Arly. It was fun to sit on the jeep's roof and look out for animals. We saw monkeys, antelopes, warthogs, birds and hippos. Unfortunately the lions and elephants were hiding. We crossed the border to Benin and visited the Parc National du Pendjari where we spent the night. That night there was a big insect inside my mosquito net and as it was dark I couldn't see what it was and I almost panicked. I think it was a large grasshopper, but who knows?! Sophie's Christophe was brave enough to get it out!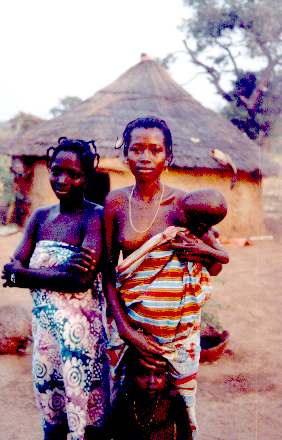 During the following day we spent the some more time in the park and we were driving through the bush in Benin, always looking out for animals. On Friday, 31st December, we reached a waterfall and the guys even climbed it! We passed some traditional villages on our way to Natitingou, a larger town. We also visited one of those villages. For a little "cadeau" we were allowed to visit one of the houses and to take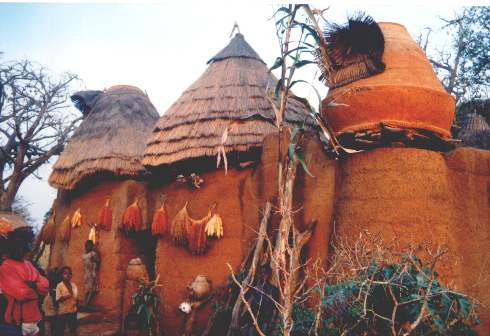 photographs. This place really felt like a living museum as they are so far back from our modern society! It was also strange to spend New Year's Eve under the sun out in the bush with only some sparkling wine! On 1st January 1994 we reached Kandi. That last night during our bush tour we stayed at a small hotel and the day afterwards we returned to Niamey.
The following two weeks I stayed in Niamey, Sophie and I visited the market (Grand et Petit Marché), the mosque, the "Centre Culturel Franco-Nigérien" and the "Musée National du Niger" with its zoo, artisan centre and the famous Ténéré tree. Once we also went to the open-air cinema which was showing "Sous le soleil du satan". On Sunday, 9th January, when Christophe had the day off, we visited the "Corrie du diable", a dried-out river bed not far from the river Niger with its nearby orange sand dunes. On one afternoon all three of us visited the last giraffes of Niger in the "Parcs Nationaux du W".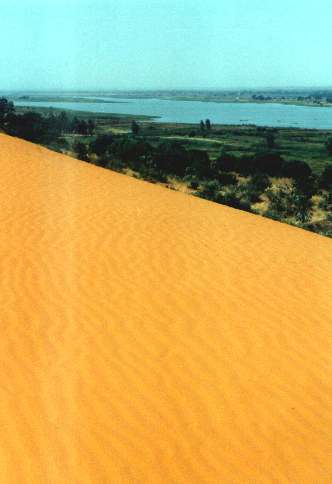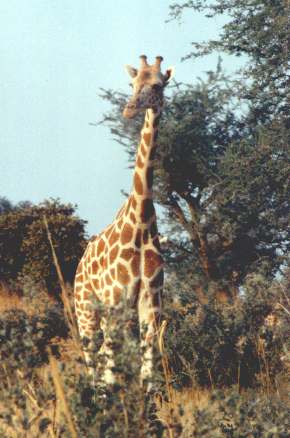 A couple of times we visited some of Sophie and Christophe's friends, or we met the other Christophe and Jean-Luc again. We also went horse-riding nearly every day. Sometimes we took turns in riding Piccolo in the arena and occasionally we took a jumping lesson, but most often we went on one-hour rides into the surrounding area. Even Christophe accompanied us then. All the horses were stallions, as the Arabs don't ride on mares. The best fun ride was when a French riding instructor was visiting. The French ride like crazy!

The riding centre's own instructor was a nice black guy named Hassan. As most people in Niger he was Muslim and as it was Ramadan season he wasn't allowed to eat and drink until nightfall! At least it was winter then and not as hot as during the summer! On Saturday, 15th January, Sophie and I, the two Christophes and Jean-Luc went to a horse show.
In Niamey there were a lot of camels, donkeys and goats. The streets were usually not tarred and the earth was red. There was one supermarket with European goods which were very expensive but local things didn't cost much. I didn't like the bargaining though. At the markets I loved the peanuts which could be bought cheaply in a bottle, peeled but without any oil, just the way I like them! For a souvenir I bought a small African sword. It was no problem for a foreign woman to walk the streets of Niamey on her own.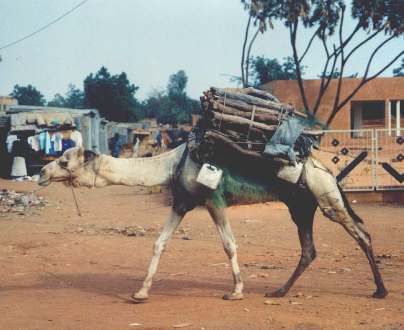 Going out to restaurants was very cheap. You always got a nice steak (but don't eat chicken, it's tough as it might have lived several years before it was killed!) and chips/French fries. Coke or Lemonade was cheap, too. Only imported products like milk,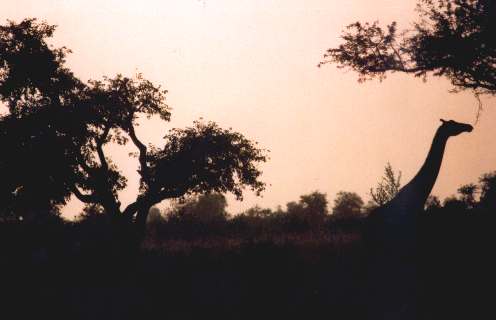 yoghurt or even fruit are expensive. Once when we were in a very small restaurant, the lady who was serving asked us after the meal if it was good. And we replied, 'yes, but a little bit spicy'. And she said, 'well, this was specially cooked mild for Europeans'! So I'm wondering how hot the African version would be!! Usually Martine cooked European-style, but once she cooked a local root, which tasted and looked a bit like a potato. And once she made a special salad with something like rice and fish. It was a bit strange, but good. During all that time in Africa I didn't get sick, and in Niamey you could even drink the tap water! Out in the bush we dropped some pills into the water to disinfect it. But once Christophe was just too thirsty and wasn't patient enough to wait the required hour until the pills worked. He drank the water right after we dropped them in but still he didn't get sick! Maybe he's got a strong stomach?!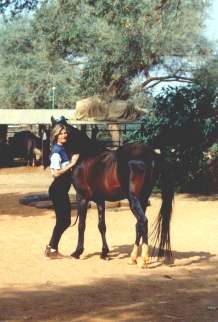 During the last week of my stay Niamey had some problems with students who burnt cars and smashed the windows. And we couldn't go to the Sahara because of the ongoing Tuareg revolution.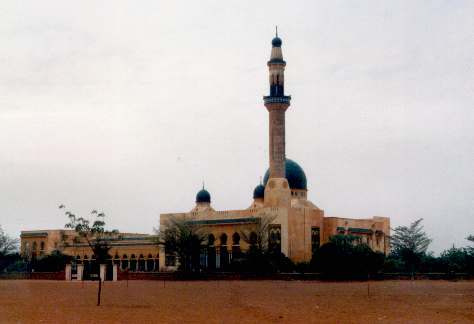 On 16th January, at 1 p.m., I took a flight back to Paris. On the return flight I was allowed to sit in business class instead of economy because there were no more seats left. They asked me if this was a problem! I said, 'well, not at all!' It was nice to taste the pleasures of luxury, but still there was a price to pay: I wanted non-smoking but now I had to sit next to a smoker! Before we landed at Charles-de-Gaulle, we had a splendid view of Paris at night. I then spent the night at the airport because I had arrived late and my flight to Düsseldorf was already at 7.15 a.m. the following morning. I arrived safely back in Düsseldorf – but not my luggage once again! They had told me in Paris that I didn't need to check it out again! Well, this was obviously wrong and I would certainly have had the time to collect it! But I didn't have to wait too long for it to arrive as there are frequent flights between Paris and Düsseldorf, so it came on a later flight and was dropped off at my flat some time in the afternoon.
I would like to thank Sophie and Christophe very much for their hospitality.