Atherton Tablelands

Cairns

Cape Tribulation

Great Barrier Reef

Kuranda

Mossman Gorge

Port Douglas


Yorkeys Knob
Day 23: Sunday, Feb. 22, 2004
Adelaide - Cairns
34 °C, sunny/humid
Distance: approx. 5+15 km
HIGHLIGHTS:
At 9 a.m. we took a taxi to Adelaide airport's domestic terminal (AU$ 15; it was the same price for two as the Airport Link, which leaves from the bus station just around the corner from the YHA, which would have been AU$ 7 each). We were booked on a Qantas flight at 11:05 which got us into Melbourne at 12:35 local time (clocks had to be switched 30 minutes ahead). The connecting flight to Cairns in Far North Queensland at 13:25 was on the same plane but we had to get off the aircraft until the next boarding 30 minutes later. I was looking forward to the flight across the outback but for most of the time the view was obscured by quite a solid blanket of clouds. Only occasionally I was able to catch a glimpse of that vast arid expanse spreading below. But eventually the clouds scattered and the red desert was more and more replaced by large green areas. We had some lovely views of the lush green coastline before we touched down at 15:35 local time (clocks had to be switched one hour back as Queensland doesn't observe Daylight Savings Time). It took an hour to collect our luggage from the baggage claim and the rental car from Thrifty.
It was 34°C and the sun was shining. The hot humid air of Queensland's wet season was quite a change to the dry air in the south. We drove to Yorkeys Knob, approx. 15 km north of Cairns, and checked into our accommodation at Golden Sands Beachfront Resort for 6 nights (AU$ 100 per night), which we had pre-booked via the internet. It was a nice large apartment with living room, bedroom, bathroom, fully-equipped kitchen, washing machine and balcony and the hosts were very friendly. The beach was at the other end of the garden and pool area. There was also a restaurant on the premises. We dropped our luggage and went for a walk along the beach and to the marina and had a lovely dinner (grilled barramundi for AU$ 40; drinks had to be ordered separately from the bar) on the terrace of the boating club which is also open for visitors. We saw some lightning in the distance, but it stayed dry. Apart from the beach and the marina Yorkeys Knob does not have much to offer. It's a very quiet location, but there are a few shops which cater for all basic needs. A large shopping centre is only a few kilometres away on the main road to the Northern Beaches.
Day 24: Monday, Feb. 23, 2004
Captain Cook Highway
33 °C, sunny/humid
Distance: 350 km
HIGHLIGHTS:
Port Douglas

Mossman Gorge

Cape Tribulation
Before we left this morning we went down to the reception and booked a reef cruise for the following day. We were on the road by 9 a.m. and stopped at Smithfield's Shopping Centre for some muffins for breakfast and some bottles of water for the day tour. Then we drove up Captain Cook Highway, stopping at Palm Cove, Ellis Beach and a few lookouts. The road was often winding along beautiful beaches and offered some great views. In Port Douglas, the next bigger town, we had a look at the marina where the Quicksilver vessels start on their reef cruises (they are the biggest and most expensive ones), drove up to the lookout at the top of Island Point Road and then down again to Four Mile Beach. Palm Cove or Port Douglas looked like good alternatives to the larger town Cairns to use as a base for touring and exploring the area. They are bigger and certainly more lively than Yorkeys Knob. Cairns and the Northern Beaches like Yorkeys Knob or Palm Cove are more centrally located than Port Douglas
After the coastal strip between Cairns and Port Douglas we drove through an area largely dominated by sugar cane and banana plantations. In Mossman, 80 km north of Cairns, we turned off the main road to Mossman Gorge in Daintree National Park. Across a suspension bridge is the starting point to a 1-hour circuit walk through the rainforest. But it was just too hot and humid for a hike. From the car park it's only 400 m to a rock pool in the Mossman River (no crocs!) and a lot of people were taking the opportunity to take a refreshing bath. It looked inviting, but the water was surprisingly cold. In the nearby bushes we saw our first brush turkey. We were just thinking about going for a swim in the river ourselves, when a big rain cloud appeared, so we decided against it and got back into the car. After we had left the mountains over which the rain cloud was hanging, we had no more rain for the rest of the day; though it seemed to have rained quite heavily around Port Douglas, judging from the wet roads when we passed that way again on the return trip later that day.
After a sandwich lunch in Mossman we took a ferry across the Daintree River. They charged quite a hefty AU$ 20 for the return trip. Along the river 1-hour boat cruises through the habitat of the saltwater crocodile are offered. Salties are a lot more aggressive than freshies (freshwater crocodiles) and can be as big as 7 m. They are also a big threat along the beaches! Just on the other side of the river the road winds through magnificent jungle landscape. We entered the Wet Tropics World Heritage area where the tropical rainforest meets the sea. From Walu Wurriga Alexandra Range Lookout we got a great view of the coast and the mouth of the Daintree River. Then we checked out the Treetop Tower Environment Centre, but we weren't prepared to pay AU$ 20 per adult for access to the treetop walk and boardwalk. We did the Jindalba Boardwalk (700 m) instead, a couple of kilometres further down the road and free of charge. But to our dismay there were a lot of mosquitoes and we hadn't put any mosquito repellent on. As long as we kept walking it was just about bearable, but as soon as we stopped to look at something there was no escape. This area is also inhabited by cassowaries, a large flightless species of bird. Cassowaries can be dangerous if cornered. They kick with their long toenails in defence which can slice open a victim. As a result of the decline of their habitat cassowaries are on the endangered species list and they also risk getting run over by speeding cars.
The road to Cape Tribulation is subject to flooding during the rain season ("the Wet") and it should be checked if it is open. But apparently this year's rain season had not been very wet so far and only the Myall Creek crossing was covered in a few centimetres of water. We reached Cape Trib around 2 p.m. The cape was named by Captain Cook after he got stranded here in 1770 when his ship Endeavour ran onto a reef just off the coast. It's here where the tarred road ends today. A gravel road suitable for 4x4 vehicles only leads further north to Cooktown. From the car park we walked down to the beach and along the boardwalk to the lookout point. Mangroves grow along the water's edge with their roots growing up out of the ground and in the rainforest undergrowth we spotted an orange-footed scrub fowl. We did the return trip to Yorkeys Knob almost in one go, but it took quite a while to travel the approx. 130 km on the narrow winding road. When we got back to the Daintree River it was too late for the crocodile tours. At the end of the day we did some shopping at Smithfield to stock up on provisions for the rest of the week at our apartment. It was after 5 p.m. when we finally got there so we started preparing dinner soon.
Day 25: Tuesday, Feb. 24, 2004
Great Barrier Reef
33 °C, cloudy with some rain at mid morning, sunny after noon
Distance: approx. 35 km
HIGHLIGHTS:
We left around 8 a.m. after a quick breakfast to make it in time for the check-in at 8:30 a.m. at Cairns Esplanade Marlin Jetty. The day before, we had booked a Great Barrier Reef Cruise with Reef Magic. The full passenger price of AU$ 115 included a free 30 minutes introductory scuba dive as a special offer (otherwise it costs AU$ 60 extra). A guided snorkelling tour and trips in a glass bottom boat are also available. An environmental management charge of AU$ 5.50 per person has to be paid in addition to support the Great Barrier Reef World Heritage. We were given name stickers and after stepping on board we received our snorkelling gear. The boat left at 9 a.m. It was a fast catamaran with a capacity of up to 100 passengers. The sea was calm (10 knots) and the sun was shining. The time passed quickly with diving instructions, morning coffee and explanations from a marine biologist. We reached our anchoring point at the outer reef at 10:30 a.m. But a big grey cloud was hanging right over our reef of the day! Well, so what the heck if it rained now, we'd get wet anyway. Volker and I were in group no. 8 with two other German guys, so we still had some time to spend until we were called. We donned the snorkelling equipment and when we got into the water it started raining. But with a water temperature of 26 °C it was even too warm for a wet suit (on hire for AU$ 6). I opted for a lycra suit to protect myself against the sun and anything that might scratch, sting or bite. Australia's oceans are dangerous!
Our first swim around was fantastic. We saw corals of different colours and shades and many beautiful fish, among them parrot fish, clown fish and a big napoleon fish. Then we got called for our dive. A French girl quickly briefed us in German, then we linked arms and went down with our instructor Joe. I was beginning to panic a bit as it seemed very strange to be so deep under the water. When we got to the bottom of the reef we played around a bit with a sea cucumber and pictures were taken by a photographer. We even received a diving certificate afterwards! But I was glad when we went back up again after what seemed like an eternity. Volker enjoyed it a lot more and went back for a second 30 minutes dive (AU$ 40) in the afternoon. Now it was 12:50 p.m. and time for a tropical smorgasbord buffet lunch, which was good. By the time we were done, the sun had come out again and now we could even recognize the shape of the reef from the boat which we couldn't make out before. In the sunshine everything seemed more brilliant. While Volker went diving again, I was happy snorkelling and taking pictures with a one-way underwater camera (which we had bought in Germany for € 11 (AU$ 18), but also available on board for AU$ 23) for another hour or so. Shortly after 3 p.m. we had to get ready for the return trip. The five hours at sea really passed very quickly. Volker and I didn't even have time for the glass bottom boat. We left around 3:45 p.m. and got back into Cairns at 5:15 p.m. We strolled around the city centre for a while and had dinner at a café on the Esplanade (steak and pie for AU$ 32 incl. drinks).
Day 26: Wednesday, Feb. 25, 2004
Atherton Tablelands
30 °C, sunny
Distance: approx. 330 km
HIGHLIGHTS:
Cathedral and Curtain Fig

Crater Lakes

Millaa Millaa Waterfall Circuit
We had finished with breakfast at 9 a.m. and drove south to Cairns, following the Bruce Highway to Innisfail. At Gordonval we turned inland towards the Atherton Tablelands. Gillies Highway was winding up the lush mountainside with beautiful views of the green valley below. The Atherton Tablelands are a landscape like a pretty postcard with rolling green hills, dairy farms, mountains and ancient rainforest. Shortly before the turn-off to Lake Barrine we turned right and drove 6 km down a narrow road that turned into a dirt road for the last couple of kilometres before we reached the Cathedral Fig, a 500 years old, very impressive tree. Here we saw another brush turkey digging on the forest floor. And the ringing buzz of the cicadas was just amazing; I never heard it that loud before! We returned to the main road and our next stop was at Lake Barrine, one of several volcanic crater lakes in the area. We walked the short distance to the Twin Kauris, a couple of huge pine trees, approx. 1000 years old, and had a sandwich lunch at Lake Barrine Teahouse. The view from the terrace across the lake was great, but the chicken sandwiches were just so-so. Next we drove into the heritage village of Yungaburra and had a look at Lake Tinaroo. Just outside Yungaburra there's a platypus viewing area, but these strange animals are only active during early morning and late afternoon, and it was the middle of the day, so we didn't stop. Tree kangaroos also live in this area but we didn't see any, just the warning signs along the road. We turned off towards Malanda with a further stop at the Curtain Fig Tree. This amazing tree started from a seed dropped by a bird in the leaves. The strangler fig then sends down its roots which gradually thicken and interweave. The roots eventually strangle the host tree to death. In the case of the Curtain Fig the dying tree fell against another tree which led to the development of a "curtain" of aerial roots dropping about 15 m to the forest floor.
We continued in the direction of Malanda and stopped again at Malanda Falls, right next to the road. With the road bridge and some cables passing right above the falls they didn't look very pretty, and the water of the natural swimming pool at the bottom of the falls looked brown and dirty. We walked across the road to the platypus, turtle and lizard viewing platform (where we spotted a few turtles only) and continued a bit further down the rainforest walk. But there were signs warning of snakes so we didn't feel like venturing too far and turned back pretty soon. A few kilometres outside Millaa Millaa off the Palmerston Highway the Waterfall Circuit starts. Millaa Millaa Falls is also a popular swimming spot and this time I went in for a quick swim below this beautiful waterfall. It was followed by Zillie Falls and Ellinjaa Falls. These waterfalls flow all year but during the rain season (which was the time of our visit) they are in their full glory. We saw brush turkeys at most of the parking areas in this region.
Back on the main road we had a quick look at Crawfords Lookout and eventually we got back to Bruce Highway turning north towards Cairns. We stopped for coffee and cake at Babinda, then we drove the 7 km to The Boulders, an area where the river is strewn with large rocks. There is also a picnic area with swimming opportunities. We did the rainforest walk starting off at the suspension bridge. It was rather eerie as we saw a few large spiders hanging in their nets between the trees. There were also signs warning of stinging trees and there were lots of mosquitoes. Luckily we had applied some mosquito lotion, otherwise we would have been eaten alive! The walk itself was quite nice, winding along the river. When we emerged eventually and got back to the picnic area we also undertook the less adventurous walk to the Devils Pool and Devils Gorge Lookout. All of this took approximately 45 minutes and at the end we were sweating all over due to the high humidity. Up in the tablelands the temperature and humidity are generally more agreeable. We drove back to Yorkeys Knob via Freshwater and Redlynch and stopped off at the local shops where I saw a flying fox hanging upside down in a tree! We got back to our apartment around 7:30 p.m. and cooked some pasta for dinner.
Day 27: Thursday, Feb. 26, 2004
Kuranda
33 °C, sunny
Distance: 29 km (plus train and cableway ride)
HIGHLIGHTS:
It was a 15 minutes drive to Freshwater station and we left at 8 a.m. The train to Kuranda was to leave at 8:45 a.m. We had booked in advance via the reception desk at our resort accommodation (AU$ 67 each for the combined Scenic Railway and Skyrail Experience without additional transfers). The platform was already swarming with tourists. Unfortunately we had not been given a seat on the right hand side where you get most of the better views, looking down into the valley, but we hopped on the train as soon as it pulled into the station and luckily it was not quite full so we did manage to find an empty space on the right after all! In a 90-minute journey the train climbed up the valley of the Barron River in lush tropical rainforest. Built between 1882 and 1891 the 34 km Kuranda Scenic Railway is considered a remarkable engineering feat with 15 hand-made tunnels and around 40 bridges. A highlight of the journey is the Stoney Creek Falls, best seen from the left. The train came to a stop at the Barron Falls and we were able to get off for a few minutes to take in the view from the viewing platform. But even in the middle of the wet season this waterfall, dropping through a series of cascades, turned into a big disappointment. Most pictures still show an impressive flow of water, but being used to supply hydro-electric power, the once powerful Barron Falls are now reduced to a trickle, except in times of severe flood.
At the end of the journey we reached Kuranda Station, completed in 1915 and now a heritage listed site. Kuranda, "The Village in the Rainforest", is just one big souvenir stall. There are a lot of tourist attractions from strolling around the Kuranda Markets, visiting Bird World, the Australian Butterfly Sanctuary or Kuranda Wildlife Noctarium, to going on an Army Duck tour. We simply took to the walking track along the banks of the Barron River which turned off into the Jungle Walk through the rainforest. For lunch we had a pie, sausage roll and milkshake at one of the many cafés. Our return ticket on the Skyrail was booked for 2:15 p.m. but with the cabins moving continuously it was no problem to return earlier and there were not too many people queuing up. So we were back on our way to the coast by 12 p.m. And as it wasn't too busy we were even able to get a gondola (which seats 6) all to ourselves. With 7.5 km in length the skyrail is the longest cableway in the world. It was completed in 1995 and offers a bird's eye view of the rainforest. There are two stops on the way: Barron Falls Station with easy walkways leading to three lookout points and the Rainforest Interpretive Centre, and Red Peak Station which offers free guided rainforest tours along a 175 metre boardwalk. It was around 1:15 p.m. when we arrived at Caravonica Terminal - a 15 min. drive north of Cairns but only a few minutes drive from our accommodation at Yorkeys Knob. A bus shuttle is available to make the connection back to Freshwater station but it only runs infrequently. The next one was scheduled for 2 p.m. We hadn't booked in advance as we were advised by our hosts at the Golden Sands Resort that it would be more convenient to take a taxi, which we did. It cost us AU$ 13.20, while the shuttle would have been AU$ 12 for the two of us. We got back to our apartment by 2:30 p.m. and went for a swim and a sunbath at the pool, for the first time since we checked in! In the late afternoon we went for a walk along the beach and to the mouth of the Barron River. Had a self-cooked steak dinner.
Day 28: Friday, Feb. 27, 2004
Cairns
33 °C, sunny, bit cloudy in the afternoon
Distance: 50 km
HIGHLIGHTS: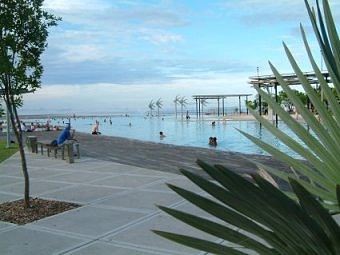 This was our last full day in Australia. In the morning we went to Cairns to look around the shops. We started off around 9 a.m. and had an early lunch at the Cairns Central Shopping Centre. The party and backpacker town Cairns does not have a beach, but recently the Cairns Esplanade Lagoon was opened, which is like a public swimming pool, open every day and free of charge.
Between November and May most of north Queensland's beaches are equipped with stinger nets to protect swimmers from the deadly box jellyfish. It's the most venomous marine creature in the world. The burning pain can be so overwhelming that victims die from shock. Bottles of vinegar can be found on most beaches as a first aid treatment. We were told that the box jellyfish is not normally to be found on the reef.
We got back to our hotel around 1 p.m. and went for another swim in the pool later that afternoon. We finished the day off with dinner at Yorkeys Knob's boating club (chicken and steak for AU$ 36 without drinks). Hundreds of large bats (flying foxes) could be seen in the evening sky flying north towards their nightly hunting grounds.
There are many more things to do in the Cairns area, especially activities of any sort if you are prepared to spend a lot of money: river rafting, ballooning, horse-riding, ATV (All Terrain Vehicle) safaris, river cruises, skydiving, parasailing and so on. There should even be kangaroos at Mareeba Golf Course.
During this part of our journey we covered 800 kilometres. We hardly had any rain at all during this week in the middle of the rain season, so I guess we were lucky. But I also heard people saying that the rain forest is at its best when it is raining...
Day 29: Saturday, Feb. 28, 2004
Cairns - Hong Kong
33 °C, sunny/cloudy
Distance: 20 km
HIGHLIGHTS:
Due to our afternoon flight we negotiated a checkout time of 12 p.m., so we had enough time to pack and get ready. On the way to the airport we stopped at Subway for a sandwich lunch. Our flight to Hong Kong was scheduled for 15:30 and we were in the air by 15:45. It was cloudy, but we were able to catch glimpses of the Philippines from above. There appeared to be many active volcanoes, which glowed red in the dark! We got into Hong Kong at 20:35 and our flight back to Frankfurt left at 23:55. We arrived in Germany at 5:40 a.m. on Sunday morning and were greeted with temperatures of -4 °C and snow! We caught the next high-speed train leaving at 7 a.m. and were back in Düsseldorf by 8:30 a.m. with a lot of new memories never to forget...
---