Adelaide

Fleurieu Peninsula

Grampians

Great Ocean Road

Kangaroo Island
Day 14: Friday, Feb. 13, 2004

Melbourne - Apollo Bay (Great Ocean Road)

approx. 28 °C, cloudy in the morning, sunny in the afternoon

Distance: 280 km
HIGHLIGHTS:
We checked out at 8:30 a.m. and drove into the centre of St. Kilda where we had breakfast at McD. We went across the road to the fun park and had a look at the beach. Then we drove to the pier which offers a good view of Melbourne's skyline. Via the Formula 1 racetrack at Albert Park we drove towards the City and joined the M1. After passing through Geelong we turned onto the Surf Coast Highway to Torquay. It's here where the Great Ocean Road starts.
| | |
| --- | --- |
| | |
We stopped at Anglesea Golf Course to see the kangaroos that call it their home. We kept wondering if they ever get hit by a golf ball! And the golfers don't seem to mind the kangaroo excrement which was all over and under our shoes afterwards! At Aireys Inlet we turned off the main road and up the hill to the lighthouse. From the car park you can get a good view of the coast and there's a cliff path leading up to the lighthouse. Then we followed the coast road. We stopped for a sandwich lunch in Lorne and reached Apollo Bay around 2 p.m. It was Friday the 13th. Some motels already had "No Vacancy" signs up but we found a very nice room at the Coastal Motel (AU$ 99). After checking in we quickly got some washing done.
| | |
| --- | --- |
| | |
Then we drove to Otway National Park. We stopped along the road for the Maits Rest Rainforest Walk. We didn't need more than 15 minutes for the circuit, but it was a very nice walk through a beautiful fern gully. Then we turned down the 15 km one way to Cape Otway Lighthouse which is the oldest surviving lighthouse on the Australian mainland, built in 1848. But it wasn't really worth it. The site where the lighthouse stands can only be accessed after an admission charge of AU$ 10.50 is paid. You cannot even see it from the car park. Instead we started on a short walk which led to the lighthouse lookout point. But it could only be seen in the distance. At the historic cemetery we turned back. The walk through the bush land wasn't very interesting. You couldn't even see the coast. We were back at the car park after approx. 30 minutes. On the way back to the main road we spotted a koala high up on a tree so that was a little reward. We got back to our motel around 4:30 p.m. and after a while we went for a walk along the beach and up to the wharf. We had dinner (snapper with Greek salad and Australian pippies i.e. mussels with pasta) with just plain water for an affordable AU$ 43.50 at the Bay Leaf Café BYO along Apollo Bay's main road.
Day 15: Saturday, Feb. 14, 2004
Apollo Bay - Warrnambool (Great Ocean Road)
approx. 38 °C, sunshine
Distance: 175 km
HIGHLIGHTS:
Great Ocean Road: Twelve Apostles, Loch Ard Gorge, The Arch, London Bridge, Bay of Martyrs and Bay of Islands
Today was Valentine's Day and our 6th anniversary! And we were to see one of the highlights of our trip, the famous Great Ocean Road! Our motel room was equipped with a kitchenette, so we did some shopping at the local supermarket and had a cereal breakfast in our room. We hit the road again around 9 a.m. and followed the signs to Melba Gully State Park where we walked the 30 minutes circuit to the Big Tree, an enormous, over 200 years old Otway messmate. We considered doing the Otway Fly Tree Top Walk, 25 m above the ground through the canopy of the rain forest, but it was 20 km off our way near Lavers Hill and at AU$ 11 each it wasn't priced cheaply either.
So we continued along the main road and finally we reached the most spectacular part of the Great Ocean Road between Princetown and Peterborough. We climbed down the Gibson Steps to get a view of the first Apostle from sea level. Then it was on to the magnificent Twelve Apostles, a number of monoliths that stand straight out from the sea. (The two pictures above with the Twelve Apostles are now history as the rock in front fell into the sea on 3rd July 2005.) Only from the air it's possible to see them all at once. Helicopter flights are offered from AU$ 75, seats on a plane go for AU$ 25. This is known as the Shipwreck Coast with more than 100 sailing ship-wrecks along the shoreline. At Loch Ard Gorge, where the clipper Loch Ard sank in 1878, a number of short trails lead to the different lookouts (Loch Ard Gorge, The Blowhole, Mutton Bird Island, Loch Ard Cemetery). Here I saw another echidna that didn't appear to be bothered by the tourists photographing it. We stopped for lunch at Port Campbell. It was a hot day of 35-41 °C and the town beach was crowded with swimmers, surfers and sunbathers. We were lucky that day to get some great views of the coastline. The a blue sky was perfect for taking pictures.
Outside Port Campbell we stopped at The Arch, London Bridge and The Grotto lookouts. London Bridge consisted of two arches, but in 1990 one of them collapsed leaving two people stranded. They had to be rescued by helicopter. Outside Peterbourgh came another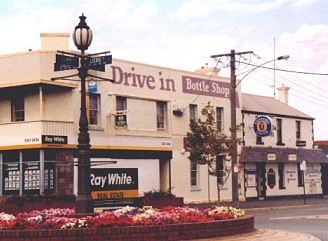 two spectacular lookout points: Bay of Martyrs and Bay of Islands. Then the Great Ocean Road turned inland again. Shortly before 4 p.m. we reached Warrnambool. We checked into the City Heart Motel (AU$ 81) which belongs to the Budget Motel chain. After a little rest we walked down the road through the town centre and further on to the beach and yacht club. We had dinner at the "Whaler's Inn" on Liebig Street (AU$ 38 incl. drinks). Warrnambool seemed to us like quite a typical Australian town, not very touristy. The beach is quite a way off from the town centre and not very clean with a lot of seaweed. Between May and October each year Southern Right Whales calve in the area.
Day 16: Sunday, Feb. 15, 2004
Warrnambool - Halls Gap (Grampians)
approx. 31 °C, sunshine
Distance: 245 km
HIGHLIGHTS:
Hike to the Balconies

MacKenzie Falls
It was Sunday morning and we left shortly before 9 a.m. We had breakfast at Killarney beach with a chocolate croissant from the bakery and a chocolate milkshake from Saveway. Then we turned inland again. We stopped off at the visitor centre in Dunkeld and bought a walking map for the central part of the Grampians for AU$ 3. The Grampians National Park is a mountainous area known for its woodland walks, waterfalls and rock formations. There is no admission charge. On the way from Dunkeld to Halls Gap a kangaroo was crossing the road just in front of our car! Luckily, for the kangaroo and for us, it wasn't too close! We reached Halls Gap around 12 p.m. Here you can reside in comfort right in the middle of the national park. The town mainly caters for the tourists. Through a travel forum we got the tip to look for a cottage instead of a motel. There are quite a number of cottages to choose from but some already had "No Vacancy" signs up. We tried Awonga Holiday Cottages, 1 km south of the town centre, and were lucky that a cottage had just become available. The hosts were really nice and helpful. We booked for two nights. For the price of AU$ 85 we got an entire cottage for ourselves with living room area, fully equipped kitchen, air-condition, gas log fire (not necessary in today's heat!), satellite TV, washing machine. There was also a barbecue area we could use. If we'd arrived a day earlier or only a couple of hours later, we may not have found anything still available as it was the Jazz Festival weekend and everything was fully booked on the Saturday night! Besides we were told that the temperatures reached 47 °C! It was still 31 °C today and the town was still full of people. We guessed that most of them would leave in the evening. We ordered some take-away sandwiches in town and left on a tour of the lookout points.
| | |
| --- | --- |
| | |
We went to Boroka Lookout and Reed Lookout first. From the latter we walked the 2 km return to the Balconies. It's no longer allowed to stand on the Balconies themselves, but you still get a nice view of this famous rock formation (maybe even better than before - without people standing on it waiting to be photographed!). Afterwards we drove to the magnificent MacKenzie Falls which are definitely worth a visit. Not many waterfalls in the Grampians have water all year round, so the summer period is not really a good time to see them. Spring must be lovely when the wildflowers are in bloom. We had a look at Broken Falls on the upper part of the river, but to get the best view of MacKenzie Falls it's an 800 m climb down to the base. For security reasons it's no longer allowed to swim in the pool at the base of the falls - some crazy Australian was doing it anyway! Climbing back up the stairs can be strenuous in the heat! But it didn't take us more than 15 minutes. Alternatively there's an easy walk to a lookout point along a cliff path which offers a view of the falls from above. We drove another 5 km to the kangaroo viewing area at Zumstein, but there were no kangaroos to be seen. It was probably still too early and too hot. It was 4 p.m. when we got back to our cottage. From the veranda we could observe yellow-crested cockatoos flying over our heads and making a lot of noise. The locals aren't very fond of them, but they love the kookaburras (kingfisher). We went to the supermarket and bought some steaks for a barbie(cue) back at the cottage. While we had our dinner herds of kangaroos could be seen grazing in the distance. That night it cooled down considerably, much more than any other night we spent in Australia.
| | |
| --- | --- |
| | |
Day 17: Monday, Feb. 16, 2004
Halls Gap (Grampians)
approx. 35 °C, sunshine
Distance: 30 km
HIGHLIGHTS:
Hike to the Pinnacle

Kangaroos at Fyans Creek
After a breakfast of cereals and toast at the cottage we left shortly before 9 a.m. to avoid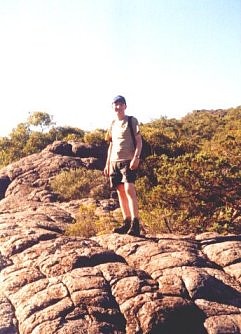 the midday heat as much as possible. We drove to Wonderland Carpark and started on the 4.2 km return hike to the Pinnacle. It took us an hour to go up. With a 280 m elevation change the walk is advertised as strenuous but it was very rewarding. First the path led through a small ravine called the Grand Canyon,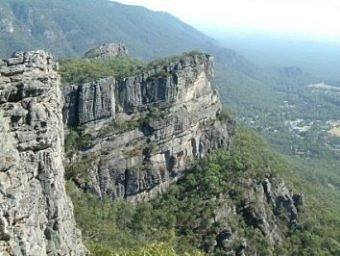 involving some rock-hopping and metal stairs. Then it wound upwards through rocky woodland. Eventually we passed through Silent Street, a very narrow canyon, where you can no longer hear the wind, just your own footsteps. The track finishes at the Pinnacle Lookout with fantastic views over the valley and surrounding mountains. On this walk we met quite a number of people and a small group had just arrived before us at the lookout point and rested a while before going back down. The descent didn't take more than just over 30 minutes. An easier walk to the Pinnacle starts from the Sundial Carpark. From there we did the loop walk to the Lakeview Lookout. But compared to the walks we had done before and the lookouts we had already seen, this one didn't really add anything new. From the Silverband Falls Carpark we walked to the waterfall of the same name (30 min. return). This is a waterfall that flows all year. Its appearance has earned it its name. It's just a thin band of water which disappears into the rocks. At the end of this loop drive we arrived back at the cottage around 1 p.m.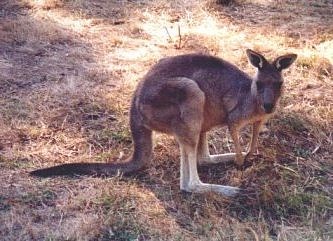 We had lunch and simply relaxed on our veranda during the afternoon. Around 6 p.m. we went on another short walk, the 2.5 km long Fyans Creek Loop which took us 40 minutes to complete. It started off from Tandura Road right next to our accommodation and followed a more or less dried-out creek. At dusk many kangaroos can be seen along the path. For the first time we saw a few kangaroos with joeys (baby kangaroos) in their pouch! For dinner we had kangaroo fillet at the Halls Gap Tavern (AU$ 46 incl. drinks). It was delicious, very tender, and it's said to be very healthy as it doesn't contain any fat. From the restaurant's veranda we were able to observe some kangaroos grazing in the meadows. And when we returned to our cottage kangaroos were in the garden next to the main house.
Day 18: Tuesday, Feb. 17, 2004
Halls Gap - Victor Harbor (Fleurieu Peninsula)
approx. 34 °C, sunny in the morning, cloudy in the late afternoon
Distance: 535 km
HIGHLIGHTS:
Looking out of our cottage at breakfast that morning we could observe two kangaroos boxing! We left around 9 a.m. and north of Halls Gap we turned off onto a local road which is not signposted but was recommended to us by our hosts. The distance is the same but it's quicker than going through the mountains. Apparently the road was tarred not very long ago. Shortly after joining the A8 in the direction of Adelaide we passed by the Giant Koala (Australians like big things so there's also a Giant Lobster, Giant Orange, etc.) and through Horsham. Between Dimboola and Nhill we stopped at the Pink Lake. Its colour comes from a pigment (beta carotene like in carrots) secreted by microscopic algae found in some hyper saline wetlands. We crossed the border into South Australia where we had to change our clocks back to 30 minutes earlier (the time change wasn't indicated anywhere though)! We came through Bordertown and Keith and several small hamlets which basically consisted of a few houses, a petrol station and a roadhouse.
At Tailem Bend we turned onto Princes Highway again, only to leave it again shortly afterwards to cross the Murray River by ferry (no charge) at Wellington. At Strathalbyn we stopped at the tourist information and around 4 p.m. (3:30 p.m. local time) we reached Victor Harbor, the main town of the Fleurieu Peninsula, where we looked for a motel. We settled on the "Comfort Inn Colonial" (AU$ 85 for a twin room with kitchenette) right in the town centre and just 50m from the beach. We strolled a bit through the town which has some nice old buildings and had an early dinner of roast chicken with chips and salad from the salad bar (AU$ 6.90 each) at the Governor Hotel pub.
Day 19: Wednesday, Feb. 18, 2004
Fleurieu Peninsula
approx. 34 °C, sunshine
Distance: 210 km
HIGHLIGHTS:
It was 9 a.m. when we walked across the tram bridge to Granite Island. We strolled once around the island and were back at our starting point about one hour later, just in time to see the first horse-drawn tram of the day arrive over the bridge (AU$ 6 return). Off Granite Island guided penguin tours are offered every evening around 8:30 p.m. (AU$ 10). We didn't go on the tour, but they appeared much less commercialized than those on Phillip Island so it would have been a good alternative. Whale Cruises can be booked from Victor Harbor in the winter months (AU$ 55).
Around 11 a.m. we set off by car and followed the Tourist Drive around the Fleurieu Peninsula. From Cape Jervis we were able to look across to Kangaroo Island. We had a picnic lunch at Rapid Bay. The sky was an incredible blue. At Silver Sands the road continued along the beach and Volker had to try it out. Via Aldinga and Mount Compass we reached Goolwa which has a pretty historic centre. From here tours can be booked up the Murray River but no steam boats were to be seen. We got back to Victor Harbor shortly before 4 p.m. The drive around the peninsula took longer than expected and the landscape remained pretty unchanged for most of the way. The southern coast of the Fleurieu Peninsula is inaccessible except by gravel roads. The north was more interesting as we were able to drive down to the beaches. In the early evening we followed the hiking trails along the Hindmarsh River for about an hour and we did the Lagoon Walk which took another 20 minutes. Then we went for a pasta dinner at Nino's (AU$ 29 with drinks).
Day 20: Thursday, Feb. 19, 2004
Victor Harbor - Adelaide
approx. 36 °C, sunshine
Distance: 95 km
HIGHLIGHTS:
We left around 9 a.m. and took the direct route towards Adelaide, leaving out Hahndorf, which has a German tradition but is said to be very touristy. Passing through wine regions we reached Glenelg, one of Adelaide's coastal suburbs, around 10:30 a.m. and had a look around for not quite an hour. Similar to Melbourne there's a historic tramline connecting Glenelg with the city. But this time we went by car and around 12 p.m. we checked into a double room at Adelaide Central YHA, which we had prebooked via the internet (AU$ 72 for the room plus $5 per person for non-members). The hostel was clean and very conveniently situated in a corner of Light Square. We drove around the corner to Thrifty, returned the rental car and walked back to the city centre.
We walked around central Adelaide (Rundle Mall, North Terrace) and over to North Adelaide (St. Peter's Cathedral, O'Connell Street, Wellington Square). It was 36 °C and there was hardly any shade. The walk to North Adelaide and back was a bit longer than expected and not much fun in the heat. We got back to the YHA around 3 p.m. When after a 2-hour rest under cool air-conditioned air we went out again, it felt like stepping into a baking oven. We walked to Central Markets (which were still open, unlike Queen Victoria Market in Melbourne) and Victoria Square. Similar to Melbourne's Circle Tram Adelaide has a free bus service city loop, the Bee Line. We went for a burger dinner at a pub on Hindley Street, but it was not very good.
During the last 14 days we had covered 3500 kilometres.
Day 21: Friday, Feb. 20, 2004
Kangaroo Island
approx. 27 °C, sunshine, a bit cloudy during the afternoon
Distance: approx. 300 km
HIGHLIGHTS:
Wallabies at Hogs Bay

Koala at Stokes Bay

Remarkable Rocks
This morning we had to give it an early start. With our travel agency in Germany we had booked a 2-day tour to Kangaroo Island, one of the highlights in South Australia. We could have gone to KI directly from Cape Jervis, but the ferry is fairly expensive (AU$ 138 return for the car plus AU$ 64 per passenger) and not all car rental agencies allow their cars to be taken to the island. And if they do, you are not allowed to drive on gravel roads. All major tourist attractions are accessible via paved roads, but a lot of roads remain unsealed, e.g. those that lead to the beaches in the north. The trip with Adventure Tours looked quite good in the catalogue and we thought why not go for it for a change. We were to be picked up at 6:20 a.m. and our bus driver and guide Mick arrived at the YHA 5 minutes early. Afterwards we picked up a few more people. The tour allowed for a maximum of 20 participants, but there were just 8 of us (2 German couples, a German lady travelling on her own, 2 Danish girls and a guy from Canada).
| | |
| --- | --- |
| | |
It was a 1.5 hours ride from Adelaide to Cape Jervis and we took the 9 a.m. Sealink ferry which reached Penneshaw on KI 45 minutes later. Here we hopped onto another bus and were driven some 3 km to Hogs Bay where we got off again and Mick showed us to some wallabies in the bushes. The little fellas were really cute but very shy. The sea was not far off and in the distance could even see some dolphins. Back on the bus we turned down a gravel road to have a quick look at the beautiful beach at Pennington Bay. I wish we could have stopped for a picture. Down another unpaved road we drove towards Stokes Bay where we arrived around 12:30 p.m. Here we stopped for a sandwich and salad lunch at a picnic area. A rock tunnel leads to a secluded beach where we spent a few moments. There is a rock-enclosed pool which offers protection from the surf, but the water was quite cold and I only went in till the navel. Right next to the car park we saw a koala mum and her baby sitting in a tree!
We left around 2 p.m. and drove to the visitor centre at Flinders Chase National Park which we reached shortly after 3 p.m. We were to leave again 30 minutes later but the Canadian guy went missing! It took an hour to find him (apparently he got lost on a walking trail to a platypus pool, which we all would have liked to do, but didn't really have time for) and get the group on the bus again. We continued further into the national park (AU$ 7, but this was included in our package) and the landscape turned very green. I would have loved to take a picture of the road winding through the green bush. That's the disadvantage of being on a bus. Eventually we reached Remarkable Rocks, an amazing pile of huge, strangely formed rocks overlooking the sea. At last we drove to Admirals Arch at Cape Couedic which is home to a New Zealand Fur Seal colony. By then the light was almost gone.
It was 6:30 p.m. when we left for our accommodation at Flinders Chase Farm. It was a budget type accommodation at a sheep farm with either bunk beds in dormitory style or chalets which looked quite comfortable. There was only a communal bathroom. Volker and I were allocated a room with bunk beds. This was more basic then we had expected as it said a twin room at a 2-star motel in the brochure. Another group, who were on a 3-day tour, was already sitting around a log fire. A Dutch couple had been to New Zealand before and it was interesting to share experiences. Dinner that evening consisted of spaghetti Bolognese and salad.
Day 22: Saturday, Feb. 21, 2004
Kangaroo Island
approx. 18 °C, rain
Distance: approx. 300 km
HIGHLIGHTS:
After a breakfast of cereals and toast we left around 8 a.m. It was raining heavily on and off all morning and it didn't really stop for most of the day. We drove to Hanson Bay Koala Sanctuary first (no charge). We could wander freely along the path below the trees. There were no other people around. Some Cape Barren geese and kangaroos were feeding close by and we saw a lot of wallabies along the road. Soon we drove on and had a look at Vivonne Bay in the rain. We had an appointment at Seals Bay at 10:30 a.m. and were allowed to walk among the Australian seals that call this beach their home with Mick as our guide. Normally these tours are guided by rangers and cost AU$ 12.50. A baby seal was approaching our group within a few metres, which is apparently quite unusual. It was so cute! Besides it had stopped raining for the moment!
Due to the continuing rain we had to leave out Little Sahara, an area of large sand dunes. We drove to Kingscote instead, KI's largest town, where we stopped for a barbecue lunch of burgers and salad at 12:30 p.m. Then we drove to Emu Ridge Eucalyptus Distillery, had a look at their demonstration video and stopped at the town of American River where we photographed a couple of pelicans. Finally we climbed up the steep steps to Prospect Hill which offers a good view over the area. We tried to find some penguins in their nests at Penneshaw, but there were none around. The town offers guided penguin tours around 8:30 p.m. in the evenings, but according to Mick this wan't really the best time of year to see them. We were booked on the 5:30 p.m. ferry, but it was delayed by 30 minutes. The ferry (Spirit of Kangaroo Island) was brandnew (launched in December 2003).
The main sights of KI can be seen in a day, but the island is quite large, therefore two days are recommended if you want to explore further, or even three if you plan to do some hiking. The 3-day tour of Adventure Tours includes 3x 10 km hikes. There wasn't really much time left for hiking on the 2-day tour. We got back to Adelaide at 8:30 p.m. and once again we stayed at the YHA. Finished the evening off at the lounge with a self-cooked pasta dinner.
---