Blue Mountains

Central Tilba

Hymans Beach

Kiama

Lakes Entrance

Melbourne

Ninety Mile Beach

Pebbly Beach

Phillip Island

Raymond Island

Tarra Bulga National Park

Wilsons Promontory
Day 7: Friday, Feb. 6, 2004
Sydney - Blackheath (Blue Mountains)
approx. 28 °C, sunshine Distance: 160 km
HIGHLIGHTS:
View of the Three Sisters from Echo Point

Katoomba Waterfall Circuit and Furber Steps and return by Sceniscender
This morning we walked some 15 minutes from our hotel to the Thrifty car rental agency in Williams Street. We had made the reservation already in Germany (ADAC, even for non-members). Our car for the next 14 days was a white Mitsubishi Lancer. We drove back to the hotel to check out by 11 a.m. Then we were on our way to the Blue Mountains, approx. 2 hours west of Sydney. We had a sandwich lunch at a bakery in Katoomba, then it were just 10 km to Blackheath, where we had booked a room at a motel, the Blackheath Motor Inn (AU$ 110 for the double room). We had made the reservation in advance via the internet as it was a Friday night and the Blue Mountains are a popular weekend destination for people from Sydney. But it looked like the high season was over as there were still vacancy signs on display at most places. We had opted for Blackheath as it seemed less touristy than Katoomba and less expensive. We checked in and were given some fresh milk to make coffee in our room. (Motels in Australia usually have complimentary coffee and tea making facilities, a fridge and a toaster, and breakfast is generally not included.)
| | |
| --- | --- |
| | |
It was 2:15 p.m. when we got back into the car and drove to Govetts Leap Lookout near Blackheath and to Echo Point in Katoomba with the famous Three Sisters rock formation. From Scenic World we started on the Katoomba Waterfall Circuit and further down the Furber Steps.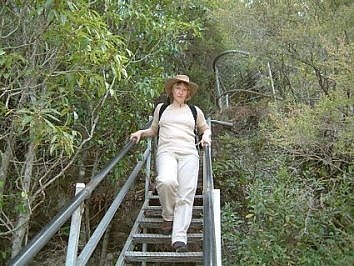 The walk was advertised for 1.5 hours including return on the Sceniscender cable car, but we needed only half of the time! The starting point of the walk is not easy to find as it's not signposted. It begins behind the green door at the lower level of the Scenic World car park. The climb down the valley was easy but we weren't too keen on climbing all the way back up again so we returned on the last Sceniscender of the day at 4:50 p.m. It was full of Japanese. Scenic World offers three different skyway experiences. The modern Sceniscender (AU$ 6) and the historic Scenic Railway (AU$ 6) both descend into the rainforest of the Jamieson Valley. Sceniscender, opened in 2000, is the steepest aerial cable car in Australia, while Scenic Railway boasts of being the world's steepest incline railway, descending 415 m at a gradient of 52°. It was built in 1878 to transport miners to the coal mines in the valley. The third, Scenic Skyway (AU$ 10 return) is Australia's only horizontal passenger-carrying cable car, offering a short ride 200 m above the Jamison Valley with a view off the Three Sisters and Katoomba Falls. The original Skyway will be replaced with a new one in December 2004. The falls and the Three Sisters can also be seen from the Katoomba Waterfall Circuit. The Giant Stairway near the Three Sisters, which also leads down into the valley, was closed due to a landslide. As we visited the Blue Mountains in the summer season, the waterfalls in the area weren't a grand sight as they hardly have water in the drier summer months. We drove to some further lookout points: Gordon Falls and Sublime Point Lookout in Leura and Evans Lookout in Blackheath and were back at the motel just after 6:30 p.m. We had dinner at the Gardner Inn Brasserie in Blackheath (AU$ 38 with drinks). My fish and chips were fine, but Volker's salad was an unusually small portion.
Day 8: Saturday, Feb. 7, 2004
Blackheath (Blue Mountains) - Gerrigong
approx. 30 °C, sunny, a bit cloudy
Distance: 270 km
HIGHLIGHTS:
After a quick breakfast in our room we were on our way again. At the tourist information we inquired about details for the bush walks around Lawson. Then we drove to Wentworth Falls and walked to the Princes Rock Lookout (10 min. return). In Lawson we crossed the railway line and turned left following the signposts to the public swimming pool. We left the car at the parking area next to the pool. Here the road turned into a gravel road. The walks start from the rest area at the end of the road. We were looking for the South Lawson Waterfall Circuit but this wasn't clearly signposted. We saw signs indicating the Fairy Waterfall and then a not very clear sign leading in two opposite directions, but this was indeed a circuit as we realized when we got back. It was a 1-hour round trip via Dantes Glen, St. Michael's Waterfall, Empire Pass and Fairy Waterfall. We started off at 11 a.m. and it was already very hot. The waterfalls were no big deal, but it was a good hike. We even spotted quite a large lizard or goanna. In order to cool down afterwards and as the car was parked right next to the pool, we decided that this was a good opportunity to go for a quick swim (AU$ 3.70 each). The pool was not crowded in spite of it's being a Saturday.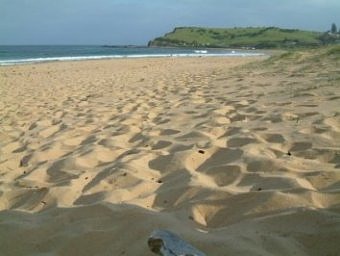 We left at 2 p.m. and had a sandwich lunch at Hazelbrook. Then we followed highway no. 9 and 69 back towards the coast. We passed through farmland with many cows and horses and stopped at Bulli Lookout, before we went down Bulli Pass and finally reached the coast. Passing by Wollongong we arrived at Kiama around 4:30 p.m. - only to find out from the tourist information that all accommodation was already fully booked and that we would have to try the next village! Apparently a lot of people fled the heat in nearby Sydney for the weekend. So we continued towards Gerrigong, a 10 min. drive south. Kiama would have been more interesting for an overnight stay than Gerrigong which is much smaller and it only has three hotels. We found a room at the Seascape Manor Motel, but unfortunately at quite a high price (AU$ 138) as all standard rooms were already gone and it was the weekend rate. We strolled along Werri Beach and checked out a pizza & pasta restaurant in town, but it was already fully booked from 7 p.m. (it was 6:30 p.m.). So we ended up at a fish & chips shop at Werri Beach. But it was good and the portions were large.
Day 9: Sunday, Feb. 8, 2004
Kiama – Batemans Bay
approx. 30 °C, sunshine, thunderstorm in the late afternoon
Distance: 225 km
HIGHLIGHTS:
After a quick trip to the supermarket (open 7 days) we had breakfast at our room with coffee and a chocolate croissant. We left the motel around 9:30 a.m. and drove back to Kiama to see the blowhole, which must be impressive in a rough sea with a 60m high fountain, and the lighthouse. Then we went another 3 km further north for a quick look at Cathedral Rock. We were back in Gerrigong around 11 a.m. We stopped off at 7-Miles Beach and continued towards Hymans Beach north of Jervis Bay where we arrived at 12:30 p.m. Hymans Beach is one of the most beautiful beaches in the world with its white sand and clear blue water. It is reputed to have the whitest sand in the world. And with the sun shining it was perfect. It looked so inviting. But first we had a burger lunch (AU$ 28) at the nearby café, then we went back to the beach and had a quick swim even though we were a bit afraid of sharks. But there were other people bathing, so we were just hoping they knew what they did! It was lovely. The water temperature in the bay was not too cold. On the open ocean it's normally fairly cold, even in summer. In the winter months whale-watching tours are offered around Jervis Bay. Dolphin tours can be done all year round.
| | |
| --- | --- |
| | |
We returned to Princes Highway and 15 km north of Batemans Bay we turned off into the 8 km gravel road to Pebbly Beach which is renowned for its resident kangaroos. Standard rental cars in Australia are not allowed on gravel roads or you lose the insurance coverage but the road was in a good condition. We saw another big lizard crossing our path. There's a daily fee per car to enter Murramarang National Park (AU$ 6). We arrived at 3:30 p.m. At first we couldn't see any kangaroos anywhere, but then we found them lying around or feeding in the shadows. Kangaroos can most often be seen at dawn or dusk because they avoid the heat of the day. It is forbidden to feed them, but many tourists still do so, so the kangaroos are very tame and some of them even approach to be petted and fed. But giving them bread can kill them because their stomachs cannot digest bread.
We returned to the main road via Mount Agony Road which is paved for most of the way. It was 4:30 p.m. when we stopped at the tourist information in Batemans Bay and asked for accommodation. They made a reservation for us at the Bayside Motel (AU$ 72 incl. breakfast). We had just checked in when the sky turned dark and there was heavy rain and lightning. But it lasted only 10 minutes. We had a pasta dinner (AU$ 26 with plain water) at the Seastar Deli BYO. "Bring Your Own" restaurants are very common in Australia and it means that you can bring along your own bottle of wine. That way the restaurant does not have to pay for the expensive alcohol license. But many restaurants even give you the choice: you can bring your own wine, have just plain water or buy alcoholic or soft drinks from them.
Batemans Bay doesn't have much to offer as a tourist destination. Ulladulla, Narooma or Merimbula may be more interesting.
Day 10: Monday, Feb. 9, 2004
Batemans Bay – Lakes Entrance
approx. 20 °C, cloudy in the morning, sunny in the evening
Distance: 490 km
HIGHLIGHTS: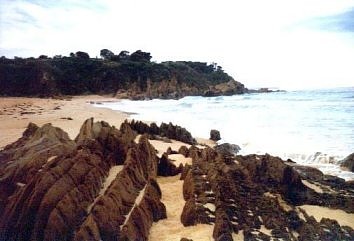 Breakfast was between 7:30 and 7:45 a.m. It was nothing more than coffee, cereals and toast, but the service was friendly. We were on the road again by 8 a.m., which was good as we had a long drive ahead of us. The day started off a bit cloudy. At the motel we found tips for scenic drives in the area and we decided to have a look at the Moruya Heads. We left Batemans Bay on the road south and at Moruya we turned left into South Head Road. At the General Store we turned into Coronation Drive and entered Eurobodalla National Park. We walked along the empty beach and drove up the road to the old graveyard overlooking the sea at the tip of the Heads. Some kilometres outside Narooma we left Highway 1 for a short detour to the historic village Central Tilba, set very picturesquely in green hills. Back on Princes Highway we left it again shortly afterwards to follow the Tourist Drive 9 via Bermagui to Tathra which was quite scenic, winding along lagoons and through the forest of Mimosa Rocks National Park. Then we continued on the road to Merimbula. Back on Highway 1 we passed through Eden and crossed the border between New South Wales and Victoria. It was 2 p.m. when we stopped at a picnic area just outside Alfred National Park with a sign leading to Drummer Rainforest Walk. We thought the indicated 45 minutes were a bit overestimated as we needed only half the time. There was another short walk signposted further along the road but this was closed due to unstable conditions.
We stopped for a coffee at Orbost which is just a country timber town and reached our destination for today, the town of Lakes Entrance, shortly before 5 p.m. We checked into the Best Western Coastal Waters Motor Inn (AU$ 95 for a standard room, AU$ 130 for a room with Jacuzzi) and as the sun was still shining we immediately went on another walk, the Entrance to the Lakes Walk which starts off at the footbridge. The walk followed a path through the dunes and finally reached the Entrance where the sea flows into the lakes of the region. We returned via Ninety Mile Beach and were back at the motel 1.5 hours later. It was 6:45 p.m. and as it was a Monday most restaurants were closed, so we opted for a fish & ships shop (catch of the day with a large portion of chips for AU$ 13.40). We ate at a wooden table along the Esplanade, while being watched by hungry seagulls.
Day 11: Tuesday, Feb. 10, 2004
Lakes Entrance – Foster
approx. 22 °C, cloudy with some rain
Distance: 340 km
HIGHLIGHTS:
After breakfast in our room with some pastry from the bakery we left around 9 a.m. It was a cloudy morning but the sun came out from time to time. In Bairnsdale we took the road to Paynesville at the shores of Lake King. From here it was a few minutes ferry ride (AU$ 5 return) to Raymond Island which is known for a colony of approx. 100 koala bears (a koala is actually not a bear but a marsupial) that live in the island's eucalyptus trees. We drove around the untarred roads of the island and did some koala spotting. We were lucky enough to see a koala climbing a tree which is unusual as they normally change trees at night (when they often get run over by cars) and they sleep during the day. Along the shores of the island there were also black swans and pelicans. We took the 11:30 a.m. ferry back to Paynesville and returned to Princes Highway.
We passed through Stratford on the river Avon (apparently they have a Shakespeare festival!) and bought a sandwich for lunch at Subway in Sale. At the tourist information we asked for details on the Tarra Bulga National Park (the map we were given came in handy as the visitor centre in the park was closed when we got there!). From Traralgon we followed the signs to the park. It's quite strange to drive through farmland most of the time and suddenly you are in the middle of the rainforest. The road was now winding up the mountain and we reached the Tarry Bulga park shortly after 2 p.m. We were quite amazed that there was no entry charge. We spent two full hours in the park, hiked to the Suspension Bridge and followed several of the rainforest walks in one big circuit: Wills Track, Ash Track, Lyrebird Ridge Track and Forest Track. We hardly saw a soul. The high ferns and the rainforest vegetation were impressive. When we started off on the walk there was a slight drizzle but in the rainforest we hardly felt it at all. And it stopped after a while. We were beginning to give up hope that we would spot one of the shy lyrebirds that live in the region when suddenly one of those beautiful birds was dashing across our path! So we already considered ourselves lucky. But on the final part of our hike we saw another lyrebird from only 2-3 metres distance and it didn't run away! Instead it was courting a female and it made incredible noises imitating the sounds of other birds. We slowly approached to take some pictures. And when we continued on our way back to the carpark we saw one more of these normally shy birds! We left the park on the road south towards Yarram. The road through the Tarra Bulga park is now completely tarred in both directions. Apparently it used to be partly unsealed till a few years ago. After we had left the mountains we saw an echidna along the road for the first time and we stopped for a picture. But it didn't want to be photographed and it hid its long nose like a hedgehog.
Past Yarram on our way to Foster, gateway to Wilsons Promontory National Park, our destination for the following day, the rain picked up, but it had stopped again by the time we arrived after 5 p.m. We checked into the Wilsons Promontory Motel (AU$ 85) in Main Street. The room was okay for the night, but compared to all other motel rooms we had on this trip it was overpriced as it was small and the furniture was quite old and primitive. It was a Tuesday night and there was an offer of an All you can eat Pizza & Pasta dinner for AU$ 11.90 at the historic Exchange Hotel, so we went for that.
Day 12: Wednesday, Feb. 11, 2004
Foster (Wilsons Prom) – Cowes (Phillip Island)
approx. 22 °C, heavy rain in the morning, some sunshine in the afternoon
Distance: 270 km
HIGHLIGHTS:
Squeaky Beach, Wilsons Prom

The Nobbies, Phillip Island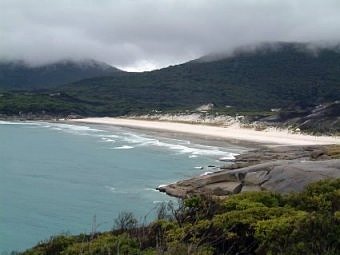 During the night it started raining. I was hoping that it would stop by morning, but it didn't look like it would clear up when we left the motel around 9 a.m. Nevertheless we decided to go to Wilsons Promontory National Park (also known as The Prom) on the southernmost point of the Australian mainland. It is said to be one of Australia's best loved national parks. There was an admission charge of AU$ 9.30 per car. We drove up the park's only road which takes you to the park headquarter at Tidal River.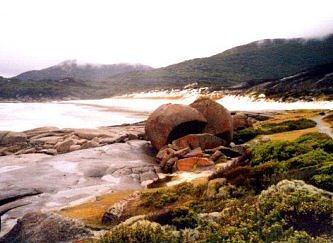 As it was still raining heavily when we got there, we opted for one of the shorter walks to Squeaky Beach. The walk started off at the Tidal River footbridge. And we were lucky: Shortly after we set off around 10:20 a.m., it actually stopped raining and some blue sky appeared! The walk was lovely, leading through changing vegetation and with marvellous views of the white sandy beach and some nearby islands. We even saw a rock wallaby which crossed our path twice and was gone again in a second and a couple of parrots that quietly continued their meal of fruit or twigs when we walked past. After we reached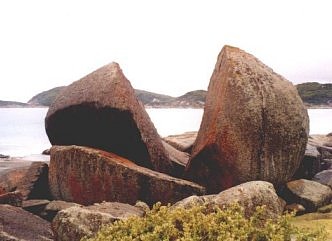 Squeaky Beach, we had to return on the way we came and we got back to the car park shortly before 12 p.m. With the clouds still hanging low and the road ending in Tidal River, we got back into the car and decided to leave the park instead of exploring any further. On the way back we had a look at Picnic Bay and made one last stop at Whisky Bay where we walked the 300 m down to the beach. We also saw a resting kangaroo not too far from the road near Darby River. Then it started raining again.
We stopped for lunch at Fish Creek and spotted another echidna along the road. Passing through Inverloch and Wonthaggi we arrived at Phillip Island which can be reached via a bridge from San Remo. It was shortly before 3 p.m. We drove as far as Cowes, the island's main town. The first motel we tried was full. We had more luck with "The Coachhorse Motel", which belongs to the Golden Chain. They only had a spa room available, but for AU$ 80 it was a good price. We checked in quickly, then we headed for the farthest tip of the island, a lookout point called the Nobbies. Some seal rocks can be seen in the far distance. Boat trips are offered as well. Here we saw a snake (seems like it was a poisonous copperhead) and some penguins and seagulls could be seen nesting along the public boardwalk. The view along the rugged south coast from the blowhole point was spectacular. Even the sun came out again. We drove on and walked down to Swan Lake with its bird observation towers, but not much birdlife was to be seen. As Volker wanted to see it, we continued to Phillip Island Grand Prix Circuit where motorcycle races are held. There was an admission charge of AU$ 12 for the viewing area and museum and we decided against it. From outside we saw a motorcyclist racing around the circuit and a helicopter was apparently filming. Finally we had a look at the fishing and holiday village Rhyll, but there wasn't really much to see. We got back to the motel around 6 p.m. For dinner we ended up at a fish & chips shop again and this time we tried flake (shark).
| | |
| --- | --- |
| | |
Day 13: Thursday, Feb. 12, 2004
Cowes (Phillip Island) – Melbourne
approx. 22 °C, a bit cloudy in the morning, sunny in the afternoon
Distance: 65 km
HIGHLIGHTS:
Koala Conservation Centre, Phillip Island

Pelican Feeding, Phillip Island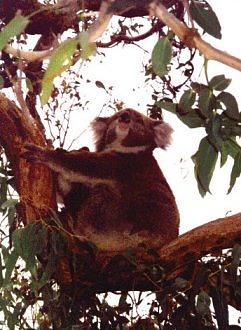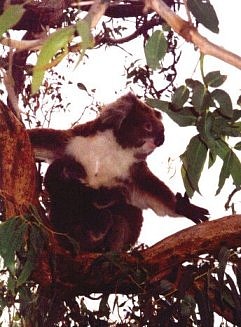 An entire day or more can easily be spent on Phillip Island. There are more attractions than we had time to see, like a wildlife park where you can hand feed wallabies, wombats and koalas, a walk to the site of a ship wreck at Kitty Miller Bay, the bird island Churchill Island (admission charge), which is connected to Phillip Island via a bridge, with historic buildings and walking tracks, and of course the famous Penguin Parade. At dusk the little Fairy Penguins return from the sea to their burrows across the beach. But as this is very commercialized (they charge AU$ 13) with large viewing stands to accommodate busloads of people and floodlights so that everyone can see the penguins in the dark, we didn't feel like going. But the Koala Conservation Centre (AU$ 6) is well worth seeing. It opens at 10 a.m., but as we were nearly an hour too early, we drove to Cape Woolamai first and started off on the walk to the Pinnacles, first along the beach, then up some wooden stairs to the cliff path. But we turned back after walking for only 20 minutes as there were too many unnerving flies on the cliff top. We had already heard about the Australian flies that are a pest as they keep flying up to you, but up till now we had been spared the experience. The return trip along the sandy path through the dunes took 10 minutes longer, as every step was an effort. So I cannot really recommend this walk. We returned to the Koala Sanctuary. Its treetop boardwalks provide excellent koala viewing and we hardly ever got so close again. There was even a mother with a baby! It was really cute. Of course it wasn't always easy to get a good photograph with many other people trying to do the same. We were just in time for the daily pelican feeding at San Remo at 11:30 a.m. It was good fun to watch the pelicans wait patiently and then fight for the best fish!
We arrived in Melbourne at 2 p.m. and checked into the Charnwood Motor Inn (AU$ 90) in St. Kilda. It belongs to the Budget Motel Chain, so it was a good price for Melbourne, and it was conveniently located in a quiet side street and only a few minutes walk from the tram line into the City (a day ticket for AU$ 5.80 was apparently cheaper than a simple return ticket). We got off at Flinders Street Station and enjoyed the sunshine while strolling along the south bank of the Yarra River. Then we walked to Rialto Tower, one of the highest buildings in Australia, and took the lift up to the Observation Desk on the 55th floor (AU$ 11.80; this was still only half the price than what they charge for the AMP Tower in Sydney!). It provides fantastic views over the city. Afterwards we boarded the Circle Tram (it's a free service for Melbourne's visitors, describing a loop around the city centre with frequent stops) to Flagstaff Gardens and walked to Queen Victoria Market, but the markets were already closed. We were back at Flinders Street Station around 6 p.m. and at 7 p.m. we met my penpal Lindsey and her mum for dinner at a restaurant along the Southbank. Volker had a steak and I tried lamb. Then we took the tram back to St. Kilda.
---